[NGW Magazine] Latvia's Storage Dilemma
Latvia is facing up to the problems of a liberalised market, in which traders do not put the same value on storage as the government used to, leading to under-recovery - to which overcharging is not the solution.
Struggling to fill up the underground gas storage facility in Incukalns, Latvian gas transmission and storage operator Conexus Baltic Grid is nevertheless pursuing its plan to raise the fees.
Several Baltic customers have warned that the steep increase will encourage them to discontinue using it. Meanwhile, Zane Kotane, Conexus' new chair of the board, insisted to NGW that gas traders' anxiety is "unsubstantiated" as the company is merely reviewing its tariff structure and seeking to introduce a "portfolio of new products" from which all will benefit.
"The last time we reviewed it (tariff structure) was in 2008 and the world is a whole lot different now. The same goes for the gas market, especially after the liberalisation of Latvian gas market in 2017. We want to offer more products, three or even four of them, such as cheaper reverse flow and more flexibility overall," Kotane said.
According to Conexus, as of February 5, Incukalns was 36.8% full, with 8.9 TWh, a weak performance for any facility of the kind. At the same time last year, the plant was about half full, despite the colder winter, according to Conexus.
Conexus, a spin-off of Latvijas Gaze, in which Russia's Gazprom holds a 34.15% stake, has lodged a request in regard to changes in the tariff structure with SPRK, Latvia's utilities regulator.
The company claims that the new fee structure will help reduce the total costs of storage by 35% while the tariff is expected to rise by an average 38% – to €2.08/MWh from €1.504/MWh. The cost with a 2-year contract would be slightly discounted to €2.04/MWh, but still much higher than before.
If Conexus gets it done, it will be a game-changer, says Mantas Mikalajunas, CEO of Lietuvos Duju Tiekimas (Lithuanian Gas Supply, LDT), a client of Conexus.
"If storage fees increase as much we expect – 40-60% – then it will make no sense for LDT to ship and store gas, which we buy in summer, in Incukalns. So far, we've seen only draft numbers and our company is in the midst of submitting our remarks…However, an increase in storage tariffs is unfounded," he said.
LDT paid about €1.5/MWh stored in the Incukalns facility last year. With gas storage tariffs surpassing the mark of €2.5/MWh, the facility, competitiveness-wise, will be "useless", noted Mikalajunas.
With a more expensive storing in Incukalns, the prospects of the Klaipeda liquefied natural gas terminal would suffer a dent, he admitted. As well as the Baltics' striving for energy independence - with higher tariffs in place, the US and Norwegian gas would become for LDT too expensive.
Thence at the end of the day the winner will be Russia's Gazprom, whose pipeline gas, especially in winter, is significantly cheaper than the liquefied natural gas, experts warn.
According to Alexander Medvedev, the deputy chairman of the Board of Gazprom, the costs of delivery of US liquefied natural gas to Europe this winter is about $265-295/'000 m³, while pipeline gas offered by Gazprom costs about $190/'000 m³.
"If storage tariffs edge upward in Incukalns, it would be a whole lot more difficult for others to compete with us," the Gazprom executive is quoted as saying by Russian press.
Latvia has bought an 18.31% stake in Conexus Baltic Grid from German's Uniper, a step towards its goal of securing a majority stake in the company. The remaining shareholders besides Russian Gazprom is Marguerite Fund (29.1%) and Itera Latvija (16%).
There was speculations that Latvia would also buy Latvijas Gaze's stake in the company too, but a deal never came along.
Gazprom took a sizeable chunk of 54% of Lithuania's gas market last year, a rise from 40% in 2016 and almost a match to the 2017 forecast of 55%. 52.43TWh of gas were imported to Lithuania via the Klaipeda LNG terminal and the pipeline from Russia via Belarus over 2017.
Notably, Lithuania has recently scrapped the project of a €300mn euro underground gas storage in the settlement of Syderiai. The reason: storing gas in the Incukalns gas storage is cheaper. Asked by NGW what is the highest price that LDT can afford to pay Conexus, Paulius Jakutavicius, LDT spokesman, replied that it is "around" two euros.
"We indeed plan to stop using the Incukalns facility if Conexus hikes tariffs 40-60% as projected. If the company does not backtrack, LDT will have to seek new business models, ones that bypass the Incukalns gas storage. With the projected rise in tariffs, it in terms of competitiveness will become inaccessible to international gas traders and only Latvian gas firms will afford it," he accentuated.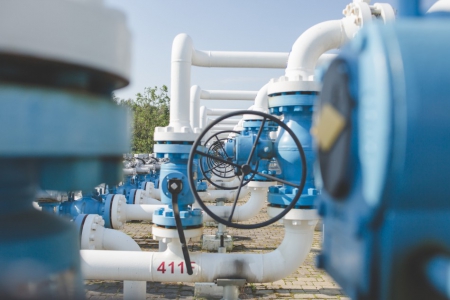 Underground gas storage facility (Conexus Baltic Grid)
Lithuanian law obliges LDT to keep a certain amount of gas in store and, provided its storage fees go drastically up, the company will continue storing it there. Lithuania is said to store about 100mn m³ to ensure a smooth gas supply during winter. Conexus said last October it held 11.4mn MWh of gas in Incukalns. That gas is supplied to consumers in Latvia, Estonia, Lithuania and neighbouring Russian regions in winter.
Other gas traders also hastened to warn the Latvian gas transmission and storage operator not to raise tariffs.
Janis Bethers, CEO at the electricity and gas supplier Enefit, which is part of Estonia's energy group Eesti Energia, said that the company would think twice before continuing to use Incukalns if its tariffs were hiked.
"Enefit has stored gas in the Incukalns gas storage facility during the last two storage cycles and intends to do the same this year. However, if the storage tariffs are substantially increased, we might need to reconsider this approach as sales of gas are a very price sensitive business," Bethers said.
Dominykas Tuckus, chairman of the management board at the gas trading companies Litgas and Lietuvos Duju Tiekimas, LDT, said that a hike in fees will make the storage facility "unattractive" to gas suppliers.
"Nobody can say how much gas is going to cost next summer or next winter. The higher the risk that this price difference is not covered by storing gas in the facility, the more unprofitable it will be to store gas in Incukalns," Tuckus underscored. But Kotane, the chairwoman of the Board of Conexus, firmly defends necessity for a tariff change for the sake of the client.
"We foresee that, for example, in February or March, when the demand for the gas in the Incukalns storage rises, the (storage) prices would be adjusted weekly or so, depending on the client's needs… Beside what we call short-term capacity bookings, we are also going to offer long-term products, i.e. offering bookings in Incukalns for two years or longer," she underscored.
"If we had implemented the differentiated approach last year after taking over the Incukalns facility, the service costs would have been lower this year. I want that our traders get acquainted with the new portfolio of our products rather than focus narrowly on the supposed ill- effect of one product," she told NGW.
SPRK told NGW that, although the new Conexus tariff proposal includes different new types of storage products, like the so called "market product" which is linked to the summer-winter price spreads in the gas market, which is good for the customer, we think that a simple increase of tariffs without reflecting the market needs can lead to less volumes stored and further decrease of revenues for JSC Conexus Baltic Grid.
SPRK is expected to announce its decision on the Conexus proposal in April.
Some experts, however, are convinced that with Gazprom in Conexus, the regulator will not take the risk of shooing away scarce gas traders from the Incukalns gas storage.
Rolands Irklis, the head of the SPRK, has said recently while commenting on Conexus' ongoing certification, that the fact that Gazprom still remains a shareholder of Conexus "might be an impediment" to its certification.
Linas Jegelevicius