[NGW Magazine] Israel watches Lebanese licence
While it remains a war of words, provocations between Lebanon and Israel – neighbours with a history of warfare triggered by miscalculation – are piling up over their shared, and disputed, offshore border.
On January 31, Lebanon's president Michel Aoun took to Twitter to fire a shot at Israel's defence minister Avigdor Lieberman, accusing the latter of issuing a "threat to Lebanon and its right to invest in its [offshore] oil and gas wealth."
Lieberman had not threatened Lebanon as such. "When they issue a tender on a gas field, including Block 9, which by any standard is ours... this is very, very challenging and provocative conduct here," he said of the Lebanese cabinet's late December decision to award offshore licences to a consortium made up of Total (operator), Eni and Novatek for blocks 4 and 9 (see box).
Lebanon opened its first offshore bid round back in 2013, but politics and the question of how to handle a maritime border dispute largely of its own creation delayed the round's close for more than four years. Israel began exploring its own offshore waters in the late 1990s, granting exploration concessions.
The Jewish state carved up much of its exclusive economic zone (EEZ), including the Alon licences along the northern border of its EEZ. The northern edge of those licenses ended where Lebanon later claimed the two countries' EEZ should end, but once again politics interfered.
In 2007, Lebanon and Cyprus signed an agreement delimiting their EEZ without input from Israel in the south or Syria in the north. Concerning the northern and southern limits of the Lebanon-Cyprus EEZ, the agreement chose northern and southern end points for the EEZ, but stipulated that those coordinates were subject to change pending input from Syria and Israel, respectively. Lebanon's parliament never ratified the agreement for fear of angering Turkey, which has occupied part of northern Cyprus since the late 1970s and rejects the island nation's authority to unilaterally establish an EEZ in the first place.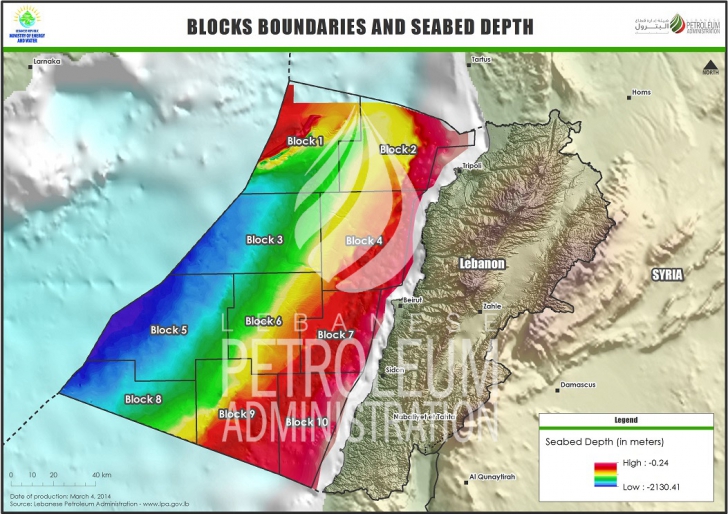 Credit: Lebanese Petroleum Administration
In 2010, Israel signed an EEZ agreement with Cyprus using the point Cyprus and Lebanon had chosen to end their own EEZ in the south, despite the fact that Lebanon believed its EEZ should stretch further south and the new border created stretched further north than the Alon licences. Lebanon submitted documents to the UN under the auspices of the UN Convention on the Law of the Sea to defend its position for an EEZ extending further south than the Israel-Cyprus EEZ and beginning in 2013 began a slow and opaque internal debate on how to deal with the dispute.
Some in Lebanon – the press frequently quoted unnamed sources, though many in-country believe the driving force was Parliament Speaker Nabih Berri, a Hezbollah ally – initially argued all 10 of the blocks in the country's EEZ should be open for bid in the first round. As the debate dragged on and Lebanon pivoted from one crisis to the next between 2013 and 2016, Israel also decided to launch an offshore bid round, releasing a map marking the triangular disputed zone (around 860 km²) as blocks 1, 2 and 3. Israel did not, however, open them for bidding in its own first round, which closed in October 2017.
The Lebanese offshore oil and gas regulator – the Lebanese Petroleum Administration – initially only planned to offer block 9 along the border in the first round. However, when the round was given new life in late 2016, Lebanese authorities announced that all three blocks on the southern border (8, 9 and 10) would be open for bid and received an offer, which Beirut accepted, for block 9.
Today, talk of war between the two nations is focused more on accusations that Iran is better equipping its ally Hezbollah, but clearly the oil and gas file is still a point of contention for the two. It is not unheard of for companies to drill in disputed waters, and indeed part of the Total-Eni-Novatek bid included a commitment to drill a well within three years of contract signature. Lebanese authorities have announced drilling will happen in 2019, which could once again raise tensions and possibly spark conflict between the two.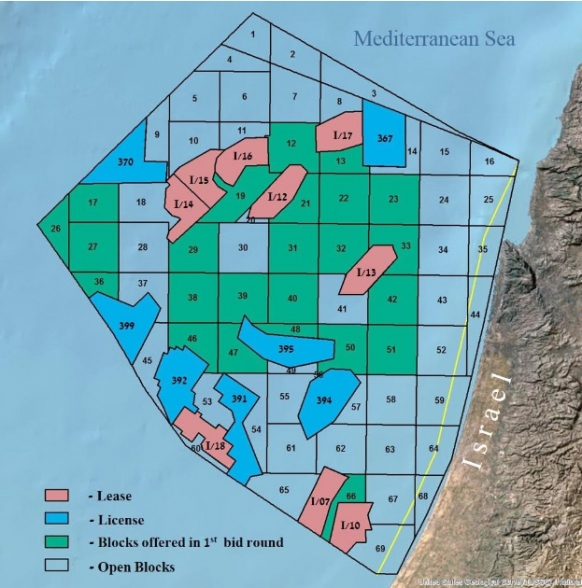 Credit: Israel Ministry of Energy
That said, however, there has been complete cross-border 2-D seismic shot covering all of block 9. Lebanon received that data in mid-2015 and has since re-interpreted it. Sources familiar with the topic have told NGW that prospects look very good and potential for a shared reserve cannot be entirely excluded. So while war is the first thing that comes to mind when Lebanon and Israel find themselves in the same sentence, perhaps shared riches could bring a new dimension to the fraught relationship.
Matt Nash
---
Europe's explorers sign on the dotted line
Total, Eni and Russia's Novatek all said February 9 that they had signed exploration and production agreements with the government of Lebanon to explore and produce hydrocarbons on the offshore blocks 4 and 9. Total and Eni both hold 40% stakes, with Total appointed as operator of both. Novatek's stake is both blocks is 20%.
Both agreements were announced late last month and are the result of Lebanon's first offshore licensing round held last year.
"An established player in Lebanon's marketing sector, Total is delighted to expand its presence in the country to the exploration and production segment. These agreements are part of the Group's exploration strategy in the Mediterranean region adding to our existing operations in Cyprus and in Egypt", said Total upstream chief Arnaud Breuillac.
These agreements provide for the drilling of at least one well per block in the first three years. Total said that the consortium's priority will be to drill a first exploration well on Block 4 in 2019. Total acknowledged that it and its partners are "fully aware of the Israeli-Lebanese border dispute in the southern part of the block that covers only very limited area (less than 8% of the block's surface) [and] given that, the main prospects are located more than 25 km from the disputed area, the consortium confirms that the exploration well on Block 9 will have no interference at all with any fields or prospects located south of the border area."
The trio's entry offshore Lebanon follows developments elsewhere in the eastern Mediterranean, namely start-up in December 2017 of the Eni-operated Zohr giant gas field, offshore Egypt, which Eni describes as the largest ever found in the Mediterranean; and Eni's confirmation February 8 of the Calypso gas discovery offshore Cyprus, all relatively close.