[NGW Magazine] Maple Leaf over Turkey
As it seeks to reduce dependence of natural gas imports, Turkey has Canadian producers helping to build the domestic industry, exploring the Thrace Basin – with some success.
Turkey wants to reduce its reliance on at times unstable natural gas imports – largely from Russia and Iran – and a pair of Calgary-based Canadian juniors are assisting in that initiative.
Valeura Energy is developing what it says could be a major basin-centred play in the prolific gas-producing Thrace Basin, in the northwestern corner of Turkey, while Condor Petroleum is poised to commercialise its holdings in an emerging low-cost, high-value play within a southwestern extension of that same basin.
The country is actively trying to broaden its international energy partnerships – the joint Turkish-Azerbaijani Trans-Anatolian Natural Gas Pipeline is a major project to increase the movement of Caspian Basin gas to Turkey – but is also keen to increase the use of domestic energy resources, including natural gas.
"We have seen a period of instability in Turkish politics going back a year or a year and a half, but we haven't seen any issues related to that as we interact with the government and the regulator," Sean Guest, who became CEO at Valeura earlier this year, told NGW in a recent interview. "We still get all the approvals that we require, whether at the ministerial or regulatory level, and we see that there is a lot of enthusiasm for foreign investment to come into the country to help diversify away from imports, which account for more than 99% of current demand."
What gas industry exists in Turkey is centred in the northwest part of the country, where the US Geological Survey (USGS) assesses the F95 (a 95% certainty rating) undiscovered gas potential of the Thrace Basin at some 695bn ft³. At a certainty rating of F50, the undiscovered potential increases to some 2.3 trillion ft³, the USGS says, and this is what Valeura Energy is trying to tap.
Valeura sees limitless potential
"If we are successful and there is a new gas project developing here, independent of how large it is, you can't really swamp the domestic demand, which I believe is on the order of 5bn ft³/day," Guest said. "There is a huge capacity to take additional gas here in markets that have very good gas prices and top end global fiscal terms."
Producers in Turkey pay a flat 12.5% royalty and a 20% corporate tax, while the domestic reference gas price, set by regulator Botas, was bumped up 14% on January 1, to Tl 0.8/m³, or about $7.50/'000 ft³ at current exchange rates.
In 3Q 2017, Valeura produced a little over 6mn ft³/day of natural gas from its Thrace Basin holdings, which include nearly 433,000 net acres of shallow rights and more than 278,000 net acres of deep rights – the focus of a basin-centred gas play the Canadian company is pursuing with Statoil.
In early 2017, the Norwegian producer farmed into two of Valeura's Banarli exploration licences in the Thrace Basin for a 50% interest in deep rights below 2,500 metres. Valeura will retain 100% interest in the shallower Banarli zones.
"Statoil is a highly regarded, major international energy company with the technical and financial resources and unconventional experience to make a decisive contribution to the evaluation of the basin-centred gas play potential in the Thrace Basin," Valeura's then-CEO Jim McFarland said last spring, announcing the $36mn joint venture. "Partnering with a global leader like Statoil validates the potential of our assets and the progress we have made to understand the basin and to develop its tight gas resources."
The first well under the program, Yamalik-1, was drilled to 4,196 metres, and a 60-day testing program was begun in November 2017, during which four production tests were conducted, with each test consisting of two frac stages per interval. Statoil will pay for the testing, estimated to cost about $10mn.
"The Yamalik-1 well will provide the first substantive evaluation of the potential of a basin-centred gas play in the Thrace Basin," McFarland said in releasing Valeura's 3Q results in November, ahead of his retirement at the end of December. "As such, we are at the front-end of what is expected to be a steep learning curve, going by industry's experience in developing other unconventional resource plays."
The testing program, he said, will provide critical information on reservoir properties and flow capability of the deep over-pressured tight gas sands encountered in the well, while reservoir consultant DeGolyer & MacNaughton is performing a resource assessment of the potential of the basin-centred play underlying Valeura's Thrace Basin holdings. That assessment is expected to include the results of the Yamalik-1 testing program.
Yamalik-1 better than expected
The first two tests of the Kesan formation, Valeura announced in December, tested at a restricted rate of about 800,000 ft3/day over the final 24 hours of each test, while the third tested at a restricted rate of 900,000 ft3/day of gas over the final 24 hours of the test.
Yamalik-1 (Credit: Valeura Energy)
The fourth test, over 66 metres of net pay at a depth between 3,320 metres and 3,461 metres, produced at an average restricted rate of 400,000 ft³/day over the final 24 hours of the test. That brought the aggregate flow rate for all four intervals tested to about 2.9mn ft³/day, with associated condensate production of as much as 80 barrels/mn ft³ of gas.
"It really exceeded all of our expectations," Guest said of the Yamalik-1 program. "The testing was designed to show that you could flow gas from these formations and that it would flow without formation water, which is really supportive of demonstrating a basin-centred gas play, and it exceeded expectations because it flowed at better rates than we were modelling, it was higher pressure than we were actually anticipating and it came with a lot of condensate."
Yamalik-1 has been suspended until it can be tied into the area's existing gas-gathering system towards the end of 1Q 2018, at which time an extended production test will be conducted. Timing of that depends on the ability of Valeura to locate surface equipment capable of handling the well's high pressures.
To earn its 50% interest in the basin-centred play, Statoil has agreed to fund a work program worth more than $70mn, including the $23mn cost of drilling and testing Yamalik-1, $10mn for an infill 3D seismic program and $15mn to drill and test a second exploration well in 2018. It spent another $21mn on a 50% interest in Valeura's West Thrace lands and paid Valeura $6mn for costs it had already incurred on the Banarli licence.
Although no formal decision has been made, Guest remains confident that Statoil will follow through on the success of Yamalik-1 with the second well needed to earn its interests under the farm-in program.
"The results of the wireline logging, even before testing, were sufficiently positive that you wouldn't walk away from this after just one well," he said. "We are, with Statoil, now reviewing what we think will be the best delineation program to really prove up the pervasiveness of the gas play, and we would also like to take a step towards getting more demonstration of how it flows, from different zones laterally as well as vertically."
Bill Newman, who follows Valeura for Mackie Research Capital, says the Yamalik-1 well confirms that the deepest part of the Thrace Basin is over-pressured, indicating that at this depth and temperature, an active gas generating "kitchen" may be present.
"This type of play is found in a number of Rocky Mountain basins in the US and Canada and is characterised by formations that exhibit more pervasive, over-pressured gas saturations," he said in a November 15, 2017 research note. "If the basin-centred play concept is proven, there is sufficient rock volume to hold several trillion ft³ of gas at Banarli."
In a January 22, 2018 research note, GMP FirstEnergy assigned the 133,840-acre licence on which Yamalik-1 was drilled an unrisked resource potential of some 2.5 trillion ft3 of gas an a risked potential of about 744bn ft3, an assessment it characterized as "hopefully conservative."
Conventional opportunities still strong
Although the basin-centred play offers the most excitement for Valeura, the company is also aggressively developing shallower gas-producing formations, and strengthened its hold on those with the $18.5mn acquisition in late 2016 of one of its Thrace Basin joint venture partners, Thrace Basin Natural Gas (TBNG), from TransAtlantic Petroleum. Valeura is now the 81.5% operator of the joint venture; its remaining partner, Pinnacle Turkey, holds the balance.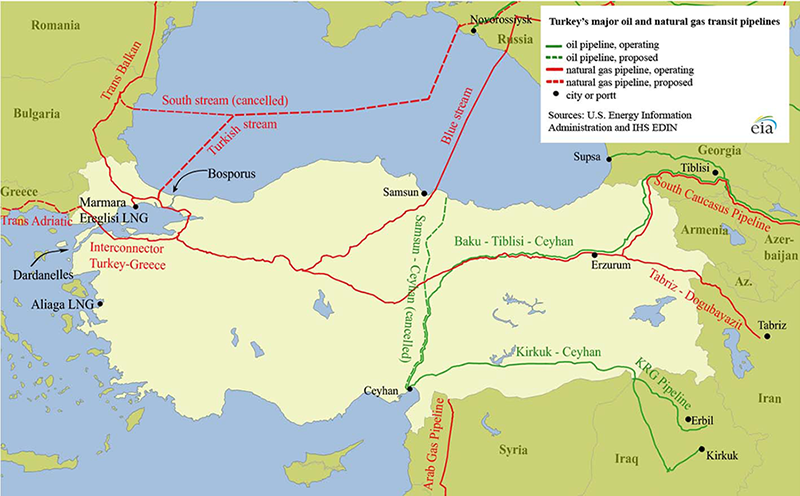 Source: EIA
The TBNG acquisition came at the same time as the Statoil farm-in, and the funds flow from that deal and related financings, McFarland said, give Valeura a clean runway "to ramp-up exploration and development drilling activity in the shallow conventional gas and tight gas formations" on the TBNG joint venture lands.
Over the last five years, the joint venture has developed a well-established gas production and marketing business, with 86 conventional gas and tight gas wells in 15 gas accumulations. The joint venture owns a gathering system for those wells, and makes direct sales to 55 light industry customers.
The conventional shallow gas wells produce mostly from the Danismen and Osmancik formations, and development activity since 2012 has included workovers, recompletions and the drilling of 22 new wells based on a new 650 km² seismic program.
In 2017, five new shallow gas wells were drilled on the TBNG joint venture lands. Three were cased and tied-in and are producing, while two were cased, deemed to be non-commercial but remain under evaluation. The sixth was plugged and abandoned as a dry hole.
"After the drilling we did last year, which was a little disappointing, we are following up with more work on the portfolio to try and look for other drilling opportunities," Guest said. "We also have a bunch of new 3D seismic that came as part of the Statoil program and we will also look at that for new opportunities."
At the same time, Valeura and its partner have worked on an extensive proof-of-concept program to de-risk the deeper tight gas play, which includes resources in the Mezardere, Teslimkoy and Kesan formations. It has completed 50 re-entry fracs in existing wells, drilled 20 new tight gas wells since 2012, including six horizontal wells, and fracked 18 of the 20.
"We did a couple of fracs into that deep section just after Christmas and early in January and both those wells are on production now," Guest said, adding that Valeura will continue to review the potential of future drilling on those prospects.
Condor takes flight
Condor Petroleum's wholly-owned subsidiary Marsa Turkey (MTBV), meanwhile, holds a 100% working interest in a pair of adjoining production licences on the Gallipoli peninsula in northwest Turkey, lying within the southwest extension of the Thrace Basin.
The two production licences, Poyraz Ridge and Destan, cover some 110 km², and to date, gas has been discovered on six Poyraz Ridge structures, with proved plus probable (2P) reserves estimated at some 23.2bn ft³.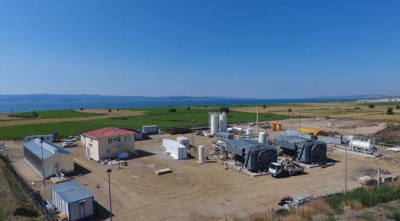 Poyraz 1 (Credit: Condor)
The company has completed a central processing facility (CPF) at Poyraz Ridge and a 16-km sales gas line has been connected to the national distribution grid.
On January 24, the company announced the start of commercial production from Poyraz Ridge, with four wells contributing 7mn ft³/day, helping not only the company achieve its growth objectives but also assisting Turkey grow its domestic production.
"Successfully delivering the Poyraz Ridge project on budget and without injuries is a significant achievement and an important growth milestone for our company since it has transitioned us into positive cash flow," Condor CEO Don Streu said. "According to production statistics provided by the government of Turkey, the Poyraz Ridge project increases Turkish domestic gas production by more than 15%."
During the 30-day commissioning period, Poyraz Ridge production totalled 124.5mn ft³, attracting a gross sales price of $7.25/'000 ft³. Additional wells, Streu said, will be brought on-line as downhole choke installations are completed.
Condor's acquisition of Marsa Turkey in early 2016 provided the impetus for development of the Poyraz Ridge field. Marsa's production licences there contain proved gas reserves of some 9.8bn ft³ and 2P reserves of 21.2bn ft³, and elevated Condor's pro forma 2P reserves to some 5.4mn barrels of oil equivalent.
"This acquisition is compelling for Condor, delivering significant strategic, financial and operational benefits by providing near-term sustainable cash flow and additional long-term growth potential for the company and shareholders alike," Streu said at the time of the acquisition. "Leveraging off Condor's strong balance sheet to bring Marsa's Poyraz Ridge discovery to market and combining the highly prolific prospect inventories should add significant shareholder value over the coming years."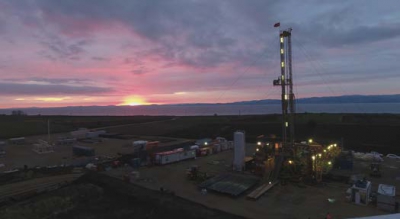 Poyraz West 2 (Credit: Condor)
In the wake of the acquisition, Condor drilled four development wells at Poyraz Ridge, including two step-out appraisal wells – Poyraz West 2 and Poyraz West 5 – which extended the Poyraz pools significantly beyond previously mapped reserve areas.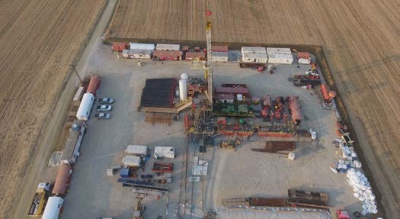 Poyraz West 5 (Credit: Condor)
The successful development drilling, along with new seismic data that came with the Marsa acquisition, prompted Condor to explore beyond Poyraz Ridge with the Yakamoz 1 well, drilled in 2017 from a location about 2 km north of Poyraz. The well was drilled to 2,250 metres, and while it encountered some gas shows, it was deemed to have been drilled off-structure. Side-tracking alternatives are being evaluated, Condor says, which if successful could penetrate a reservoir that is more highly-fractured and gas-rich than what is found at Poyraz Ridge.
Dale Lunan