[NGW Magazine] South Asia's LNG import growth
India, Pakistan and Bangladesh are all projected to be parts of the rapidly growing demand side of the LNG market; the former from an already sizeable base, the other two though expecting to become considerable south Asian buyers.
In emerging Asia, China has been grabbing all the headlines in the past year for the blistering growth in its LNG imports triggered by government's coal-to-gas switching policy. Last year, LNG imports to China were a record 38.13mn mt, up over 46% on year, according to the Chinese customs department, which meant that it edged ahead of South Korea to become the world's second largest LNG importing nation after Japan.
The trend has spilled over to this year too as demand for gas remains strong. However, south Asia – primarily India, Pakistan and Bangladesh – has also seen significant expansion in demand for the commodity.
India, the biggest economy of the three, is seeing the strongest increase in LNG imports. For the 12-month period to March 2018, India's LNG imports were the highest ever at about 19.15mn metric tons (26.4bn m³ pipeline equivalent), up 7% year on year, according to government data.
During the first three months of the present financial year starting April 1, cumulative imports were 5.21mn mt, up 19% year on year. Pakistan has been importing LNG since 2015 and the imports are steadily increasing while in April this year Bangladesh became the newest country to begin importing LNG, with the arrival of FSRU Excellence, loaded with a 136,009 m³ LNG cargo from Qatar's RasGas. At time of press Excellence was still suffering from a technical glitch, meaning that none had been offloaded.
Aggressive expansion in India
As demand forecast for south Asia remains strong, these countries are going in for expansion in their import infrastructure with more regasification terminals being built. India will lead the way in the whole Asian and Oceania region. The country is expected to spend about $6.9bn developing regasification terminals during the outlook period.
"India plans to double its gas demand by 2030. The government of India has a set a target to increase the contribution of natural gas to 15% of the country's primary energy mix, from below 10% levels at present. Imported LNG is set to play a crucial role in meeting this gas demand as it currently contributes around of natural gas demand in India. This has prompted rapid expansion of regasification capacity in India," said Sumit Kumar Chaudhuri, head of oil and gas research at GlobalData.
India at present has four operational land-based terminals on the west coast. Two existing import terminals, Petronet LNG's at Dahej and Gail's at Dabhol, will together add around 365bn ft³/yr to India's regasification capacity during the period 2018-2022. According to GlobalData, the following greenfield projects will start operations in India during 2018-2022, adding an aggregate nameplate design capacity of around 1,415bn ft³/yr (40.1bn m3/yr).
Indian newbuild projects (Bn ft./yr)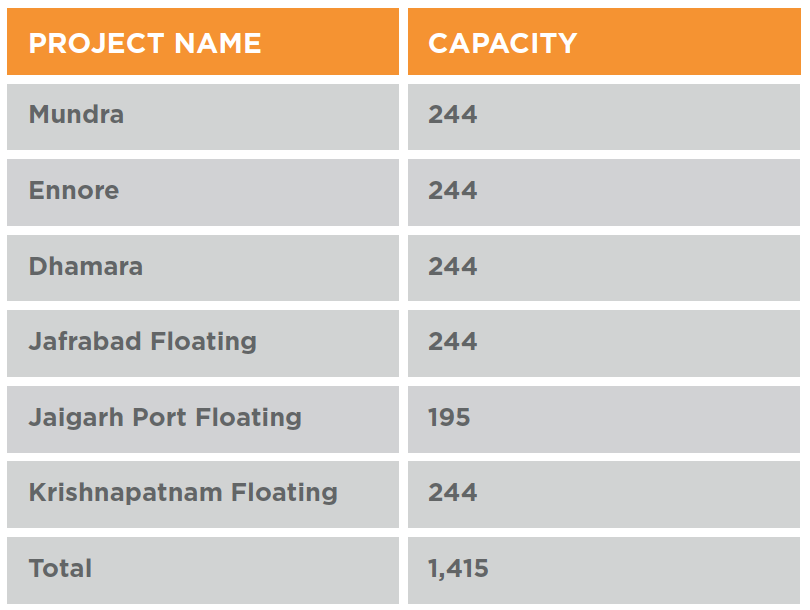 Credit: GlobalData
Further, there are some projects in the initial stages of planning and development yet to receive formal approvals to go ahead with project builds. These projects together should add around 463bn ft³/yr by 2022 (13.1bn m3/yr).
India's eastern neighbour Bangladesh will be the next highest country globally with planned regasification capacity, according to GlobalData. The country is expected to spend roughly $3.7bn developing it.
In addition to the FSRU Excellence, a second FSRU-based terminal is being developed by Summit Group which is expected to be commissioned by October 2018. Just like the Excellence, the second FSRU will be also be on Moheshkhali Island in the Bay of Bengal. A third FSRU may be built at Kutubdia Island. State-owned Petrobangla is also planning to set up at least two onshore LNG terminals. India's Petronet has already signed an MoU with Petrobangla. The capacity of the terminal is likely to be 7.5mn mt/yr at an expected project cost of $950mn.
According to GlobalData, the following new build projects (greenfield) will commence operations in Bangladesh during 2018-2022, adding an aggregate regasification capacity (installed/design capacity) of around 439bn ft³/yr (12.4bn m3/yr).
Further, some of the following new build projects have also been announced. Most of these projects are in the initial stages of planning/development and are yet to receive formal approvals to go ahead with project builds. These projects together should add around 548bn ft³/yr by 2022 (15.6bn m3/yr).
Pipeline grid catching up in India as well
To get a regasification terminal up and ready in India is relatively easy while building a connecting pipeline is where the challenge lies. The biggest problem is that of land acquisition. Petronet LNG's Kochi terminal in south India has remained underused because Gail faced major problems in acquiring land to connect the terminal to the grid. The work on the pipeline has finally commenced after years of delay. Can this be a hurdle for the upcoming terminal projects?
"Keeping in view rapid development of regasification capacity in India, a nationwide gas pipeline grid and city gas distribution (CGD) is also under development to distribute the gas from these LNG terminals to the major markets around the country. As a part of this initiative, several major trunk natural gas pipelines are under development to cater to gas demand in different parts of the country. Jagdishpur–Haldia & Bokaro-Dhamra (2,655 km); Mallavaram–Bhopal–Bhilwara–Vijaipur (2,042 km); Mehsana–Bhatinda (1,670 km); Ennore–Nagapattinam (1,400 km) and Kochi–Koottanad–Bangalore–Mangalore (1,104 km) are some of the major pipelines that are expected to start operations in the near future," Chaudhuri said.
Indian proposed projects (Bn ft./yr)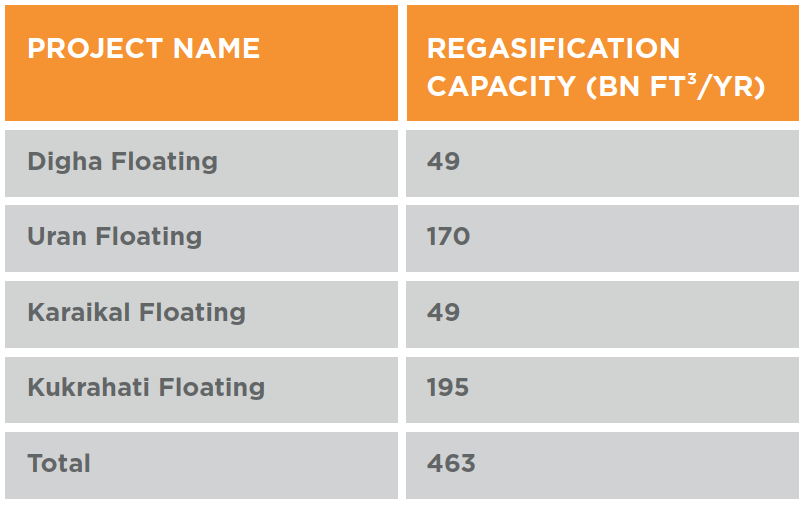 Credit: GlobalData
Bangladesh proposed projects (Bn ft./yr)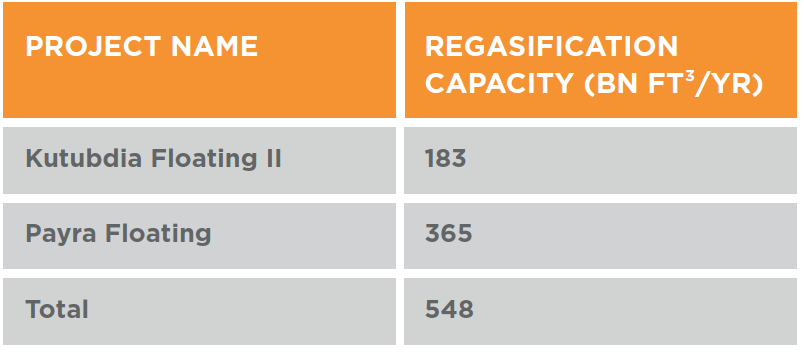 Credit: GlobalData
Bangladesh newbuild projects (Bn ft./yr)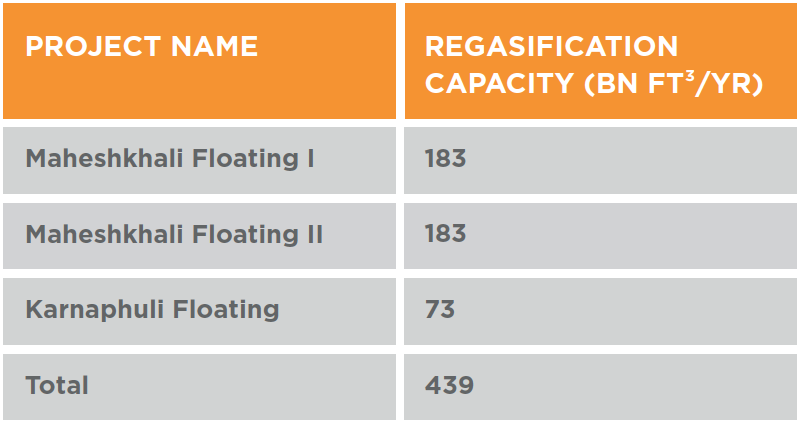 Credit: GlobalData
East and northeast India are expected to play a key role if India must realise its goal of increasing the share of gas in the energy mix. These two regions have traditionally been underserved as there is not enough pipeline capacity.
They are now a major focus area for the current government. In late July, five state-owned companies signed a joint venture agreement to execute a natural gas pipeline project in the remote north-eastern part of India. The agreement was signed by Indian Oil Corporation, ONGC, Gail, Oil India and Numaligarh Refinery.
The length of the proposed pipeline is around 1,500 km and it will cost an estimated rupees 60bn ($870mn). The pipeline is expected to be operational in four years. It will connect the state capitals of all the eight north eastern states: Assam, Arunachal Pradesh, Meghalaya, Manipur, Mizoram, Nagaland, Tripura and Sikkim. The pipeline will also connect all the eight states to the national gas grid through Barauni-Guwahati Gas Pipeline being laid by Gail.
Gail's ambitious 2,655-km Jagdishpur-Haldia-Bokaro-Dhamra Natural Gas Pipeline project is already well advanced. The pipeline will pass through eastern states of Uttar Pradesh, Bihar, Jharkhand, West Bengal and Odisha. Gail has so far spent rupees 74bn ($1.3bn) on the project, which will supply natural gas to fertilizer plants, power plant, refineries, steel plants and other industries.
The project will also provide natural gas to households and transportation in the cities that lie along the pipeline route. The scheduled completion date for Phase I of the project from Phulpur in Uttar Pradesh to Dobhi, Patna and Baruani in Bihar is December 2018.
Increase in Australian liquefaction capacity
If India leads Asia and Oceania when it comes to regasification capacity during 2018-2022, Australia will lead both in terms of liquefaction capacity additions and capital expenditure (capex). The country will have the highest liquefaction capacity additions of 13mn mt/yr over that period. The country is expected to spend $43.7bn or 65% of the region's total capex on new build liquefaction terminals during the outlook period, according to GlobalData. Prelude LNG, expected on line by now, is not expected to produce until later this year, but operator Shell gave away no details at a Q2 results call, saying only that the team was preparing for production (of gas from the subsea wells, not LNG production).
New Australian projects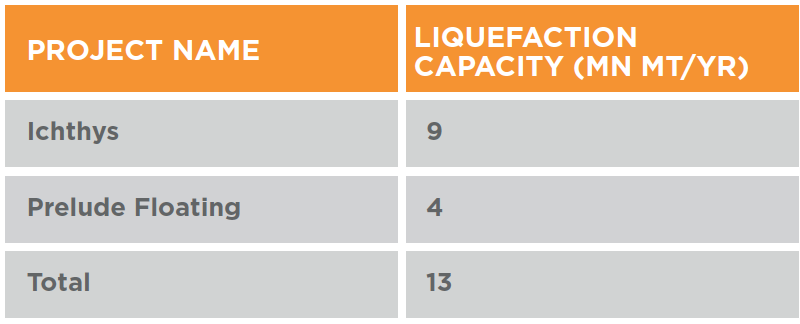 Credit: GlobalData
Indonesia will see the second biggest expansion in liquefaction capacity after Australia, but the total is modest. The Sengkang LNG plant is expected to commence operation adding 2mn mt/yr during this period. Further, during the period 2018-2022, Tangguh LNG, an existing plant will add around 3.8mn mt/yr through capacity expansion.
Shardul Sharma