[NGW Magazine] Nigeria: Long on promise, short on delivery
Since the 2017 launch of the National Gas Policy, Nigeria has struggled to shift its focus from oil to gas. Industry stakeholders have held several symposia, in order to come up with reform suggestions to help government representatives to implement policies that will enable this to happen.
Nigeria has been described as a gas province with just a drop of oil. Its gas reserves are estimated at 192 trillion ft³ and it ranks ninth in the world. According to the International Gas Union it is fourth among LNG exporting countries. It is therefore positioned strategically for the age of natural gas but so far it has not used them rationally.
The president of the Nigerian Gas Association and CEO of Frontier Oil, Dada Thomas, told NGW this month that moving from oil to gas might take a long time because the oil direction has been set for more than 50 years.
According to him, important milestones needed to be put in place first, such as the 2016 launch of the Seven Big Wins Petroleum Sector Reform Initiative –a ministry of petroleum resources initiative that is aimed at improving the transparency and efficiency of the investment climate – and the 2018 Flare Reduction programme. He went further to say that there is need for committed, transparent and consistent implementation by policy makers and stakeholders.
While this may be the case in certain areas, it is also important to note that Nigeria seems to be dragging its feet in the implementation of policies, as well as fixing the gas sector so that it attracts foreign direct investment (FDI). At the moment the potential investment landscape is littered with abandoned projects and unfulfilled memorandums of understanding.
Countries like Mauritania, Mozambique, South Africa, Angola, Ghana, Tanzania, Egypt, Equatorial Guinea and even the Republic of Congo – the last of which joined Opec in June – are attracting investments in their oil and gas sectors.
But Nigeria has neglected its infrastructure, which is key to delivering power to end-users in the country. The gas-to-power sector is in disarray as a result of warring factions – generating companies and distribution companies – over debts and personal interests, and a shortage of properly maintained infrastructure.
The Transmission Company of Nigeria (TCN) reported in September a nationwide drop in power from gas plants, as a result of pressure on the national grid, which would not have happened if the transmission and distribution network had been in good shape.
Despite these challenges, the government is often on the look-out for new projects, rather than working on what is already arranged. This poor maintenance culture has also contributed to the drop in FDI in the sector.
The National Bureau of Statistics reported foreign capital inflow into the oil and gas industry was down by $60.77mn (naira 18.6bn) in the second quarter, to $24.85mn, compared with $85.62mn in the first quarter.
Concerning the president Muhammadu Buhari's recent refusal to assent to the Petroleum Industry Governance Bill (PIGB), stakeholders believe it would benefit the entire country if the National Assembly could go over his head and pass the bill into law directly.
The PIGB is only a part of the petroleum industry bill (PIB), which encompasses the petroleum host community bill, the petroleum administration bill, and the petroleum fiscal bill – all still pending in the National Assembly. The bill had been broken down into four sections by the National Assembly to streamline the validation process, but that seems to have had little effect.
Lagos based oil and gas lawyer Olufola Wusu told NGW in a recent interview that the PIGB should have been an executive bill, judging by its importance to the oil and gas Industry, although "it is unclear if the National Assembly, with a two-thirds majority, will be willing and able to veto the president and pass it into law like the Niger Delta Development Commission Act. This is the eve of an election year, with many lawmakers due to return to the trenches to seek re-election, so the possibility of this happening is slim to none."
The Nigerian senate's Upstream Petroleum Committee vice-chairman, Gershom Bassey, is on record saying that Nigeria is losing $15bn/yr in investment as a result of the non-passage of the PIB, which would have ensured accountability and transparency in the oil and gas sector.
Thomas holds the view that the passage of the PIB and swift, committed, transparent and consistent implementation of the PIB would certainly quicken Nigeria's transformation from a minimum-added-value oil exporter, into a value-adding and gas-based industry.
FDI in Nigeria's gas is falling off as policy reforms and a seemingly shaky electoral structure have investors turning their attention to other countries and leaving the 'Giant' behind. However, Wusu believes that the sector is headed for growth, despite the current political upheavals as the parties gear up for the February 16 2019 presidential and national assembly elections.
He says the current business climate in Nigeria's LNG sector is one of positive anticipation and cautious optimism. Nigeria LNG has awarded the contracts for the front-end engineering design (Feed) for train 7 at its Bonny Island liquefied natural gas facility. He told NGW that in the next ten years, the LNG market would change as new entrants join in on the supply and demand side, shipping costs fall and technology changes.
The long-awaited Train 7 Project of the NLNG, is designed to increase NLNG's output from 22mn to 30mn metric tons/yr. The benefits of NLNG Train 7 will extend from local communities throughout Bonny Island and across Nigeria as a whole.
The industry is hoping for more investment in gas drilling and production coupled with the further reduction in gas flaring, in order to supply gas for liquefaction in Train 7, and any subsequent trains. An eighth is under consideration once the seventh is functioning.
However, Thomas doubts this. He told NGW that although this expansion is the only LNG project likely to be sanctioned this year, the 2019 elections may affect it.
"I sincerely hope that the FID for NLNG Train 7 will be taken by the partners involved and that the government will not allow the election process to affect the process, so that Nigeria does not lose out in the window of opportunities created by an increasing global demand for gas," he said.
Some positive steps
In July, Buhari approved the Nigeria Gas Flare Commercialisation Programme, which will probably attract fresh investment and innovative technology, which will help Nigeria monetise its flare gas. The head of the World Bank's anti-flaring initiative Bjorn Hamso recently told NGW that he welcomed their adoption, was excited by their potential to improve the situation, and was working with the Nigerian government on their implementation.
Also, state producer NNPC has signed agreements for seven critical gas development projects to deliver about 3.4bn ft³/day to bridge the foreseen medium-term supply gap by 2020, faster than planned. [See box.]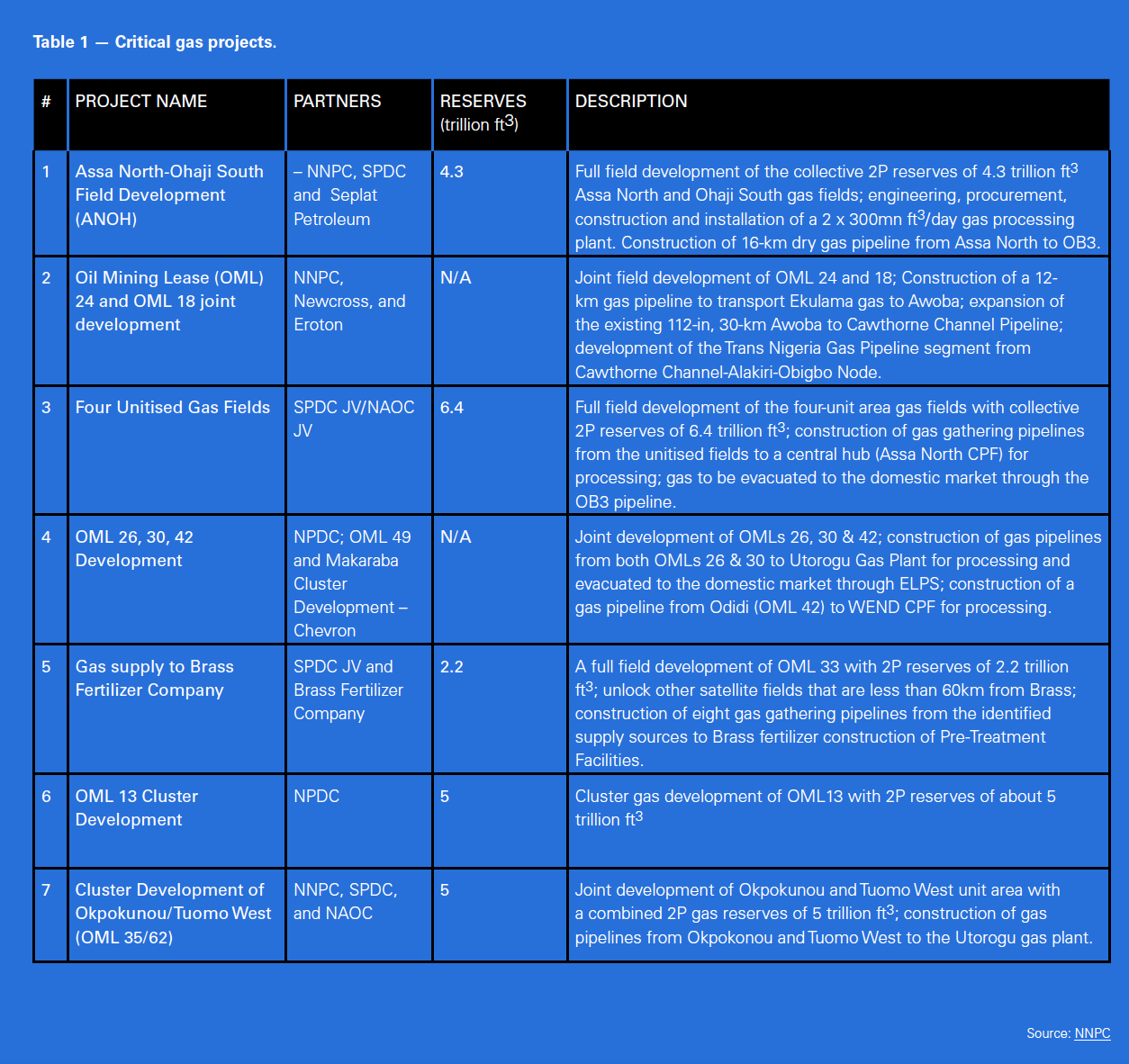 Industry stakeholders have used the 2017 National Gas Policy to resolve that switching to gas would help power the Nigerian economy and reduce the demand for foreign exchange to import refined petroleum products.
Wusu, commenting on Nigeria's tendency to delay projects, cited a 2016 report from Boston Consulting Group, Unlocking Nigeria's Potential: The Path to Well-Being.
"In it, BCG identified eight actions that were critical to ensuring the maximum impact of governmental reforms in terms of attracting investment into key sectors including oil and gas. These included setting clear priorities, moving quickly, and avoiding complexity." Despite the passage of time, it seems little has changed since the report came out.
Wusu also spoke about the effects oil prices may have on LNG pricing as it relates to Nigeria. "Historically there has always been some relationship between the price of crude oil and that of natural gas, barring any unforeseen occurrences like natural disasters and extreme weather. LNG demand is rising because of stronger environmental laws and rising economic growth. With a possible rise in LNG prices, this will be a good time for Nigeria to ramp up LNG supply both for the long-term buyers and for the Asian spot LNG market."
According to Dada, "Nigeria has abundant gas resources and also renewable sources of energy namely sunlight, hydro, wind, biomass and so on. The fact is that we need a mix of energy sources with gas providing three quarters of the base load. Renewables have their own issues: the sun doesn't shine at night; the wind may be still for long periods; there may be drought so the water level in the dams falls and so on. Price is therefore not the only determinant in the overall scheme of things although it is very important."
Election fever
Speaking about the 2019 general elections, Wusu said investors were motivated by the quality of their returns and the need for adequate security. "As elections draw near, a bit of anxiety is not unusual on the part of foreign investors. Managing the expectations of all stakeholders including investors would go a long way to ensure the success of all pending projects," he told NGW.
However, Adedamola Adegun, a commercial gas advisor with Nigerian Petroleum Development Company, an NNPC subsidiary, told NGW that in assessing the impact of the 2019 general elections, he would rate projects based on their promoters. "The pipeline projects (Trans-Sahara/AKK Gas Pipeline) are driven solely by the government while NLNG's Train 7 is co-owned with international oil companies [Shell, Total and Eni] and that matters.
"If the political landscape changes in 2019, we may have a new government without the same appetite for the pipelines, bearing in mind the huge funding requirements and poor underlying economics.
"Trans-Sahara was always a long shot anyway but AKK's success depends on the government. AKK's FID chances are low but if this government remains, it has a good chance of an FID in the very near future.
"For NLNG's Train 7, FID is very likely. The initial decision by the past Goodluck Jonathan government to stall Train 7 in favour of other priorities was reversed by the Muhammadu Buhari government. I expect the promoters of Train 7 to accelerate to FID before next election. If not, there is a small, very small chance that another government might not be keen on it," he said.
The government might have raised between $10bn and $15bn from selling its 49% stake [held by state NNPC] in NLNG, which was considered in 2016; however, the company was stalled by the National Assembly.
"More than $100bn revenue and about $15bn in dividends have been paid to the government directly and since we became tax-paying company in 2009, we have contributed more than $6.5bn in taxes," he said.