[NGW Magazine] Angela Merkel's trip to Azerbaijan
Angela Merkel's trip should be seen in the light of US criticism of Nord Stream 2 (NS 2) and of Germany's support for the Russian-led pipeline project. Other European Union member states have been similarly opposed to the project, led by the Baltic States and Poland but also central Europe is against it.
But the trip could also be related to Germany's and other EU members' policies towards Iran and possibly to explore the repercussions of the recent Caspian Sea agreement.
Nord Stream 2: still not an absolutely sure deal
Merkel's trip to Azerbaijan and her attempt to find an alternative source for gas looks illogical, at least from Moscow's perspective. NS 2 is expected to be built on time; and the four strings, totalling 110bn m³/yr of Russian gas, would be enough not only to supply Germany and other regions of Europe. This would make Germany an eve major gas hub for all Europe and increase Germany's economic clout.
Russia has already received permission from most countries to lay gas lines in their territorial waters. Russia and Germany have actually already started construction. Russia's president, Vladimir Putin, has done what he can to ensure the work goes ahead. Attending the wedding celebrations of Austria's foreign minister Karin Kneissl in mid-August and supplying a Cossack choir was one way to thank Austria's government for its unstinting support for NS 2 and vocal advocacy of Russian gas generally.
Indeed, not so long ago, Moscow and Vienna signed a new gas contract which had extended the delivery of Russian gas to the country far into the future. But all these actions are not enough to guarantee the full success of NS 2, which faces several problems.
First is the possibility of even tougher American sanctions, which would complicate the business of the companies and banks dealing with the project even as mere financiers rather than partners. Sanctions could affect the entire Russian gas industry. Second, Denmark has still not provided the permission needed to construct the gas line, and there is contradictory information as to whether Russia could build the gas line without the Danes' permission. Berlin has definitely taken this possibility into consideration. Another reason for an alternative route for the gas line is due to Berlin's desire not to antagonise Washington too much, or its European allies.
Tensions with Washington
The tension between Washington and Berlin has been simmering for a long time, and is mostly due to changes in the global balance of power. Throughout all of the Cold War, Germany or, to be precise, West Germany, was acquiescent to the US owing to fear of what the USSR might do. The Red Army had been based near the Brandenburg Gate in the heart of Berlin. For this reason, West Germany never followed the route that France took: it ceased being a member of Nato during de Gaulle's presidency.
While it was geopolitically obedient to the US, Germany did not pose any danger to the US as an economic power, for a variety of reasons. First, it took Germany several generations to recuperate from the devastation of the Second World War. And second, the US was absolutely sure of its industrial prowess and feared no competitors.
But by the time of Trump's presidency, the situation was different in many ways. First, Germany was not so worried about being excluded from the US' nuclear umbrella, especially in Berlin's dealings with Moscow. There was no realistic prospect of Russian tanks moving towards Berlin. At the same time, the economic/ industrial decline of the US was clear to all, while Germany on the other hand had emerged as a powerful competitor. All of this had led to a sharp deterioration of Berlin's relationship with Washington. And some observers believed that Germany was the only country in Europe that faced up to the US in earnest.
Trump publicly accused Germany of being a freeloader and said that because of Germany and many other Nato countries' failure to honour their commitments, the US had spent considerable sums on Nato. This contributed to the US' budget deficit and the consequent slowdown of the economy, he claimed. He also proclaimed that Germany's trade relationship was not fair and this was the reason for the US's trade deficit with Germany.
NS 2 also played a prominent role in Trump's tirades. He said that Germany, the US's ally, bought gas not from the US but from Russia, Nato's potential enemy. Moreover, by promoting NS 2, Germany had become absolutely dependent on Russia. Trump actually stated that Russia fully controlled Germany, calling NS 2 a tragedy.
But despite all its tensions with the US, Germany is loth to go through with a complete divorce from the US, for geopolitical and economic reasons. Thus, Merkel tried to demonstrate to Trump that Germany is truly searching for alternatives. It was not just the USA which is not happy with Germany's move: there are also plenty of east Europeans who resent NS 2. And these also provide an additional rationale for the search for alternative gas routes.
East European objections
East Europeans, many of them members of the EU and Nato, have been bitter enemies of NS 2 for a long time. There are clear reasons for this objection. NS 2 would make their old, Soviet-era gas lines useless and deprive them of revenue. At the same time, the official concern was quite different: reliance on Russia as the major supplier of gas is politically dangerous. Berlin is loth to antagonise East Europeans completely, and endanger the very existence of the EU. Searching for alternative routes demonstrates that Berlin is taking their concerns to heart.
Berlin also shows its concern for East European interests in other ways. In her conversation with Ukraine's president Petro Poroshenko, Merkel assured him that Germany would insist that Ukraine remain the major transit point for Russian gas. While the desire to exploit routes out of Azerbaijan is designed to appease Washington and East Europe, Merkel also wants to explore the possibility of tapping the much richer gas resources of nearby Iran and Turkmenistan.
Potential Iranian/Turkmen/German co-operation
Germany has seen Iran as an important economic partner and potential source of gas and remains a fully paid up supporter of the Iran nuclear agreement. It was not only because of the hope that Iran would not be a nuclear state, at least in the near future: trade also played a role.
The deal provided the opportunity for German businesses to be engaged in Iran. Gas and oil projects were also clearly on the minds of the people in Berlin. Washington's abandonment of the deal and threat of sanctions led to the withdrawal of most European, including German, companies. However, Berlin is not happy accepting Washington's decree in this area. Berlin has said it will continue to co-operate with Iran and some German officials even circulated the idea that Europe should have an alternative to American-controlled Swift, the system for money transfer, to limit the US's ability to engage in European affairs. It was clear that Berlin wanted to keep the window of opportunity open for future potential gas/oil deals and Azerbaijan is essential for this arrangement.
Indeed, bordering Iran, Azerbaijan could be a natural transit territory for sending gas to Europe. Finally, one should remember Turkmenistan. It is true that after the Caspian Sea agreement, Russia could well prevent the construction of the TransCaspian line, which would send Turkmen gas to Azerbaijan and from there to Europe. It could claim that such a line would pose a risk to the environment and, as a matter of fact, Azerbaijani observers do not regard the building of the TransCaspian gas line as something viable, at least in the near future.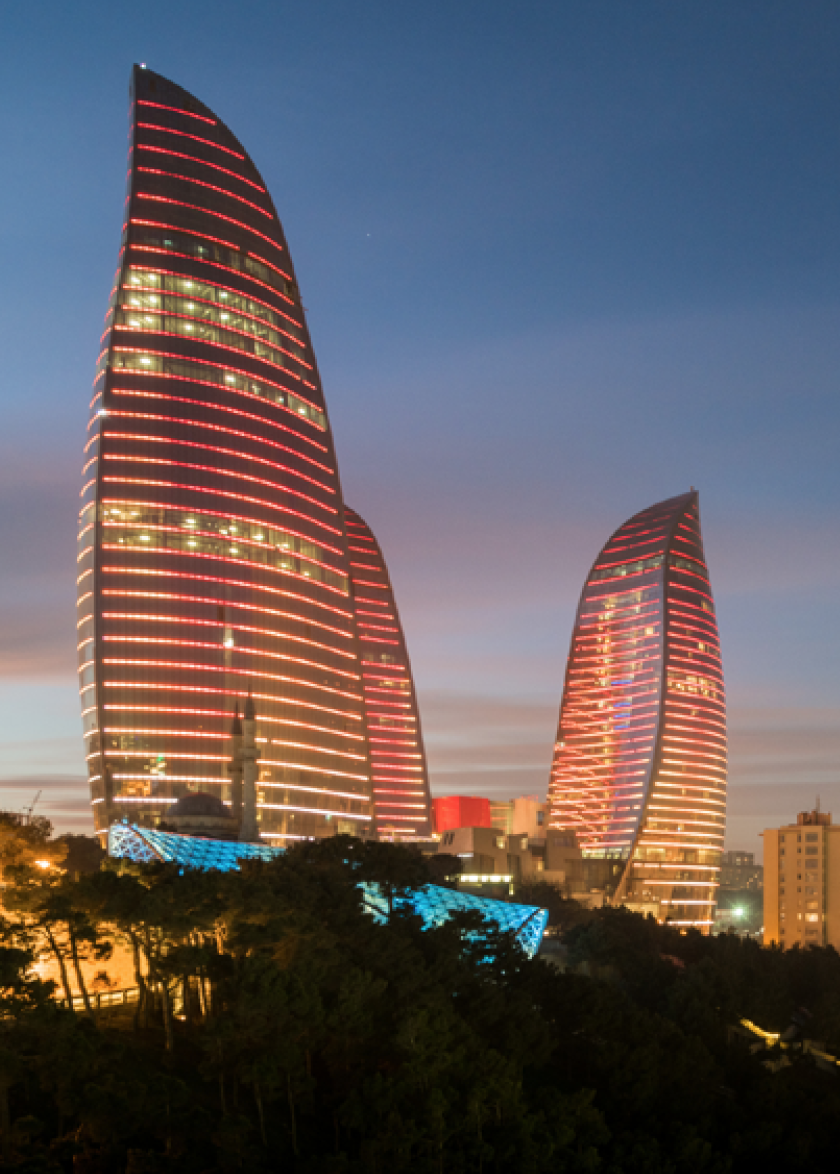 Still, in the future, these obstacles might disappear and Merkel clearly keeps this possibility in mind. Therefore, it is clear that interest in Azerbaijani gas as part of the SGC was not just for show. Azerbaijani gas and related gas matters were indeed the central aspect of Merkel's discussion with people in Baku. As a matter of fact, Merkel emphasised the importance of the SGC even when she emphasized Germany's continuing interest in NS 2.
One should note that Germany is not the only European country with a strong interest in the SGC. Italy, for example, has its own interest and Rome's interests have not always coincided with those of Germany.
Italy made a considerable investment in Azerbaijan and promised to solve the problem of Nagorno-Karabakh: an Armenian enclave that Baku does not recognize but is unable to remove.
But nothing happened and so Baku has decided to pin its hopes on Germany. On the eve of Merkel's visit, Azerbaijani observers noted that Germany's ties with Azerbaijan have strong historical roots. At the same time, one Azerbaijani observer noted, Merkel's visit shows clearly that NS 2 is not enough to ensure Germany's "energy security" and the SGC is essential. Merkel was ready to return compliments and dispense promises. She also demonstrated exceptional flexibility. Azerbaijan is not known for respecting human rights and some politicians warned Merkel about the political risk. They advised her not to visit Baku but the advice was ignored.
As well as setting to one side that much-cherished principle: there was also embarrassment for the delegation when one member was refused an Azerbaijani visa because of his visits to Nagorno-Karabakh.
Conclusion
Merkel's visit to the Caucasus had a several goals. One was clearly related to the SGC, which also has the potential to include gas from Iran and Turkmenistan. Another benefit was more propaganda type: Merkel demonstrated that Berlin took the concerns of the both the US and East European states' interests to heart, and is ready to explore sources of gas other than those from Russia.
Yet another side of the visit was the real attempt to explore the possibility of alternative gas sources for Germany, and to uphold national interests in the region, where Germany faces a variety of competitors: the US, Russia and some members of the EU such as Italy.