[NGW Magazine] Vietnam sticks its neck out
Vietnam has recently signed several natural gas and energy deals that could not only triple the country's gas output within eight years but will have far-reaching ramifications.
Indonesia's oil and gas regulator SKKMigas said November 14 that UK-based producer Premier Oil reached a memorandum of understanding (MoU) with state-run PetroVietnam to sell gas from its Tuna block offshore Indonesia. The MoU was signed four days earlier on the sidelines of the 2017 Asia-Pacific Economic Cooperation (Apec) Summit in Da Nang, Vietnam.
Premier Oil, the block's operator with a 65% interest, estimates that first gas will flow in 2023. Gas produced from the Tuna block will be fed into to the Nam Con Son pipeline system in Vietnam through a yet-to-be-built, cross-border pipeline.
According to PetroVietnam, the block holds about 17bn m³ of gas and 20mn barrels of oil. It is projected to produce about 100-120mn ft³/day of gas, according to SKKMigas. It is in the South China Sea near Indonesian and Malaysian maritime territorial claims.
Russian state-run energy firm Zarubezhneft and PetroVietnam also reached a sales and purchase agreement (SPA) on the sidelines of the Apec summit for natural gas extracted from the gas condensate deposit in the north-eastern part of the Rong field, offshore southern Vietnam in the Mekong Basin.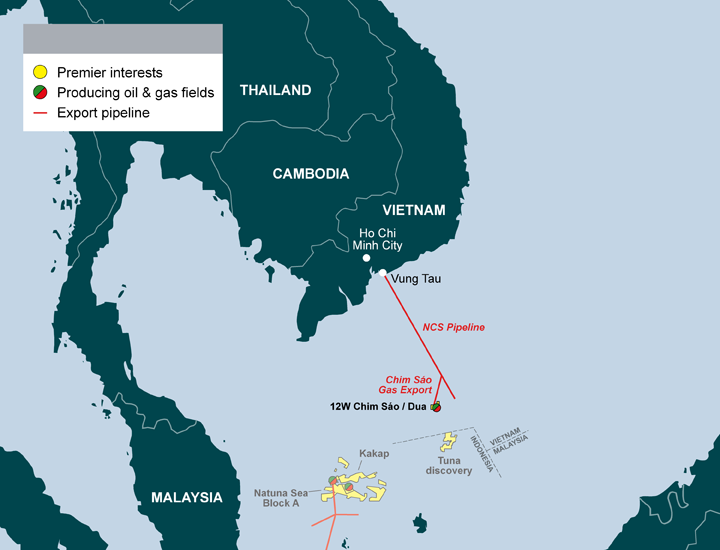 Credit: Premier Oil
The Rong field development is being carried out within an intergovernmental agreement between Russia and Vietnam on Block 09-1, Zarbezhneft said on its website. Only oil has been produced at the field to date.
Vietnam is also close to finalising a deal with US major ExxonMobil to develop the Ca Voi Xanh, or so-called Blue Whale offshore gas project. During the summit, the Vietnamese government and company officials said that the project was "moving ahead." A final investment decision (FID) is expected by late 2018.
Vietnam goes long on gas
The Blue Whale project, Vietnam's largest gas project, is in deep-water block 118, about 55 miles (88 km) off the Vietnamese coast in the heavily contested South China Sea. A late 2015 ExxonMobil production guidance said the project could produce 10.6mn m³ (375mn ft³) of natural gas and 3,000 barrels of condensate daily. The offshore field is estimated to contain gas reserves of between 85bn m³ and 283.2bn m³.Gas will flow onshore for processing near the coastal city of Da Nang, where it will supply four new power plants in central Vietnam.
Andrew Harwood, research director of Asia Pacific upstream oil and gas at energy consultancy Wood Mackenzie, told Reuters that "Vietnam's gas production could surge to about 2.4bn ft³/d in 2025, up from the current 800mn ft³/d, when other new supplies and Ca Voi Xanh come online." The project is estimated to add nearly $20bn to Vietnam's budget, with first gas to flow around 2023.
Two other recent deals of note reached by Vietnam include a series of aviation, transportation and energy deals inked during the visit by US president, Donald Trump, to Hanoi when he was in the country for the Apec summit.
PetroVietnam signed a MoU with US firm AEX Corp. to develop the Son My LNG terminal in Binh Thuan province in southern Vietnam. PetroVietnam also signed a MoU for potential collaboration with Alaska Gas Development Corp. (AGDC) for gas supply as well as the possibility of upstream resource investment in the state of Alaska.
Gathering geopolitical storm
However, of all of the gas deals recently signed or discussed by Vietnam, the Blue Whale project has the greatest potential geopolitical ramifications.
Though the massive proposed gas project will rest in Block 118, clearly within Vietnam's UN-mandated 200-nautical mile exclusive economic zone (EEZ) near the disputed Paracel Islands, it's also an area that China claims in its so-called nine-dash line that encompasses nearly 90% of the South China Sea.
For its part, Beijing's claim to Block 118 starts 50 nautical miles off central Vietnam's coast and comprises the eastern third of the block.
Exxon is reportedly planning to drill at least 10 nautical miles outside the nine-dash line. A report in the Diplomat said while Exxon's reported drilling location does not technically fall within Beijing's claims under its nine-dash line, the drilling will drain the same basin China was exploring in 2014 with its deep-water drilling rig Haiyang Shiyou 981 (HY981).
In May-2014, state-run oil major China National Oil Company (CNOOC) towed its $1bn oil drilling rig around 17 nautical miles from Triton Island, the southwestern-most island of the Paracel Islands.
In the ensuing two months, Vietnamese ships faced off against their Chinese counterparts, with Vietnam trying to prevent the oil platform from establishing a fixed position.
Back in Hanoi, the government allowed the citizenry a rare opportunity to protest, but those protests spun out of control as angry Vietnamese in several locations scattered across the country burned or destroyed numerous Chinese managed or owned businesses and factories.On July 15, Beijing announced that the platform had completed its work and withdrew it fully one month earlier than originally announced.
Yet, unlike that terse 2014 spat, any new standoff near Block 118 will see the ante upped considerably since it will include US-based oil major Exxon.
To date, US-policy states that it does not take sides in the South China Sea dispute. However, in practical terms the US has helped both long-time ally the Philippines in its own South China Sea dispute with Beijing as well as Vietnam.
Currently, it's unclear if China would push back against US business interests near its own maritime periphery. However, if the country's recent actions in the region are any indication of its future resolve, energy geopolitics in the region could reach an entirely new level, pitting former adversaries the US and Vietnam in one corner against the world's second largest economy and emerging super power China in the other.
Tim Daiss