[NGW Magazine] LNG Suppliers Count on Asean
This article is featured in NGW Magazine Volume 2, Issue 20
By Shardul Sharma
Creating demand is one solution for the LNG producer, surveying a long market. That can be technological, such as bunkering; and regional, where communities are remote from a gas or power grid.
The global LNG market is expected to remain in surplus until at least the early part of next decade as new suppliers such as US and Australia ramp up production. With demand in mature markets such as Japan and South Korea likely to plateau, it is emerging Asia that is expected to help ease the temporary glut. Although in recent months there has been a lot of focus on expanding demand of south Asian buyers in India, Pakistan and Bangladesh, the Association of Southeast Asian Nations (Asean) region is expected to be an equally important market for LNG suppliers in the coming years.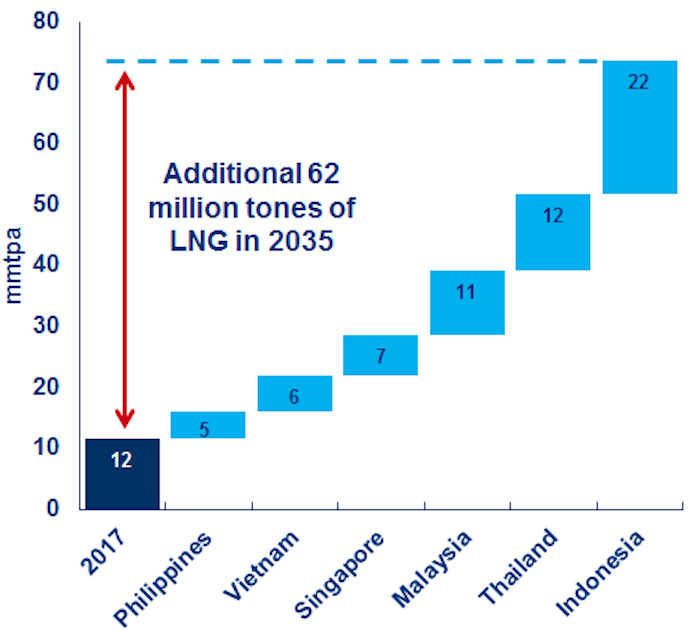 The Asean region – Indonesia, Malaysia, Philippines, Singapore, Thailand, Brunei, Vietnam, Laos, Myanmar and Cambodia – is expected to be a major consumer of LNG in the decade ahead, primarily because of expanding demand for power. The region has installed 209 GW of power capacity as of this year but it needs 270 GW more by 2035.
According to Wood Mackenzie's Asia Pacific gas and power senior analyst, Edi Saputra, countries such as Indonesia, Vietnam, Philippines, Myanmar, Laos and Cambodia have low power demand per capita of between 300 and 1,800 kWh/man-year. They are also lagging in power supply reliability, and therefore could see a lot of development in those markets. Saputra estimates that it will cost around $500bn to build the capacity.
"At the moment, power generation is the biggest user of LNG in Asean. Other key users are the industrial and manufacturing sectors. LNG is needed both to meet the region's increasing gas demand, which is growing at 1.4%/yr, and to backfill the declining piped gas supply. The region's piped gas supply is estimated to decline at 1.9%/yr between 2017 and 2035," he says. Wood Mackenzie expects Asean's LNG demand to triple to 35mn mt/yr in 2025, and grow further to 72mn mt/yr in 2035. The estimated contributor of each country to the long-term LNG demand is as shown in the chart. Indonesia and Thailand will lead the demand growth.
Greater co-operation is the key
Considering that Asean will increasingly rely on LNG volumes, it makes a lot sense for the organisation to shift its focus more toward LNG co-operation, says Saputra. By 2035, it is estimated that more than half of the region's gas demand will be met by LNG. LNG co-operation, he believes, doesn't have to be done in the form of a joint LNG procurement, although it is one option that they should consider. Other options to explore include promoting regional LNG trade, facility sharing and regional market-reflective LNG pricing.
Asean free trade agreements and the lifting of other kinds of obstacle mean LNG trading there could be more competitive, yet it has not been sufficiently explored by the members.
Sharing facilities is another option. Indonesia and Singapore have signed heads of agreement to utilise Singapore LNG's facility in that country to provide break-bulk service to meet small-scale demand in the western part of Indonesia. Myanmar has plans to build floating storage and regasification units, but is also exploring an option to import LNG via Thailand's Map Ta Phut terminal, through a gas swap arrangement involving existing upstream blocks.
Singapore could work to foster improved co-operation across Asean's LNG sector given its aspiration to be the Asian LNG trading hub. "Singapore's neighbours, particularly Malaysia and Indonesia, could use their substantial LNG supply positions to support Singapore's aims of developing an Asian LNG price benchmark and increase its adoption," Saputra argues.
Although it is clear that the scope of co-operation among Asean members is huge but little progress has been made in terms of energy policy. This is partly due to the lack of joint regulations and the weak control the organisation has over its members, says Saputra, adding that to stay relevant, Asean has to explore energy co-operation among its members, instead of merely relying on individual efforts in isolation, apart from each other.
Liberalising energy markets
Just as LNG co-operation among the members is an important aim, liberalisation of the energy market in individual countries also needs to be done. As of today, Thailand, Indonesia, Malaysia and Singapore are the LNG importers amongst Asean members. Thailand and Malaysia have already taken initial steps to make their domestic energy markets more flexible. These two countries have always relied on a single buyer market structure, with national oil companies (NOCs) such as PTT in Thailand and Petronas in Malaysia acting as the single buyer of all the upstream gas, reselling the gas to the end users. "The arrival of LNG is driving the change – there are multiple sources of LNG supply, and customers are requesting more competition on the LNG front. Some are keen to deal with the LNG suppliers directly without going through the NOCs, and the regulators in Thailand and Malaysia are supporting this trend," says Saputra.
This open LNG procurement model creates a knock-on effect – requiring third-party access to be given for the regasification and pipeline infrastructure. Malaysia implemented third-party access for domestic gas infrastructure in January this year. Thailand is considering unbundling its midstream gas infrastructure from the upstream and downstream gas business. In the case of Malaysia, LNG imports also drove the ongoing price reform, Saputra argues. The country is departing from regulated pricing, toward LNG-linked and market-based pricing. Regulated pricing is becoming unsustainable, as LNG takes a bigger role.
Import infrastructure Shortage
As Asean's LNG demand is expected to triple to 35mn mt/yr in 2025, and more than double again to 72mn mt/yr in 2035, the region will have to invest in new regasification facilities. There are seven existing regasification facilities in the region, with a total capacity of 28mn mt/yr. This will not be enough to meet future demand; so the region will have to build facilities. "In 2025, we expect the region's regasification capacity to increase to 73mn mt/yr," says Saputra.
There are a lot of proposals to develop new facilities in the region, but not all will materialise. Key challenges include bankability, market structure, and stakeholder alignment, among others. This is definitely one area where Asean could work together to foster co-operation, for instance through sharing facilities and knowledge.
Small scale LNG
Along with conventional LNG solutions, given the geography of some Asean countries, small-scale LNG will find its niche. Indonesia and the Philippines, with their archipelagoes, where distributed power generation for island electricity is profound, offer a lot of opportunities for small-scale LNG.
"It helps overcome gas supply availability for isolated and remote sites, but it does entail a higher cost, and is technically and logistically a more challenging option. Small-scale LNG projects are viable, as long as the total facility cost per unit of regasified LNG is lower than the diesel-LNG price differential. We take the view that average projects, of 100 MW, are economic at an oil price of $60/b or above," says Saputra. An important criterion is the size of the project, he adds. Larger projects are economic even at the current oil price level, while some projects are just too small to be viable. Clustering and sequencing the projects – starting with larger projects first, and continuing with smaller projects as the oil price increases – could improve the chance of the projects. Hence it depends on the size and location.
Coal continues to compete
Despite the bullish projections of expanding gas demand in the region's power sector, coal will continue to mount a challenge to gas, at least in the near future. In fact, according to Saputra, coal is taking market share from gas. "We expect coal's share in power generation to increase from 42% to 48% in 2025, while gas's share will decline from 38% to 29%. Gas has been enjoying a good position in the region, owing to the cheap legacy piped gas. But the condition is shifting in favor of coal. Legacy piped gas supply is in decline, and LNG imports will push up the costs of gas-fired generation.
"Asean has been promoting the use of clean coal – pollution control – technology; and high efficiency-low emission plants to address the environmental issue for now. In the longer term, post 2025, with the growing environmental concern, a shift away from coal is possible – but not in the near future.
"While we expect the market share of gas to decline, its absolute demand will still grow, amid the region's robust power demand outlook. Gas will still find its place as flexible generation in the system."
Shardul Sharma