Energy Waste Bedevils Iran [NGW Magazine]
This article is featured in NGW Magazine Volume 2, Issue 18
By Dalga Khatinoglu
For all its vast energy reserves, poor husbandry means that more goes to waste than the country can afford to lose and even a modest investment would yield a big pay-back.
As Iran's parliament published a 40-page report by parliament on September 11 that said about a quarter of the country's primary energy is wasted, NGW obtained an official document, prepared by the oil ministry, which warns that Iran could become a net energy importer by 2024, or even sooner, if the energy demand growth continues unabated and the high energy intensity is not cut by half.
The parliamentary report says that the country wasted 395.86mn barrels of oil equivalent energy in the fiscal year to March 2014, about 13.2% more than it did in the previous year and the situation continues, but it predicted that the country would have a capacity to export 225mn m3/d gas and 2.47mn b/d oil in the year to March 2022. However, that is only going to be possible if the country cuts energy intensity to 0.5 (metric tons oil equivalent to create $1000-worth GDP) in 2021 and 0.3 in 2025, compared to the current 10.05".
The oil ministry's official document also says that the energy intensity in Iran is double the global average and it should be halved, if Iran is not to become import-dependent. "The energy consumption per capita in agriculture, housing, transportation and industry is 3.1 time, 1.8 times, 1.5 times and 1.4 times more than global averages," it said.
The major obstacle is the need for technology and investment. Iran needs $192bn to reach its target for cutting energy intensity in five years, while the oil and gas sector also needs a further $200bn on top of that to increase the oil and gas condensate production by 1.5mn b/d to 5.292mn b/d and raw gas output by 0.5bn m³/d to 1.287bn m³/d, based on the oil ministry's own document. The total value ($392bn) equals almost Iran's total GDP in 2016.
The latest report by Iran's statistics bureau indicates that the total investments in Iran's economy went up by 7.1% to only $5bn in the first quarter of the year since March 21. Last year, Iran attracted about $3.124bn foreign investment. Given that low figure, there seems little hope of attracting the $392bn needed for the energy sector, including energy efficiency projects.
According to BP's estimates, Iran's primary energy demand rose by 39.4% to about 207.7mn mt oil equivalent (1.537bn boe) in 2016, compared with 2006.
Both parliament and BP's statistics recognize the actual energy demand and exclude flaring, energy lost in the grid, and so on.
As well as flaring 16.4bn m³/yr gas and the 12bn m³/yr gas lost in the grid in 2016, Iran also suffers from low efficiency of thermal power plants (37.9%, which is little better than half the 60% now achievable) and 11% of the power is also lost in the grid.
The country's power plants consumed 601665bn kilocalories energy (61.3bn m³ gas and 10.5bn litres of liquid fuels) during 2016. Thermal power plants also generated 265.2 TWh gross electricity," according to the energy ministry's official statistics.
According to the ministry's document, the potential of five-year energy savings in the different sectors, regarding a 6% GDP growth is:
• 1.3bn boe in housing
• 1bn boe in industry
• 570mn boe in transportation
• 130mn boe in agriculture
• 2bn boe in power
If Iran does manage to implement its energy efficiency projects, it would save 5bn barrels oil energy by March 2022 cumulatively. And by 2030, Iran would emit 1.8bn mt CO2 emissions less and save at least $870bn. So an investment of $192bn in halving energy intensity would bring Iran a return almost five times greater.
Cutting emissions is also vital for Iran, which now produces 602mn mt/yr of CO2, costing the economy $16bn each year, according to NIOC statistics. Iran's Environmental Protection Organization says the health damage of air pollution alone stands at $8bn/yr, including the early death of more than 23,000 people, while it causes schools, state entities and industrial firms to close often, especially in winter, in megacities such as the capital Tehran.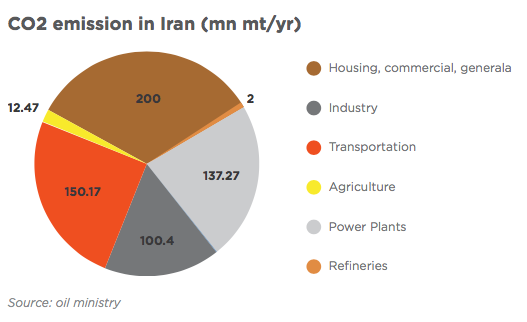 Iran also has to cut CO2 emissions by 12% by 2030, based on the Paris Agreement signed in December 2015.
According to an official document seen by NGW, Iran needs to spend $52.5bn to achieve this 12% cut, of which just a third – $17.5bn – is expected to come from domestic reserves and to achieve a third of the targeted cut. The rest would depend on foreign investments.
Source: oil ministry
The oil ministry's document says that there is the potential to cut energy demand in housing sector by 40%; in the small industrial sectors by 25%; in the major industrial sectors by 50%; and in the transportation sector by 30%.
Dalga Khatinoglu