Gazprom's Gas Flows to EU Fall in March
Russian gas flows to European Union (EU) fell in March as cold pressure eased, analysis of company and flow data shows. Gazprom's exports to the EU have always been difficult to assess as in its account the monopoly exporter Gazprom doesn't use EU but Far Abroad" (inclusive of Turkey and excluding the Baltic States); and it does not use the same standard to measure the volume of gas (20°C instead of 0°C in EU, so they have less energy/m³).
But thanks to the EU regulation on energy market integrity and transparency (Remit), Gazprom is now providing daily export data to the West.
By computing those daily flows and using the pipeline operators' (Entsog) transparency platform, NGW can provide a monthly analysis. It looks at Gazprom's Western exports and splits what goes to Turkey[1] and what stays in EU (with the addition of Moldova as this country stands between Ukraine and EU). Ukraine also provides daily entry-exit data which can be cross-checked against Gazprom's.
Gazprom's Western monthly exports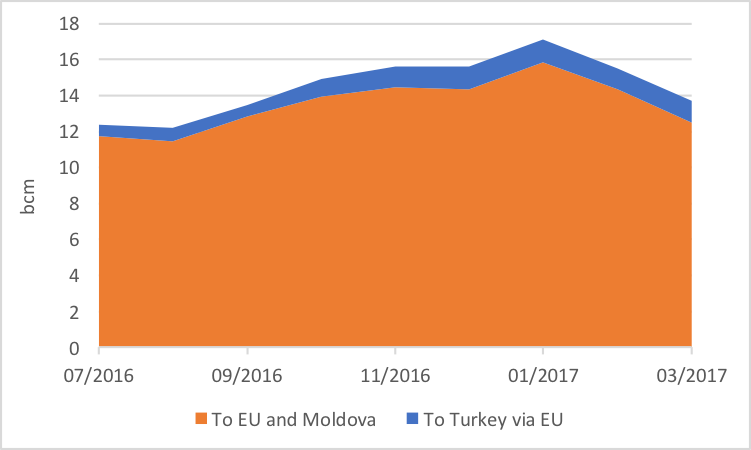 Source: Gazprom, Entsog, thierrybros.com
The data can even be fine-tuned into the different routes Russian gas travels to reach EU (and Moldova), allowing all stakeholders[2] to have updated un-biased information.
Split of Gazprom's EU monthly exports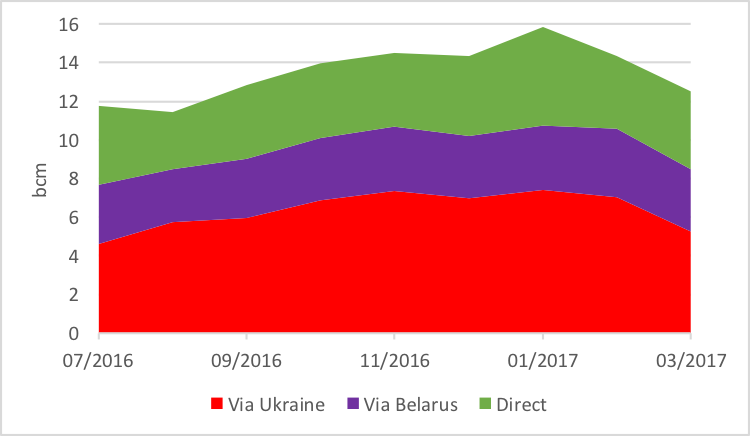 Source: Gazprom, Entsog, thierrybros.com
Hopefully, all EU member states[3] will now report their own gas demand in a timely fashion (M-1) to the Joint Organisations Data Initiative so that all stakeholders can have a complete vision of the EU gas markets (supply, demand, stocks changes and hub prices)…
Thierry Bros
Founder thierrybros.com
Advisory Board Member of Natural Gas World
---
[1] Gazprom provides also gas to Turkey via the Blue Stream a 16bn m³/yr pipeline from southern Russia to northern Turkey under the Black Sea. Those volumes are not taken into account here as NGW only looks at Western exports.
[2] This information is important for policy makers that want to understand the gas dynamics and could have a say in new infrastructure as well as bank analysts / funds that want to forecast Gazprom's profit and loss.
[3] Most EU member states do; except the biggest gas market that reports with a 2-month lag and smaller ones with a 3-month lag.