Nauticor Signs up Swedish Shipowner
Hamburg, Germany-based LNG bunkering firm Nauticor said January 19 it has signed up a new Swedish customer.
Destination Gotland, owned by Swedish shipowner Rederi AB Gotland, had signed the contract; it operates the ferry service connecting mainland Sweden with the island of Gotland carrying 1.75mn passengers a year; its first LNG-fuelled roll-on passenger (RoPax) ferry M/S Visborg will start operating on that route this year.
Nauticor, as a part of the Linde group, supplies LNG to maritime customers in northwest Europe, especially the North and Baltic Sea, competing with firms like Skangas and Shell. It is to station a new 7,500 m3 bunkering vessel (see photo below) later this year at Klaipeda, Lithuania. Nauticor's sister company AGA also operates a mini-LNG terminal in Nynashamn near Stockholm. Both are in the Baltic.
Nauticor CEO Mahinde Abeynaike said: "We are very happy that we have been able to win Destination Gotland, which is a highly professional operator of one of the largest LNG-fuelled ferries in the world, as a customer. Our new LNG bunker vessel will play an important role in developing a tailor made solution for Destination Gotland. Further, we will closely co-operate with our sister company AGA that operates the Linde Group's LNG terminal in Nynäshamn... This marks an important step in the development of a stable supply of LNG for the shipping industry in North Sea and Baltic Sea."
Destination Gotland CEO Christer Bruzelius added: "We are glad to have found in Nauticor a leading and experienced LNG supplier and partner," adding that its use of LNG would "contribute to the protection of the environment along the Swedish coast."
A spokesperson for Nauticor later told NGW that its bunker vessel will start operations in 4Q2018, is currently under construction in South Korea, and that its name is not yet public: "It will serve different ports in the Baltic Sea and North Sea area, with Klaipeda playing an important role." Klaipeda hosts Lithuania's floating import terminal, FSRU Independence, and separate truck-loading facility.
Last week Spain's Gas Natural said it had secured the first contract to supply bunker LNG at mainland Spanish ports, namely with ferry operator Balearia.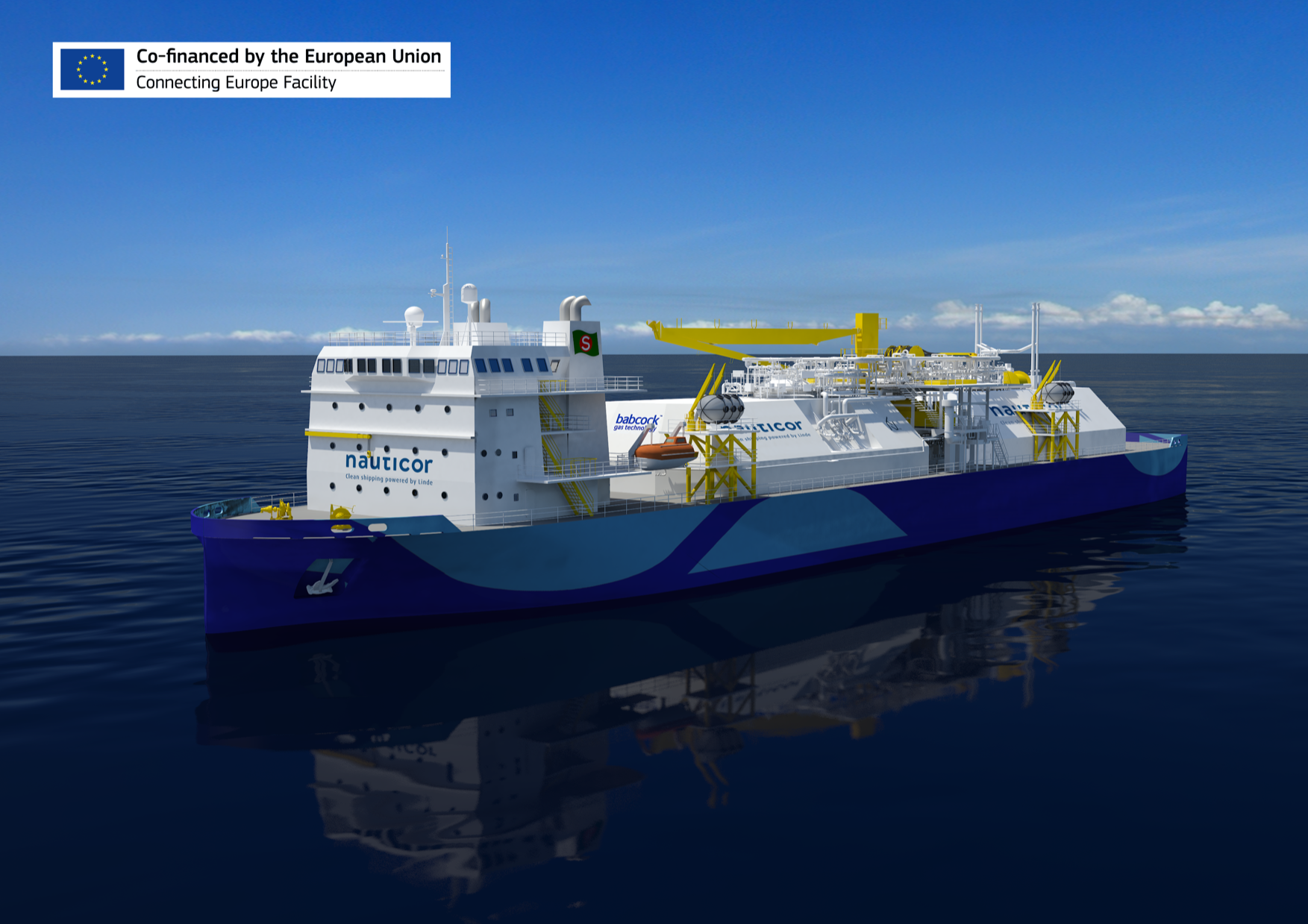 Destination Gotland's RoPax ferry M/S Visborg will be fuelled with LNG by the Nauticor bunker ship (shown above) and is due to enter service this year (Photo credit: Nauticor)