NAIT Partners with Industry to Drive Circular Plastics Economy
In 2019, NAIT Industry Solutions partnered with Inter Pipeline, a major petroleum transportation and natural gas liquids processing company located in Alberta, to create the 10-year, $10 million Plastics Research in Action (PRIA) initiative. Working in partnership with Inter Pipeline, NAIT researchers will help the company's Heartland Petrochemical Complex produce recyclable plastics with lower emissions and recycle plastics waste into chemical commodities and fuels while advancing the circular plastics industry in Alberta, Canada and globally.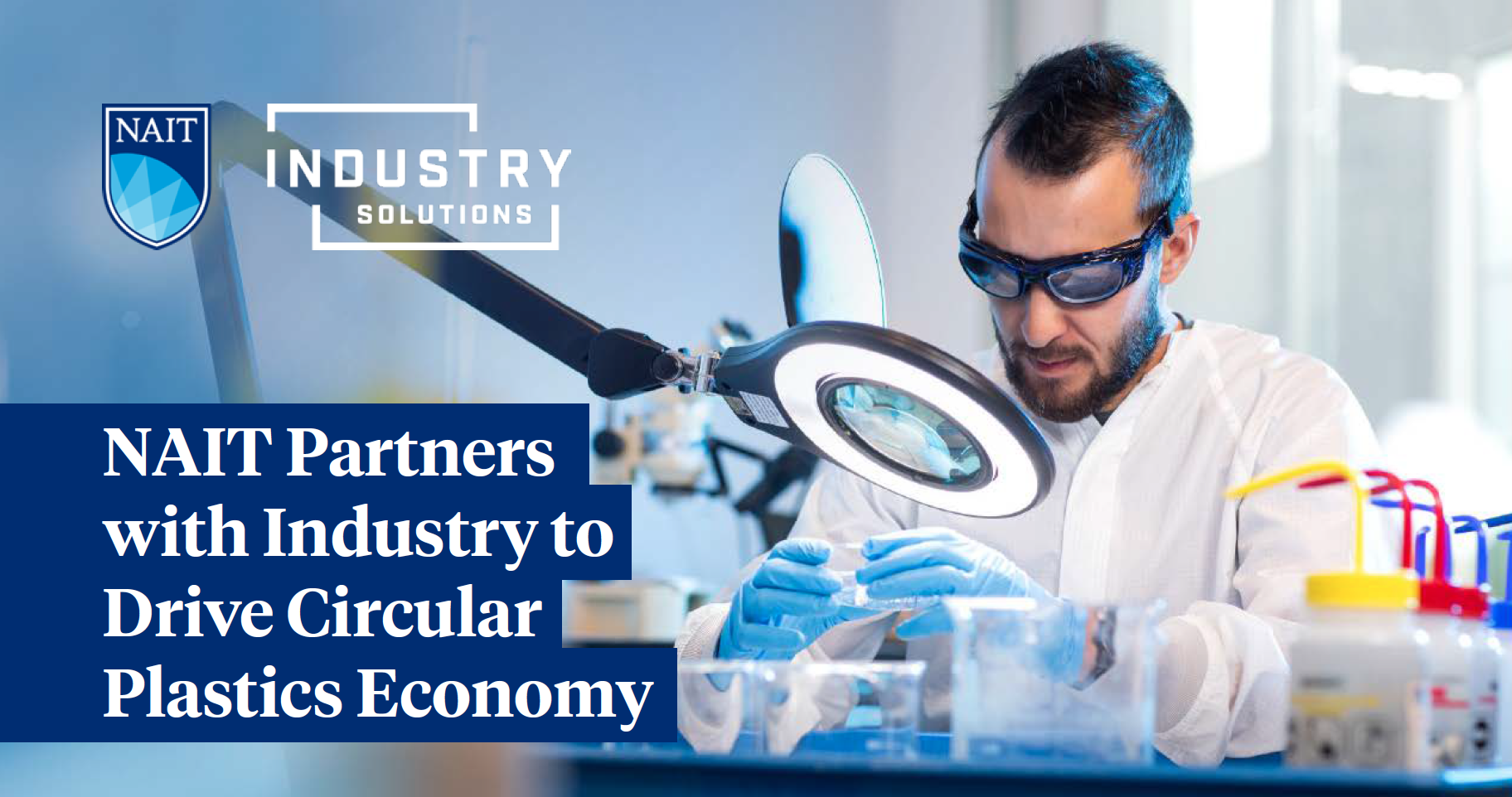 "PRIA is a strong example of NAIT Industry Solutions' focus and collaboration within energy, environment and sustainable development. We're proud to work with Inter Pipeline in enhancing our region's plastics circular economy to benefit the environment, industry and communities," says Dr. Olle Lagerquist, Associate Vice President, NAIT Industry Solutions.
PRIA currently has two ongoing applied research projects.
The first PRIA project will develop methods to identify, quantify and monitor microplastics – small plastic particles less than 5 millimetres long – in freshwater and river sediments found in the North Saskatchewan River. Currently, there are no standardized methods of extracting these contaminants from sediment samples, which leaves gaps in the knowledge of the types and sizes of microplastics in freshwater and their impact on the environment.
PRIA's second project will test, validate and demonstrate the blending of post-consumer plastics into asphalts for the Alberta marketplace. Technologies that convert plastic waste to a wax product for blending into asphalt have shown favourable results when applied to roadways in warmer climates. NAIT researchers and industry partners will focus their efforts on testing and monitoring this process in cold climate conditions.
"The global issue of managing plastic waste in our environment has increased the need to find innovative ways to solve the plastics waste issue. NAIT's applied research will contribute to the body of knowledge around this emerging science and help develop solutions to address the issues of plastics in our environment," says Dr. Paolo Mussone, NAIT Applied Bio/Nanotechnology Industrial Research Chair.
In addition to PRIA, NAIT has taken a leadership role in establishing and chairing the Plastics Alliance of Alberta, a collaboration of industry, government, academia and associations representing Alberta's plastics value chain. The aim of the Plastics Alliance of Alberta is to identify and build on opportunities for a circular economy from plastics.
As a leading Canadian polytechnic, NAIT is committed to working in partnership with industry by providing skilled graduates whose expertise is aligned with businesses' needs and to help industry develop practical, impactful solutions to their challenges. With business-friendly intellectual property (IP) ownership, NAIT's industry partners benefit from retaining the commercial rights to their IP. Delivering first-class solutions for industry in energy, environmental and sustainable development, NAIT is challenging the way we see energy and value-add developments today and identifying new opportunities in the future.
For more information visit www.nait.ca/energyandenvironment
The statements, opinions and data contained in the content published in Global Gas Perspectives are solely those of the individual authors and contributors and not of the publisher and the editor(s) of Natural Gas World.