Mozambique LNG comes of age [NGW Magazine]
US independent Anadarko Petroleum Corp announced a final investment decision (FID) for its Area 1 Mozambique LNG project on 18 June, as planned, having secured both financing and off-take agreements for at least 86% of Phase 1 production capacity.
This follows the agreement by Occidental Petroleum Corp on 5 May to buy Anadarko, announcing immediately afterwards that it had agreed to sell Anadarko's African assets, including the Mozambique LNG project to Total.
These are momentous developments for the companies, the project and Mozambique.
Following Chevron's withdrawal in May, Occidental won the bid to take over Anadarko in a deal worth $38bn. But Occidental's main interests were Anadarko's oil assets, especially in the Permian Basin in the US, helping it double its production to more than 1.3mn barrels/day.
Total had already agreed to buy Anadarko's African projects in a deal worth $8.8bn, should the Occidental bid become successful. The acquisition of Mozambique LNG has given Total's LNG business a tremendous boost. That's why Total's CEO and chairman, Patrick Pouyanne, called it a "win-win" deal. This transaction is expected to close in 2020.
Speaking at the Flame conference in May in Amsterdam, Andrew Seck, Anadarko's vice-president LMG marketing and shipping, confirmed that the takeover would not affect taking Mozambique LNG forward.
A complexity though is Carl Icahn's lawsuit which he launched against Occidental at the end of May. He called its purchase of Anadarko "fundamentally misguided and hugely overpriced." He expressed concern that if oil prices drop significantly, the increased debt as a result of this deal could put Occidental's future in doubt.
Occidental said it is pressing to close the Anadarko deal and it expects to deliver "compelling value and returns" to investors in both companies. These investors include Warren Buffett's Berkshire Hathaway, with its high-priced $10bn bond yielding annual dividends of 8%-9%.
The project
The Mozambique LNG plant will have 12.9mn mt/yr production capacity (Figure 1), estimated to cost $7.7bn. Project completion – and first LNG exports – is expected by 2024. The total cost, including offshore facilities, is estimated to be $25bn, making this the largest oil and gas project in sub-Saharan Africa. The project will be funded with $11bn equity and $14bn debt.
The plant is ideally located to supply LNG both to Asian and European markets.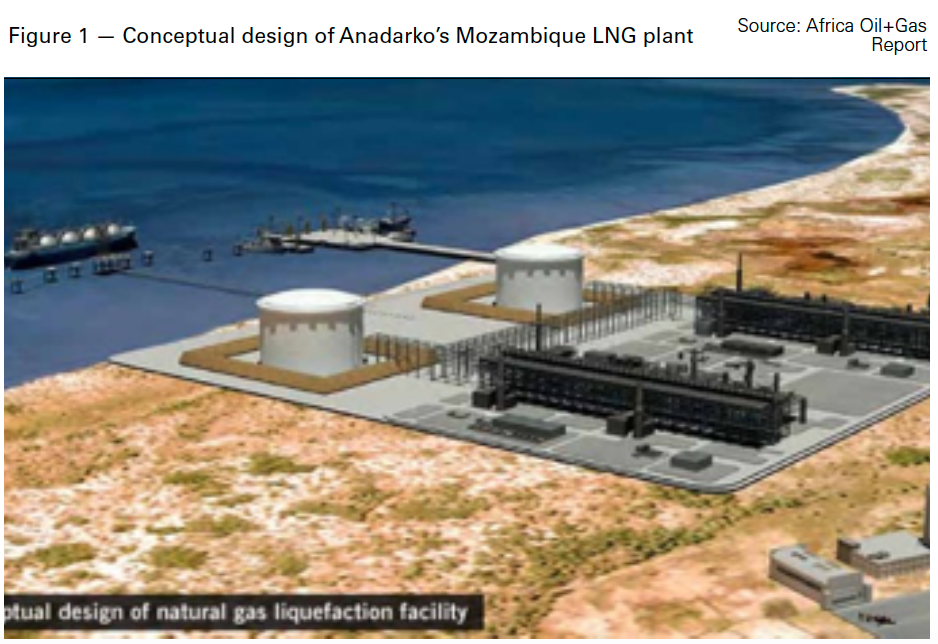 It will use the huge gas reserves discovered in 2010 in the Golfinho/Atum fields located in Area 1, estimated to be 75 trillion ft³. Feed-gas, estimated to be 2bn ft³/day, will be supplied through a 40-km subsea pipeline. Phase 1 will be a two-train development (Figure 2).
With the approval of a sales and purchase agreement (SPA) with Japanese Jera and Taiwan's CPC to off-take 1.6mn mt/yr for 17 years, Seck confirmed that Anadarko has achieved its sales target.
Anadarko opted for a traditional LNG project off-take model, giving preference to long-term – mostly oil-indexed – sale and purchase agreements, thus making project pricing more secure and financing easier. As Seck said: "Ultimately we had a proposition that appealed to the buyers, and we managed to convince them that our project should be one of the first ones to come online."
He said that with completion of the last two agreements, Mozambique LNG's portfolio of long-term sales now includes four of the top five LNG importing markets in the world (Figure 3).
Seck also confirmed that following completion of the first phase, Anadarko and its partners intend to expand the plant by adding more capacity, with up to 6 more trains, with the potential to reach 50mn mt/yr in future – similar to Novatek in Russia, which is also considering a series of Arctic LNG trains based on huge resources.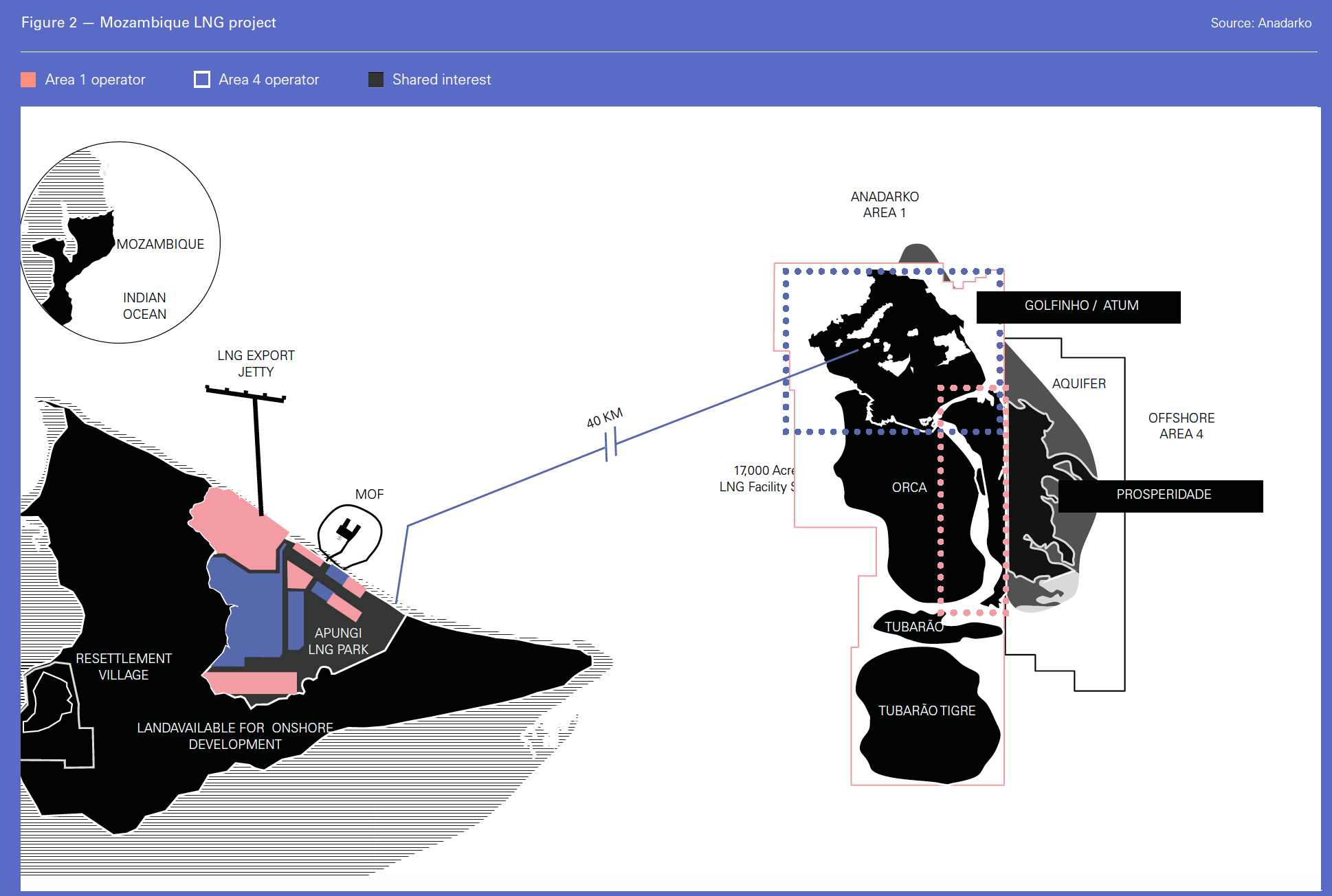 Seck told Flame: "What was really important when we developed our marketing strategy was that we weren't just developing our strategy for trains 1 & 2 – we were thinking about trains 3 & 4, 5 & 6."
The project shareholders are: Anadarko (26.5%), state ENH (15%), Mitsui (20%), Indian ONGC Videsh (10%) and Bharat Petro Resources (10%), Beas Rovuma Energy Mozambique (10%) and Thai PTTEP (8.5%).
A competitive project
At an estimated development cost of $600/mt/yr, this makes Mozambique LNG one of the most competitive new, greenfield, LNG projects in the world. With global LNG prices expected to remain low in the longer term, it needed to be, giving the project a competitive advantage.
Wood Mackenzie estimates that this project will double Mozambique's annual revenues: "From the early 2030s, state revenue from Mozambique LNG alone will reach $3bn/yr, single-handedly doubling today's revenue, as calculated by the IMF and World Bank," the analysts said.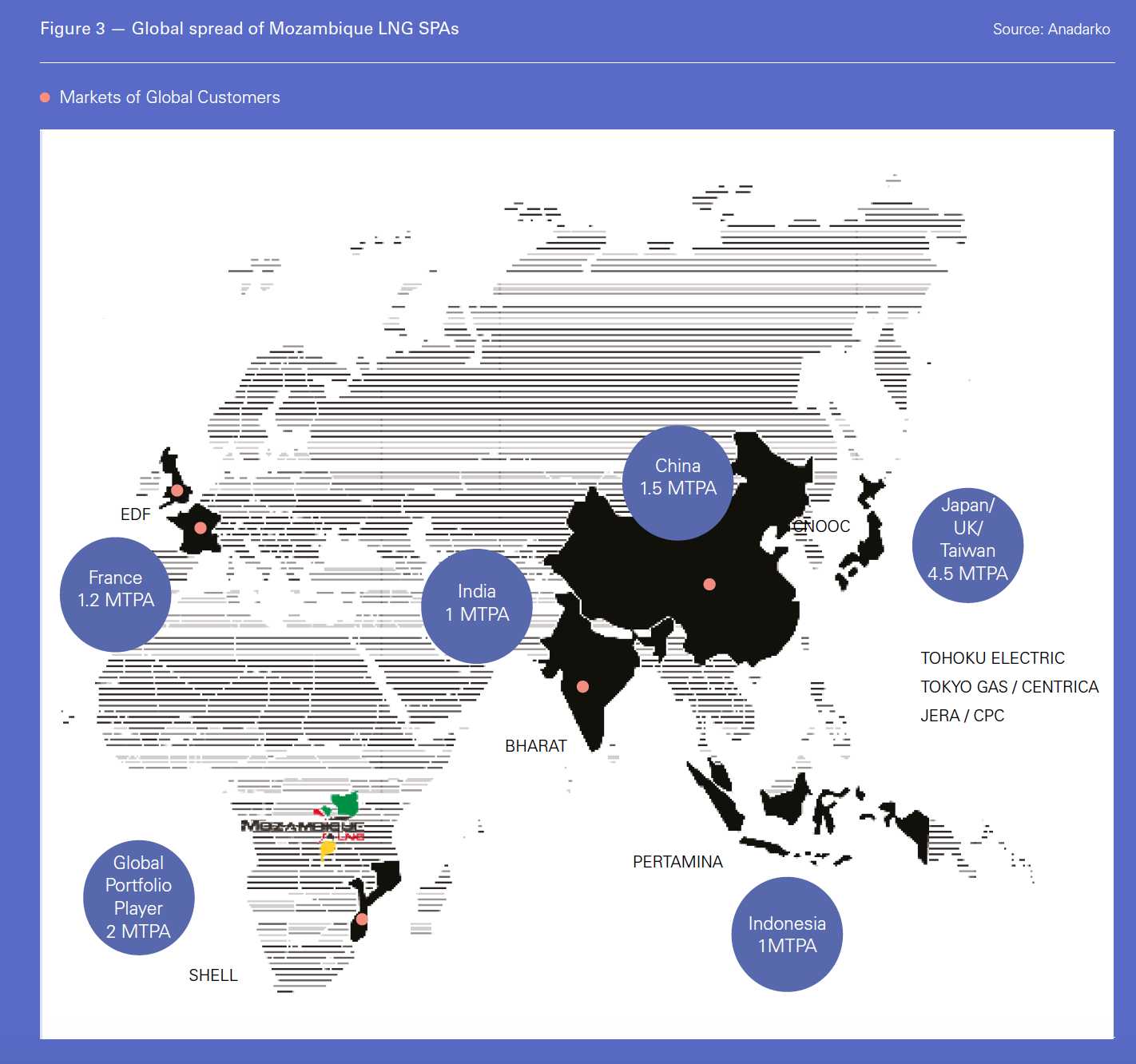 In fact the Mozambique government expects to realise about $95bn revenue over 25 years from Mozambique LNG and Rovuma LNG led by ExxonMobil and Eni – using Area 4 gas (Figure 1).
Rovuma LNG is scheduled to produce 15.2mn mt/yr, with the liquefaction plant to be close to Mozambique LNG. The project development plan was approved in May and FID is expected by the end of the year.
In addition, Eni is progressing construction of the $7bn Coral floating LNG, to produce 3.4mn mt/yr. It took FID in May 2017.
These projects are expected to generate additional business and bring more investment to the country, contributing to its economic development.
Construction started
Construction has already started with preparation of the resettlement village (Figure 4). The government of Mozambique and Anadarko are proceeding with resettlement of about 1,500 people from the areas where the LNG plants will be built.
The Mozambique LNG project was designated as 'first mover' by the government of Mozambique, meaning Area 1 will also be responsible for constructing the support facilities to be shared between the Area 1 and Area 4 projects. These include the materials offloading facility, LNG marine terminal, utilities, roads and an airport.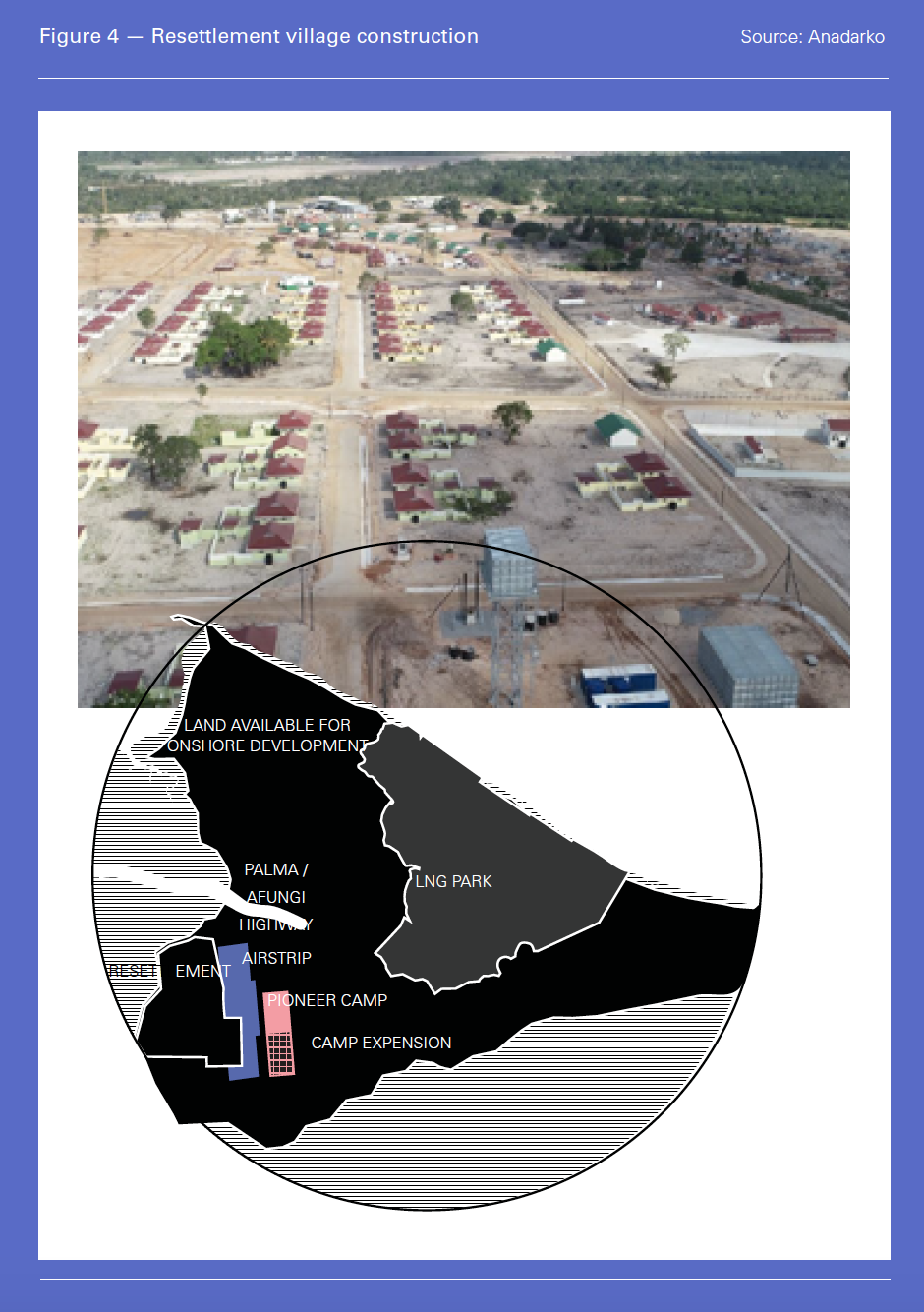 Anadarko confirmed that construction will continue while awaiting completion of the takeover by Total.
The main EPC construction contract was awarded to Saipem, in a joint venture with McDermott International and Chiyoda Corporation, for construction of the two liquefaction trains and associated infrastructure, including storage facilities and export jetties, worth $8bn, of which Saipem earns $6bn,thought to be its biggest ever contract; and the US engineers $2bn. The Japanese firm is there in an advisory role.
Contracts have also been awarded for the subsea gas gathering system to Technip, VanOord, Oceaneearing, Cameron and others.
This, and Rovuma LNG, have the potential to make Mozambique one of the top LNG producers in the world. As the country's president, Filipe Nysui, said, announcement of the FID was a historic day for Mozambique: "Today's sanctioning of the Anadarko-led Area 1 Mozambique LNG project solidifies a path toward the creation of thousands of jobs for our people, significant economic growth for our nation and the potential to be one of the world's largest providers of cleaner energy for decades to come. It is truly one of the most important and transformational projects in our country's history."