Minsk Seeks Lower Gas Price from Moscow
A delegation from Belarus is visiting Moscow this week, arguing for a reduction in its import price. It pays $133/'000 m³ ($3.8/mn Btu). In mid-July, Russia's energy minister Alexander Novak said Belarus owed $270mn, but Minsk did not recognize the debt, saying the price was too high, bearing in mind the cost of production.
In the first six months of the year Belarus imported 10.3bn m³, according to Gazprom, which operates the transmission system through its local, wholly-owned subsidiary Gazprom Transgaz Belarus..
Gazprom ensures an uninterrupted transit of Russian gas across Belarus. Over the past seven months of 2016, a total of 24.2 billion cubic meters of gas was transmitted to consumers in the Commonwealth of Independent States, Europe, and the Kaliningrad, Russia's southerly Baltic Sea foothold.
Last week, Gazprom CEO Alexei Miller and the deputy prime minister of Belarus Vladimir Semashko held talks in Moscow, in which they discussed cooperation in gas.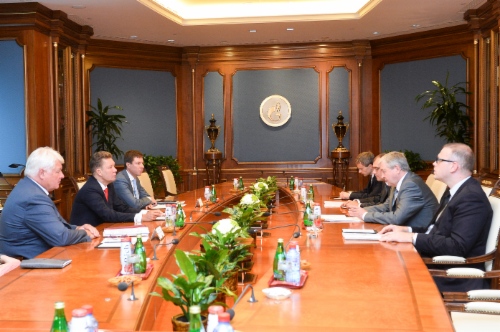 Gazprom CEO Alexei Miller (second from left) and Vladimir Semashko (second from right (Credit: Gazprom)
The president of Belarus, Alexander Lukashenko, has said that more needs to be done to reduce energy imports. Addressing a meeting in Minsk August 19 he said it was "painful" to watch biological resources that can be used as fuel, going to waste.
So far, efforts in that direction have cut imports by "more than 2bn m³…. But this is only a tenth of the amount of the valuable raw material which we import. The country spends about $3bn/yr on this alone. I am sure that we can and should significantly reduce this costly item of our expenditure," he said.
Azerbaijan desk