Manila Faces Chinese Challenge [NGW Magazine]
Manila and Beijing are scheduling bi-lateral talks over a number of issues, including ongoing disputes over claims in the South China Sea and energy development. Philippine foreign ministry Alan Cayetano told local media in late August that he intended to sign a framework with China for joint oil and gas exploration in the South China Sea within the next two months.
He said that any deal would be based on a 60-40 sharing formulation, similar to the Philippines' Malampaya gas royalty agreement with oil major Anglo-Dutch Shell. "We are working on a framework for the Philippines and China. Not just on a provision of law but equity,'' he said.
Cayetano told the Hong Kong-based South China Morning Post that any joint development agreement would have to include a solid guarantee from China that it would not build installations on Scarborough Shoal. "We separate the two [issues]... China drew some red lines. We drew some red lines. Our red line is building in uninhabited areas including Scarborough," he said, adding that if China agreed "we can have the exploration right away. It could take a week, it could take six months."
The Philippines lost control of Scarborough Shoal to China after a tense 10-week naval standoff in 2012. The disputed shoal is a scattering of small outcrops around 225 km from the Philippines and 650 km from the nearest major Chinese land mass, the southern island province of Hainan, and is clearly within the Philippines' UN-mandated 200-nautical mile exclusive economic zone. The Asia Maritime Transparency Initiative said recently that the Scarborough Shoal incident is widely seen as the most palpable erosion of stability in the South China Sea.
Wang Yi, Chinese State Councilor and Foreign Minister, was scheduled to visit Manila in mid-September for additional talks, including ways to increase understanding between the two sides as well as manage South China Sea disputes. His trip was cancelled, however, as typhoon Mangkhut was making its way to the Philippines, Hong Kong and southern China. The Philippine foreign affairs department has not yet given the exact date of Wang's rescheduled visit.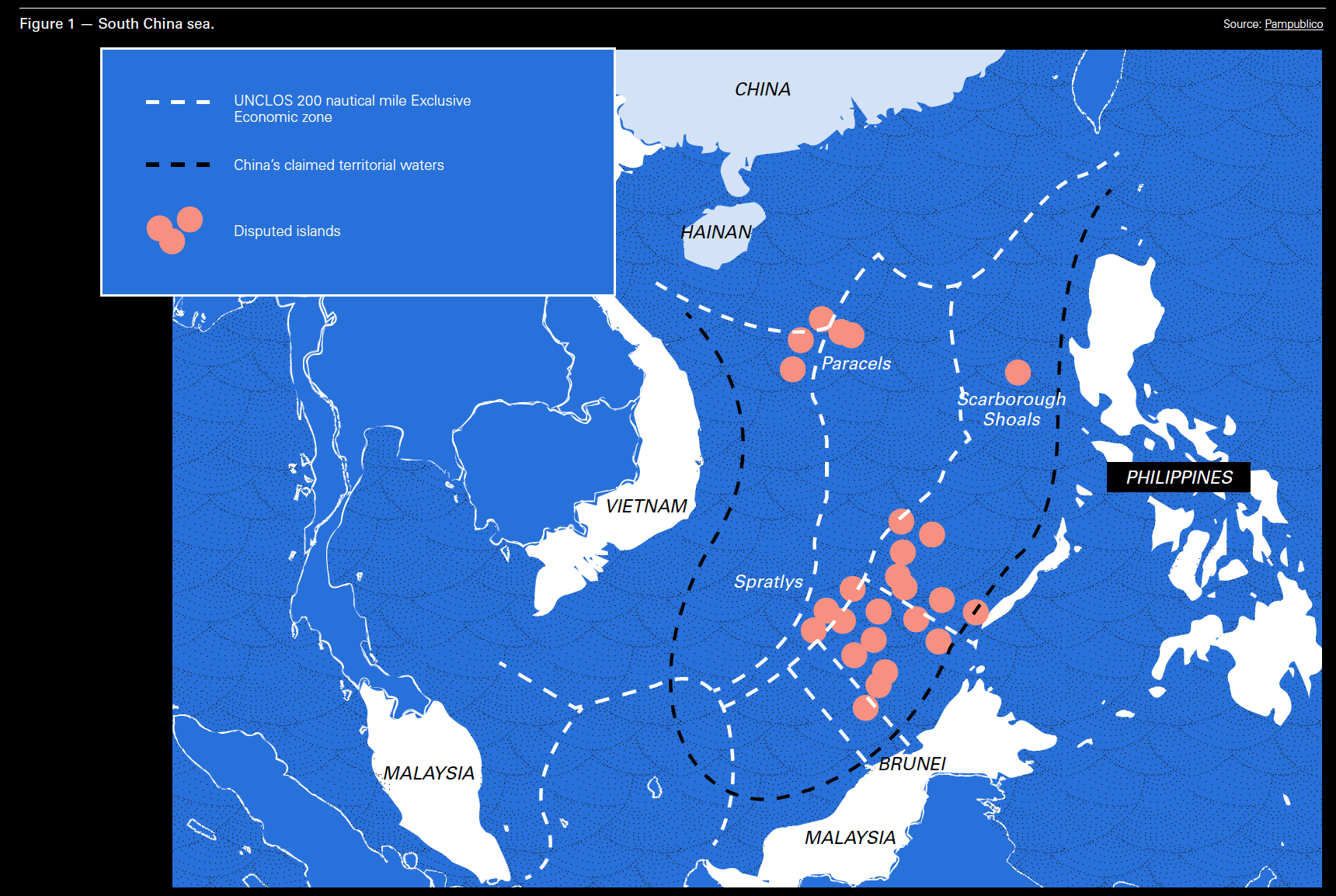 Philippines' sense of urgency
There are several dynamics arising from a possible Philippine-China oil and gas exploration agreement. First, many in the Philippine government are pushing for a quick deal amid a growing sense of urgency as the country's offshore Malampaya gas field nears depletion. Malampaya's three gas-fired power plants provide 40% to 45% of power generation requirements for Luzon – the country's main island, which also includes the capital Manila and its estimated population of 20mn. Estimates vary, but most experts claim that gas at the Shell-operated field will be depleted within five years.
The loss of Malampaya's reserves have also heightened the need for the Philippines to build its first operational LNG receiving terminal, which to date has met with limited success. Without new gas supply to offset Malampaya's reserves, the Philippines will have to burn more coal for power generation, even though Manila has been advocating the opposite strategy for the past few years.
Growing head winds
Cayetano's comments are also generating considerable push-back in the Philippines from opponents that claim any joint exploration agreement would weaken Manila's hand with Beijing over overlapping claims in the South China Sea.
Even if a framework is signed, the actual completion of exploration work is not guaranteed. In 2004, a joint seismic study – largely orchestrated by Manila – was undertaken by Vietnam, China and the Philippines. A few promising prospects had been identified by 2007, while a second phase progressed, gathering detailed information about specific areas of the seabed. Yet, further work was suspended amid corruption allegations against the then president, Gloria Arroyo, over a Chinese-funded broadband infrastructure project. The legality of the deal was also being questioned at the time, putting its prospects in doubt.
Another sticking point that could sidetrack any new exploration deal, at least from Beijing's perspective, is Manila's requirement of a 60-40 sharing scheme that Cayetano mentioned. The ratio complies with the requirements of the Philippine Constitution that limits foreign ownership of companies in the Philippines to 40%. So far it has been a non-negotiable requirement for Manila, one that if violated would infringe further on Philippine national sovereignty.
Given the ongoing angst among many in the Philippines over most China related issues, even the mention of a deal not adhering to this constitutional ratio would provoke more protests and backlash, a prospect that the current president, Rodrigo Duterte, despite his recent overtures to China, would likely be unwilling to take.
Moreover, if Beijing agreed to the 60-40 ownership ratio it would be a sign of acquiescence of both Manila's ongoing claim to sovereignty over Scarborough Shoal and in effect a remission of Beijing's other overlapping claims it has with Manila in the South China Sea.
Beijing's resolve over sovereignty has been clear. On June 27, the president Xi Jinping told visiting US minister of defence James Mattis that China was committed to peaceful development and would not create chaos for the world, but on matters relating to its sovereignty, it would not give up "even an inch" of its territory. He added that China was neither expansionist nor sought to colonise others but its position was "firm and clear" on issues relating to its sovereignty and territorial integrity.
"We cannot lose even an inch of the territory left behind by our ancestors. At the same time, we do not want even a tiny bit of what belongs to others," Xi said. China, for its part, claims around 90% of the South China Sea as part of its well known nine-dash-line based mostly on what it considers historical rights, while the Philippines, Vietnam, Malaysia, Indonesia, Brunei, and Taiwan all have various overlapping claims with Beijing in the much-contested body of water.