FSU to Reach Malta in September (Update)
Updates status of new gas-fired power plant, and corrects ownership of GEM Holdings (which is not Maltese government-owned, as originally reported)
Malta's prime minister, Joseph Muscat, attended a sailaway ceremony in Singapore August 1 for the Floating Storage Unit (FSU), Armada LNG Mediterrana, that will shortly head for Malta. The vessel will store LNG, which will then be regasified onshore for use by the country's new gas-fired power stations. Malta and Cyprus are the only two EU countries without access to natural gas.
Muscat said the project will enable Maltese to "start breathing cleaner air" as it would "complete our breakaway from the old, inefficient and heavy fuel oil dependant plants, to a new energy mix, based on gas."
Some critics have asked why Malta opted for simply a FSU, requiring regasification plant to be built onshore, rather than the more conventional option of a floating regasification and storage unit. Bumi Armada said the contract to convert the ship to an FSU, awarded in April 2014, was worth €300mn.
The vessel was converted in 17 months by Singapore's Bumi Armada and Keppel Shipyards – working with Electrogas Malta, according to a statement from the prime minister's office. It added that the vessel is expected to reach Malta in September.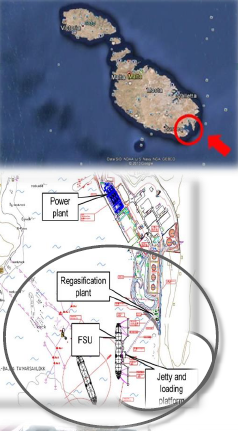 Planned layout of the FSU, regas plant, and power station (Graphic credit: Bumi Armada's May 23 2016 AGM presentation)
Electrogas Malta shareholders (each with 33.333%) are Germany's Siemens, Azerbaijan state-owned Socar Trading, and privately-owned joint venture GEM Holdings, owned by Maltese companies Gasan and Tumas. The FSU is to be permanently moored in nearby Marsaxlokk Bay.
Siemens last year was awarded an order worth €175mn by Electrogas Malta for the turnkey construction of a 200-MW gas-fired combined-cycle power plant (CCGT). It will be located at the existing Delimara power station, close to Marsaxlokk Bay in southeast Malta. Reports indicate this will double the Delimara site's overall installed capacity to 400 MW.
The Independent of Malta reported last October that barely any work had commenced and that such a power plant typically can take two years to build.
However Siemens told Natural Gas Europe August 3 that the new 200 MW CCGT is effectively complete, undergoing tests and "will start commissioning soon."
Mark Smedley