Malaysian Coastal Bullish on Indonesian LNG
Malaysian offshore support vessels fabricator Coastal Contracts sees robust growth in Indonesia's LNG regasification and storage services market and is optimistic about its entry into that fast growing sector, the company said August 29.
On July 30, Coastal Contracts announced its entry into the Indonesian LNG supply chain with the signing of a MoU to buy a 49% stake in Jaya Samudra Karunia Gas (JSK Gas) for ringgit 27mn ($6.6mn). JSK's key business segments include dry bulk shipping, transshipment, gas, mining and valves manufacturing.
In recent years, given the huge potential in Indonesia LNG market, JSK has ventured into the LNG supply chain. Recently, it was awarded the LNG re-gasification and storage contracts to support a gas-fired power plant in Bali, Indonesia. Following the successful completion of the deal, Coastal Contracts would have joint control over JSK Gas's operating subsidiaries and assets. JSK Gas, through its 99% owned subsidiary Benoa Gas Terminal (BGT), would be engaged in the operations and transfer of a floating LNG regasification unit over a five-year contract period.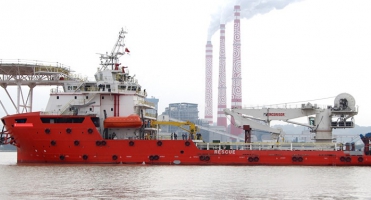 A vessel made by Coastal Contracts (Credit: Coastal Contracts)
Meanwhile, for the three months that ended on June 30, its revenue rose to ringgit 200.8mn, up 22.4% on previous year. Net profit stood at ringgit 12.9mn, down 63% from a year ago period.
Shardul Sharma