[NGW Magazine] LNG Car Carrier Takes the Plunge: Interview with Glenn Edvardsen
This article is featured in NGW Magazine Volume 2, Issue 19
By Mark Smedley
Pioneering shipowner UECC invested in newbuild LNG vessels in a business sector – car transportation – where few of its rivals have. Its CEO talks to NGW about its motivation for doing so, and whether it will do so again.
Shipowner UECC was established in 1990 as Europe's leading short-haul roll-on, roll-off car transport operator. It is jointly owned by Japan's NYK Line and Sweden's Wallenius Lines. It owns the world's first two dual-fuel LNG pure car and truck carriers (PCTCs) afloat today.
Auto Eco can transport up to 4,000 cars, as can its slightly newer sister ship, Auto Energy. However, each of the Madeira-flagged car transporters is officially classed as able to carry standard 3,800 car-equivalent units.
The ships also transport trucks, buses and tractors – known in the shipping trade as 'high and heavy loads' – as well as steel, slate and other industrial goods.
During one of its regular calls to Southampton Harbour last month – where it picked up BMW Mini cars made near Oxford, plus Land Rovers and Jaguar from the Jaguar Land Rover plant near Birmingham, en route for markets in Germany, Scandinavia and Russia – Natural Gas World (NGW) paid a visit to Auto Eco and interviewed UECC's chief executive officer Glenn Edvardsen.
NGW asked why UECC only refuels with LNG at Zeebrugge, if that's enough to fuel the PCTCs' 14-day round-trips from the UK to St Petersburg and back, how its LNG is priced, and whether it receives any environmental premium from customers, ports or governments for running on LNG – which produces almost none of the health-damaging particulates associated with diesel and heavy fuel oil.
NYK Lines, as one of the foremost owners of ocean-going LNG carriers, and Sweden's Wallenius, also keen to see LNG introduced as a ship's fuel, were keen to order the first dual-fuel PCTCs. There have been many containerships and other big vessels ordered since by European and Asian shipowners, but not so many PCTCs.
So NGW asked UECC's CEO why its two modern LNG-fueled ships were built to stringent Super 1A Finnish /Swedish Ice Class standard – meaning they can slice through ice up to 1.0 meters thick, and operate in the Northeast or Northwest Passages to Japan if so required – when today they are shuttling around the Baltic and North Seas.
NGW talks to UECC chief executive Glenn Edvardsen
What business brings you to Southampton? Has UECC been coming here long?
Yes, we've been operating here for a very long time. We have put a lot of ships into Southampton. The purpose of today was to showcase Auto Eco, which uses LNG.
Have UECC's dual-fuel LNG car carriers been calling here since they entered service?
Yes, since they started last year.
UECC said mid-2017 that the bunker vessel Engie Zeebrugge began ship-to-ship bunkering of Auto Eco and Auto Energy with LNG. How is that working? Is it your sole source of LNG bunker fuel?
It's going extremely well. And yes, at this point in time, the bunkering in Zeebrugge is all we need to make a round trip of 14 days.
I'm surprised that the world's biggest gas exporter, Russia, doesn't have LNG bunkering in St Petersburg where you call.
Put it this way: in Europe, the interest in developing infrastructure to supply LNG as a marine fuel is rapidly growing. It's enormous, it's developing so fast. And it's not a question of one country not having it.
I think it will be widely available. The EU is the subsidising force so that LNG is available. If we were to negotiate in St Petersburg for LNG supply, we could make no commitment to bunker at this point in time. We have a good set-up in Zeebrugge.
Can you say anything about your LNG bunker pricing at Zeebrugge? Is it priced off the Dutch TTF?
No, it's not linked to TTF at all. We have negotiated our own price which is linked to Brent [crude oil] which is quite common.
It's very rare that you find LNG offered as a bunker fuel on a spot basis.
You go to a supplier and then they quote a price, linked to Brent. We negotiated our own price.
Is LNG price-competitive in terms of operational costs?
It's definitely competitive with marine gas oil [MGO, or diesel]although not with heavy fuel oil.
So despite competition from Shell, Total, Skangas, you don't need further LNG bunker suppliers now?
No, the bunker vessel that we are using has a home port, Zeebrugge. We have a contract with the current LNG supplier there. Engie has to be there when we're there and when we have requests to bunker LNG for the next voyage.
As we are dependent on running an efficient operation, we need to be able to bunker at the same time we are unloading/loading our cargo of cars. These are the arrangements we have in Zeebrugge with current supplier.
So that's Engie's commitment..?
Yes, Engie's commitment is to arrange for the LNG bunker vessel to come alongside the UECC vessels and carry out the bunkering while we are unloading and loading. I am sure soon some of these ports along our route will be able to supply LNG as well. We see the infrastructure rapidly growing.
Does UECC have plans to extend its range outside the short-sea European car carrier market - perhaps by operating trans-Atlantic? or on the northwest or northeast passage to Japan?
We are a short-haul operator. The answer is no.
I'm told that your business model is not to charter out vessels to customers on a long-term basis, but instead to transport cargo from A to B. But that differs from the Siem Car Carriers business model of chartering out to Volkswagen. That's a completely different business model from yours, isn't it?
Yes. Very few apply that business model, but we are of course open for any business model our customers propose.
Can you talk about your contract with Swedish bus and truck maker Scania to transport its vehicles?
We're very competitive. By running our ships on LNG, we've become even more competitive, not only from an environmental point of view. We need to be on pricing too, as well as service. It's just like any other contract.
You spoke earlier about how you'd like a rebate on port fees because you operate cleaner ships.
We are contributing to their environment, and that is appreciated in the port. Therefore, we feel the port should recognise this and reduce the port fee somewhat.
Has that happened so far?
Yes, we are enjoying such a reduction from the port of Zeebrugge as well as Vigo in Spain, and in discussion with several others. There are quite a few. We have Vigo in Spain, they clearly appreciate what we are doing.
Do you run ship's engines on LNG only in ports where the port authority has reduced your fees?
No, no — We run on LNG as much as possible while at sea as well as in port. When you are in port, you shut down the main engine and switch to auxiliary engines that burn LNG in any port. We're not into politics.
Do any port cities operate specific clean air rules?
It is regulated by region not so much by the individual ports. But even within Emission Control Areas* [ECAs], you have the Baltic Sea which has additional regulations.
How ready is your fleet of 18 ships for the new global IMO 0.5% sulphur cap* in 2020? And how ready are the ports to offer LNG refuelling by 2020?
LNG [bunkering] infrastructure is developing really fast, so I don't see any problems with that. We cannot justify the cost to retrofit LNG the very old vessels. In terms of how ready are they for 0.5%, it is not a problem to run on such fuel.
We don't have any scrubbers installed on the vessels in the UECC fleet. We don't believe in scrubbers; we believe this is a short-term measure. Maybe those who invested in scrubbers in 2015 will get a return on them by 2020, depending on the cost of the total installation; I can't tell.
Is UECC the only car carrier today running on LNG?
Yes.
Will Siem Car Carriers be the next? Are there others out there?
Not that we know of. We've not seen anything official about Siem either.
So there's no LNG newbuild order for ships placed by Siem?
I don't know for sure. Rumour has it they have placed the order.
Is UECC considering more newbuild LNG-fueled car carriers?
Yes indeed. We are undertaking a study in terms of what 2020 will bring. We're evaluating our existing fleet to find out the best option moving forward
Are there other types of propulsion that you might consider, such as electric?
I don't think that will be an option for some time for the size of vessels we are planning to operate. We believe in LNG as the future fuel in Europe and for the type and size of ships that we are operating and plan to operate.
How much did Auto Eco cost?
That I can't tell. There is, though, an additional cost depending on the size of LNG installation/plant for the LNG plant.
I heard $15mn is the incremental cost of building a newbuild LNG car carrier of Auto Eco's size, relative to what a solely diesel-fueled one would cost.
That's the maximum. LNG propulsion you should expect the cost to be in the range of $7mn to $13mn, that is the cost range provided by the various yards.
Are there shipyards other than the Chinese that are competitive in offering newbuild car carriers?
Absolutely!
Am I right in thinking you can get something like a 50% subsidy for the incremental cost of ordering a newbuild LNG vessel?
There are several subsidy programs in place, each with different criteria for entitlement to receive a subsidy.
So UECC has done this purely with a vision of commercial benefits further down the road?
UECC has the vision of being the leader in short sea RoRo [roll on, roll off] transportation in Europe. And to be a leader, you have to do something not everyone else is doing and something our customers will benefit from - reduce the emission in the logistic chain. We have to constantly strive to optimise the operation and be competitive and meet the demands of our customers. We believe in the long run that LNG will give a competitive advantage.
Are your customers like BMW, Jaguar Land Rover, and Scania buying into that vision?
I certainly hope so We build a ship with a 25-year horizon. In the past, we had no choice: you had to burn oil. Now there's so much choice; technology is constantly developing based on environmental restrictions. That's really the main driver.
The Baltic now is one of the most environmentally strict areas in the world. You simply can't sail these waters with the old regular — ships anytime soon because there are such strict environmental regulations in place.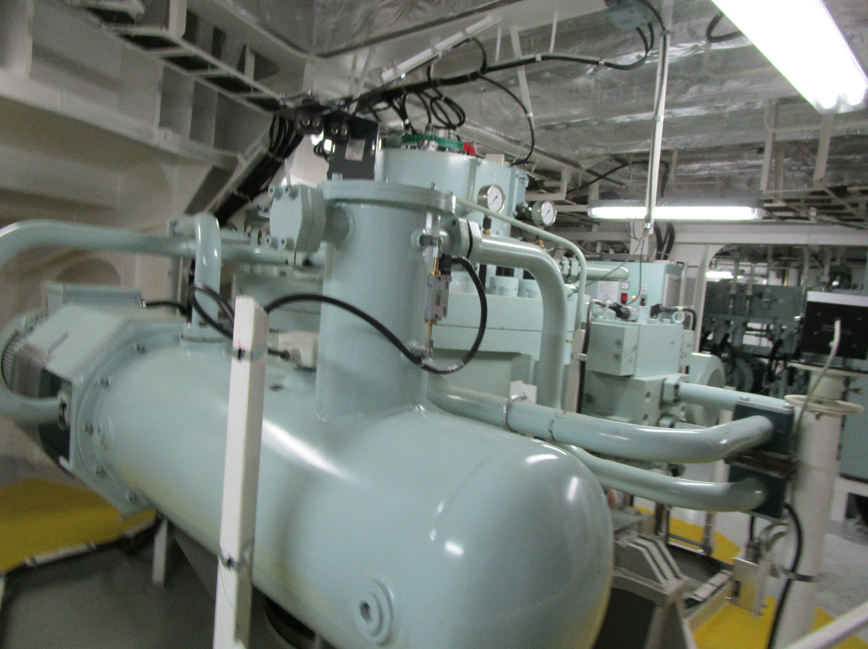 Compressor plant onboard Auto Eco, which keeps the ship's LNG fuel under pressure and thus refrigerated at -161 C (c) Mark Smedley
Volkswagen and Siem Stay Mum over LNG Newbuilds
German carmaker group Volkswagen announced October 2016 that it plans to charter two LNG-fueled car carriers from Siem Car Carriers, part of Norwegian family-owned Siem Industries.
Volkswagen said the two LNG-powered vessels would have a capacity of about 4,500 vehicles — and be equipped with a 3,000 m³ LNG fuel tank below deck. That compares with 800 m³ tankspace on each of the UECC's vessels, Auto Eco and Auto Energy.
The two Siem car carriers would operate trans-Atlantic to transport vehicles into the North American market, where Volkswagen's 2016 emissions scandal has led to litigation and loss of sales, with the German auto-maker needing to repair reputational damage.
Volkswagen said last year that, from 2019, the two LNG-fuelled ships will replace two of the nine conventional freighters now fueled by heavy fuel oil (HFO) serving the markets of Canada, USA, Mexico and Europe.
Asked mid-September if it had yet signed a firm charter for the ships, Volkswagen referred NGW's question to Siem saying it "is currently preparing everything for manufacturing the LNG ships."
Siem Car Carriers has declined to confirm or deny to NGW that it has placed the requisite order for two LNG-fuelled car carrier ships.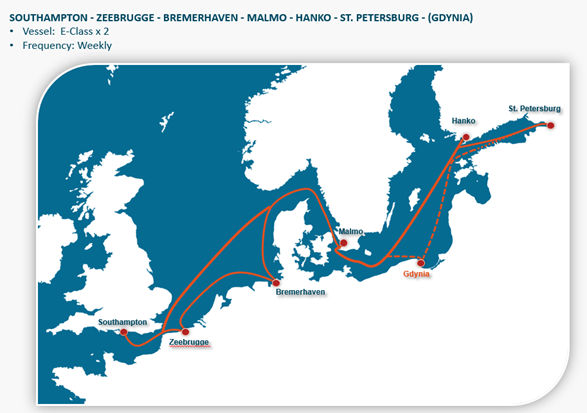 Auto Eco's trading route (Map credit: UECC)