Lundin Finds Oil, Gas in Arctic
Swedish independent Lundin found oil and gas at the Filicudi prospect in Norwegian production licence 533, it said February 24. The gross resource estimate is between 35mn and 100mn barrels of oil equivalent. Well results indicate significant upside potential requiring further appraisal drilling, it said.
The wells are about 40 km southwest of Johan Castberg and 30 km northwest of the Alta and Gohta discoveries on the Loppa High in the southern Barents Sea, to the far north of Norway. They were not production tested, but extensive data acquisition and sampling have been carried out.
These are the second and third exploration wells in production licence 533, the offshore regulator Norwegian Petroleum Directorate said. The licence was awarded in the 20th licensing round in 2009. The wells will now be temporarily plugged and abandoned.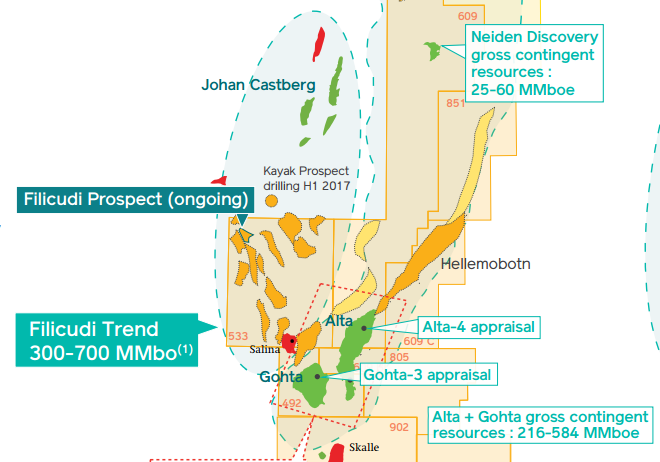 the Filicudi prospect is not far from the Johan Castberg field (Graphic credit: Lundin presentation, February 2017)
Wells 7219/12-1 (wildcat) and 7219/12-1 A (appraisal well) were drilled by the Leiv Eiriksson drilling facility, which will now proceed to production licence 492 in the Barents Sea to drill appraisal well 7120/1-5 where Lundin is also the operator.
William Powell