LNG Condensed July 2019 - Now Available for Download
Volume 1, Issue 7 - July 2019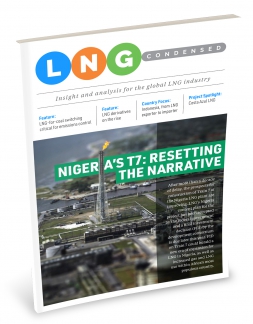 In this Issue:
Editorial: LNG's Exposure to Geopolitical Risk Can Only Rise
Nigeria's T7: Resetting the Narrative
LNG-for-Coal Switching Critical for Emissions Control
LNG Derivatives on the Rise
Indonesia, from LNG Exporter to Importer
Project Spotlight: Costa Azul LNG
Technology: Compressor Efficiency Improvements and more!
LNG Condensed brings you independent analysis of the LNG world's rapidly evolving markets.
Covering the length of the LNG value chain and the breadth of this global industry, it will inform, provoke and enrich your decision making. Published monthly, LNG Condensed provides original content on industry developments by the leading editorial team from Natural Gas World.
LNG Condensed is your magazine for the fuel of the future.
Sign up to NGW Basic FREE now to receive LNG Condensed monthly (you will find every issue of LNG Condensed in your subscriber dashboard)