LNG Competition Heats up in Baltics
Lithuania's energy minister Zygimantas Vaiciunas came forward March 27 with the claim that liquefied natural gas at the Klaipeda LNG terminal was "competitive" and the deal between Eesti Gaas and Poland's Polskie LNG, the Swinoujscie LNG operator, does not give the Poles "more advantages" over LIthuania's own terminal. Estonia's Eesti Gaas last week bought a truck of LNG from Poland's Swinoujscie LNG terminal, on top of its Russian and Finnish suppliers.
"The LNG reloading market is indeed dynamic, and the competition will be tense," he said, adding the deal was not symptomatic of anything. He said Lithuania would be able to offer competitive prices and services, after visiting the Klaipeda LNG terminal.
The reason for Eesti Gaas' contract with Polskie LNG was maintenance at Russia's Pskov LNG terminal, which along with Finland's Pori LNG facility are the Estonians' chief LNG suppliers. "We've always said that we want to diversify our LNG suppliers," said Eesti Gaas CEO Ants Noot. He says there is no significant difference between gas obtained from Poland and from Russia.
"Poland is just further away. Pskov is the main supplier – that is clear. It's closest to us and the fastest option for us today, and the quality of LNG there is absolutely fine and its calorific value is high, which is an upside with Russian gas," he emphasised.
Commissioning LNG cargo arrives in Poland Dec 2015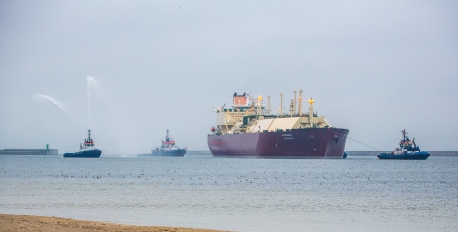 (Credit: PGNiG)
However, with an onshore LNG reloading station in Klaipeda slated to go online this summer, Eesti Gaas plans to sign up with its service, too. "We expect to receive the first deliveries from there this August," Eesti Gaas general director Marcus Kaasikus told NGW.
Klaipedos Nafta, operator of the Klaipeda LNG terminal, has already started LNG bunkering services this year, mostly to small Scandinavian LNG terminals.
In the long term, Eesti Gaas, however, would prefer to purchase the bulk of its LNG from Pori in Finland, for logistical reasons.
Linas Jegelevicius