Lebanese Blocks Signed
Total, Eni and Russia's Novatek all said they signed exploration and production agreements February 9 with the government of Lebanon to explore and produce hydrocarbons on the offshore blocks 4 and 9 in the east Mediterranean.
Total and Eni both hold 40% stakes, with Total appointed as operator of both. Novatek's stake is both blocks is 20%.
Both agreements were announced late last month and are the result of Lebanon's first offshore licensing round held last year.
"An established player in Lebanon's marketing sector, Total is delighted to expand its presence in the country to the exploration & production segment. These agreements are part of the Group's exploration strategy in the Mediterranean region adding to our existing operations in Cyprus and in Egypt", said Total E&P chief Arnaud Breuillac.
These agreements provide for the drilling of at least one well per block in the first three years. Total said that the consortium's priority will be to drill a first exploration well on Block 4 in 2019. Total acknowledged that it and its partners are "fully aware of the Israeli-Lebanese border dispute in the southern part of the block that covers only very limited area (less than 8% of the block's surface) [and] given that, the main prospects are located more than 25km from the disputed area, the consortium confirms that the exploration well on Block 9 will have no interference at all with any fields or prospects located south of the border area."
The trio's entry offshore Lebanon follows developments elsewhere in the eastern Mediterranean, namely start-up in December 2017 of the Eni-operated Zohr giant gas field, offshore Egypt, which Eni describes as the largest ever found in the Mediterranean, and Eni's confirmation February 8 of the Calypso gas discovery offshore Cyprus, all relatively close.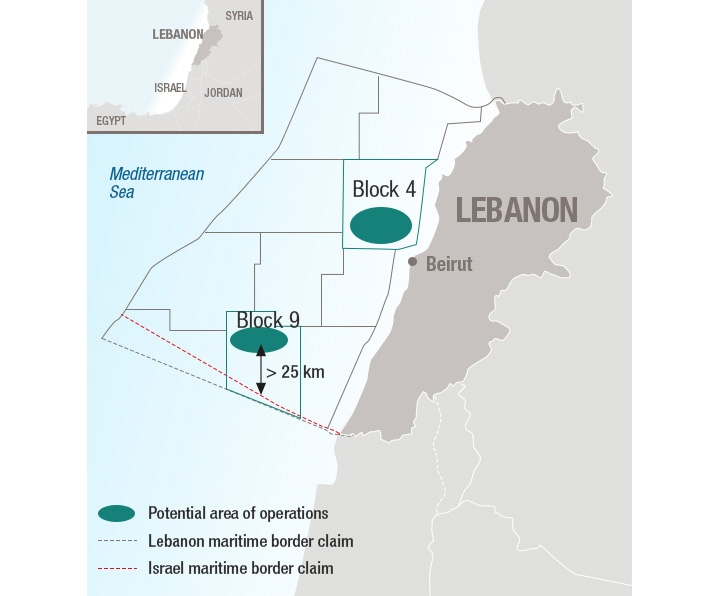 Total-operated Lebanese blocks, including zone of contention and how it affects block 9 (Map credit: Total)