Kazakh Leader Stands Down After 28 Yrs
The autocratic Kazakh president Nursultan Nazarbayev resigned unexpectedly in a TV speech March 19, saying that the Speaker of the senate Qasym-Jomart Toqayev would serve as acting president until the elections, due in April 2020.
Tokayev, 65, an old diplomat and one of the outgoing president's closest allies. will take oath of office March 20, when the Nowruz holidays mark the end of the solar year. Nazarbayev said he had decided to make way for a new generation of leaders.
Nazarbayev (left) and Tokayev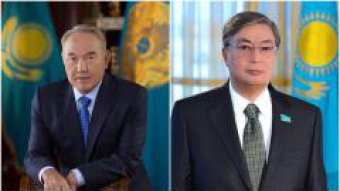 Credit: Astana Times
Nazarbayev, 78, had been in power since the break-up of the Soviet Union in 1991 and was accused of presiding over a corrupt government with a poor human rights record. He also kept the country together through some challenging periods, most recently the fall in the price of oil earlier this decade and the weakening of the currency, the tenge. And he oversaw the development of some major upstream projects, including UK BG's Karachaganak gas and condensate field and the Kashagan sour oil field.
Nazarbayev's resignation came three years after death of Uzbek dictator leader Islam Karimov who had held office from 1991 to 2016. His relatively moderate successor Shavkat Mirziyoyev has taken tough positions against his family and some allies.
The other central Asian dictators, Turkmenistan's Gurbanguly Berdimuhamedow and Tajikistan's Emomali Rahmon, are apparently hoping to secure succession for their sons.
Serdar Berdimuhamedow, 37, is a lieutenant-colonel in the Turkmen army, while Rustam Emomali, 31, is the current mayor of Dushanbe, the capital.
The other central Asian state, Kyrgyzstan, is more democratic, following revolutions in 2005 and 2010 against first Askar Akayev (1990-2005) and then Kurmanbek Bakiyev (2005-2010). Since 2010, Kyrgyzstan has had three different presidents.
Nazarbayev had embarked on economic reforms as well as raising salaries and cutting tariffs, which had led to speculation that he was preparing to stand in next year's presidential elections.
Reform slow-down likely: GlobalData
Commenting, GlobalData said that the leadership transition could slow Kazakh oil reforms and the initial public offering planned this year for Kazmunaigaz. It said the oil and gas industry could contribute $17bn in fiscal revenue this year.
''Although Nazarbayev will retain some key roles, his decision to resign will doubtless slow policy-making as political dynamics are restructured. With the speaker of the upper house of parliament set to become acting president until elections, set for 2020, there will likely be significant uncertainty on policy in the short term," said senior oil and gas analyst Will Scargill.