Kazakh Gas Exports Rise for Third Year
Kazakhstan's commodity sector is trying to develop its gas production as oil output falls, according to local analysts Finprom.kz.
Oil output is down 5% and gas output rose 10% over the three years to 2016. However, the volumes are still disproportionate, and oil production still dominates the raw materials sector of Kazakhstan's economy, it said.
Crude oil production in Kazakhstan fell in 2014 along with the oil price. In 2016 a total of 78mn mt of oil was produced, compared with 82mn mt in 2013.
In the same year gas output rose to 46.6bn m³, about 2% more than in 2015 and 18% higher than five years ago.
State producer Kazmunaigaz HQ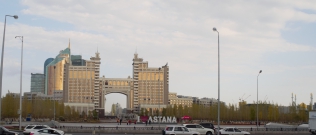 (Credit: William Powell)
The official authorities of Kazakhstan continue to bet on the commodity sector as the basis for the national economy. The president, Nursultan Nazarbaev, said in a statement that the mining-metallurgical and oil-gas complex of the country should retain its strategic importance for economic growth.
Azerbaijan desk