Jordan: An Interview with H.E Alaa Batayneh, Former Minister of Energy and Mineral Resources
Natural Gas Europe was pleased to have the opportunity of conducting an interview with His Excellency Mr. Alaa Batayneh, former Minister of Energy and Mineral Resources in the Government of the Hashemite Kingdom of Jordan.
On Jordan's energy history
Energy is a major challenge to our budget. We import 97% of our total energy needs. The remaining 3% is made of natural gas produced locally at the Risha field in the eastern desert near the border with Iraq.
Various energy shocks led to our National Energy Strategy:
Increasing our reliance on national resources
Diversifying the sources of energy
Historically, Jordan benefited from special relations with its neighbours. For many years, the Kingdom had access to either free or cheap oil from Iraq. The preferential treatment was the result of a grant given by Iraq to Jordan. Since 1985, barter agreements with Iraq to trade goods for crude oil also removed some of Jordan's oil bill from the balance sheet. The price of oil was capped at 19 USD per barrel. Following the war in Iraq, things changed. Jordan no longer had access to free oil (except for a Saudi and Kuwaiti grant of some barrels of oil in 2003 and 2004). In the absence of indigenous resources, the Kingdom started importing its oil at international prices. The second major energy crisis followed the Arab spring: Gas from Egypt stopped flowing after the Arab Gas Pipeline was bombed over 15 times in a period of 15 months. Jordan did not foresee the disruptions in its energy supply as a result of the Arab Spring, hence no measures were taken to develop its own resources. Given its previous access to cheap energy resources, such measures wouldn't have been lucrative. Now that oil sells at over USD 100, the Kingdom's keen and speedy interest in exploring and developing its national resources is highly justified. The fact that Jordan is unexplored gives us a lot of hope. New laws were approved to allow the exploration and development of our national resources and to allow full investment and ownership by the private sector. The Natural Resources Authority (NRA) has limited resources to overtake this task alone. It acts as a regulator and also an instigator issuing permits, undertaking studies and attracting investors.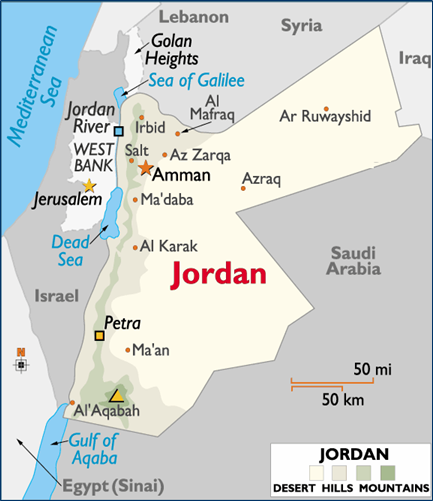 Source: Jordan Atomic Energy Commission
On the reasons behind the disruption of the flow of gas from Egypt to Jordan
The Egyptians gave us numerous reasons to justify the disruption of the gas flow from Egypt to Jordan:
First, our Egyptian counterparts alleged it was due to "low prices". The Jordanian Government agreed to double the price of the Egyptian gas bought by the Kingdom in return for increased quantities.
Second, the Egyptians alleged the disruption was due to a "Force Majeure". They considered that the bombings of the Arab Gas Pipeline that exports gas from Egypt to Jordan fall under the 'force majeure' clause (a force majeure is a common clause in contracts that essentially frees both parties from liability or obligation when an extraordinary event or circumstance beyond the control of the parties, such as a war, strike, riot, crime, or an event described by the legal term act of God. Source: Wikipedia). However, the Jordanian Government requires supporting documents and reports to settle this matter accordingly as per agreement.
Third, the Egyptians alleged that 'technical reasons' were behind the disruption: the lack of maintenance of the gas fields.
Jordan understands that Egypt has its own energy problems: frequent power outages and a growing population increasing its energy consumption. However, the agreement between Egypt and Jordan is an international agreement that is legally binding. The lack of Egyptian gas hit our budget severely (by JD 1.4 billion or the equivalent of USD 2 billion yearly for the past two years). Subsidies on oil and fuel prices were lifted and a compensation scheme to the public was created. The Egyptian Prime Minister visited Jordan late last year and promised to solve the problem: the amount of Egyptian gas received by the Kingdom increased slightly after his visit but did not reach the terms of the agreement. Technical teams from both the Jordanian and Egyptian sides are to meet to identify the actual quantities lost and which article of the agreement applies:
In the case of a force majeure, no compensation will be due.
In the case of a gross negligence, the Egyptians will have to compensate the Jordanians for the quantities lost.
The follow-up process is on its way, but it will take years before it is completed and years before Jordan is compensated adequately for the lost quantities. The amount of gas that was exported to Jordan is low compared to Egypt's daily production. Egypt produces an average of 5.8 billion cubic feet of gas per day, and its contract with Jordan is to export 253 million cubic feet per day (which represents approx. 4% of total production). The exported amounts are therefore negligible to Egypt but are essential to the Jordanian economy. Focusing on our national resources has hence become a matter of urgency. Ensuring Jordan's security of supply is necessary. We are working on various projects to maximise our chances of becoming energy independent or at least reducing our reliance on imported energy.
On natural gas
BP announced in October 2009 that it is to join Jordan's state-owned National Petroleum Company (NPC) to exploit the onshore Risha concession in the north east of the country. The Risha concession, awarded by the Government to NPC, covers an area of about 7,000 square kilometers and includes the Risha gas field. In June 2012, BP began and later completed drilling the first deep well in its concession in the Risha natural gas field in eastern Jordan, near the border with Iraq, and now started drilling their second well. The drilling followed a "very successful 5,000 square km seismic acquisition programme in 2011". We hope intensive exploration and drilling at Risha will lead to the discovery of extensive recoverable gas reserves, which will help cut dependence on oil imports to fuel Jordan's power sector and industries and potentially turn Jordan into a natural gas exporting country. BP has already invested over $270 million to explore and evaluate the Risha block. We are hoping that the Risha field will produce anywhere between 330 million cubic feet of gas per day and up to one billion (according to their estimates) by 2020. Our current electricity generation needs amount to 250 million cubic feet per day.
On oil shale
Royal Dutch Shell followed, investing over $100 million to explore oil shale in Jordan's eastern and northern regions. In 2009, the Government of Jordan (GOJ) signed an agreement with Shell International through its local branch, Jordan Oil Shale Company (JOSCO), in which GOJ has given JOSCO the concession to explore oil from oil shale within a predetermined land space in an attempt to realise Jordan's master plan: energy self-sufficiency.
We expect Shell to start producing oil by 2023 according to their timeline. Jordan has 70 billion tonnes of oil shale, according to new estimates. This is equivalent to 7 billion tonnes of crude oil. With an improved technology, the price of production of one barrel could be as low as $70-85.
With an alarming 7.4% increase in the rate of electricity consumption (and compared to the international average of 2% increase), it is imperative that Jordan works simultaneously on various projects in the hope of achieving a diversified energy portfolio whilst decreasing its dependence on expensive oil imports. The increase in our energy consumption is mainly due to an alarming increase in population: Syrian immigration resulted in a 10% population increase in just over a year.
On renewables
The Government is also working on solar and wind. Jordan is blessed with 315 days of sun. The speed of wind is 7 to 9 meters per second. The numbers encourage our use of renewables. We have signed 30 MOUs with 30 international consortiums. We expect to produce 1000 Megawatt of electricity (500 from wind and 500 from solar (mainly PV)). To expedite execution, the Government adopted a declared fixed tariffs at which it is willing to buy the electricity as long as the private sector's offers are formulated and approved by the end of 2013. We have adopted laws enforcing the installation of solar water heaters on every new building in Jordan. The new law came into force in April 2013. Additionally, it allows households to generate their own electricity from renewable energy and to sell the surplus to the grid through 'Net Metering'.
On a new LNG port in Aqaba:
An LNG port in Aqaba would allow imports of liquefied natural gas as a supplementary source to satisfy the current and future demand of natural gas, and guarantee a continuous flow of gas, with competitive prices to assist in reducing the cost of electricity production. The project consists of the construction and equipping of a new liquefied natural gas terminal in Aqaba with an operational throughput of 490 million cubic foot per day and a maximum throughput of 790 MMcf/d. The project started in September 2012, and the port is scheduled to receive the first LNG shipment by the last quarter of 2014. In late February, the ministry selected Golar LNG Ltd. to supply the floating storage and regasification unit (FSRU). We are not only focused on the price of energy but most importantly on the security of the supply.
On the Iraqi-Jordanian pipeline:
H.E. Alaa Batayneh finalised the principal agreement with the Iraqis to build a major pipeline of 1,680 km that will run from Iraq's southern oil-producing region, Basra, to the Anbar province and then to Jordan's port city of Aqaba.
On importing gas from Israel
Israel and Jordan signed a peace treaty in 1994 that normalized relations between the two countries and resolved territorial disputes. Royal Jordanian airline for example is the only Arab airline that flies into Israeli airspace. In February this year, Jordan's Arab Potash Company discussed with its Israeli counterpart the possibility of importing Israeli gas. Such a decision would have to be taken solely by the APC depending on the viability of the study. In this scenario, the Government of Jordan will formalize the relation as it would be a cross-border agreement.
Conclusion
Although BP is conservative about its projections, the fact is that it already invested large amounts of money in the development of natural gas in Jordan signals its trust in Jordan's resources. The years ahead will be challenging but we truly believe it will take 6 to 7 years before Jordan becomes partly energy independent and possibly an energy exporter. What we are certain about is that Jordan will not be importing 97% of its energy needs in the future. By 2020, we aim to achieve a diversified energy portfolio constituted of the following:
10% renewables
14% oil shale
25% natural gas
1% interconnectivity
12% nuclear
38% imported oil products
Karen Ayat is an analyst focused on energy geopolitics in the Eastern Mediterranean.
Follow Karen on Twitter: @karenayat
---
His Excellency Mr. Alaa Batayneh
Alaa Batayneh was born in Amman in 1969. The eldest son of H.E. Dr. Arif Batayneh, formerly member of the Lower House of Parliament, the Senate, Minister of Health, and Director General of the Royal Medical Services.
Mr. Batayneh holds a BS in Electrical Engineering and MS in Management Information Systems from George Washington University in Washington DC. After working in the USA and in the UK for several years, he returned to Jordan to work in the private sector where he was running a consultancy company. He then held the position of Secretary General of the Ministry of Transport from 2000 until 2005, followed by becoming the Director General of Jordan Customs from 2005 until 2007. He was appointed Minister of Transport from November 2007 - April 2012. In May 2012 Mr Batayneh was appointed Minister of Energy and Mineral Resources.
He received the Grand Cordon of the Order of Independence on 25/5/2006 and the Grand Cross of The Order of Orange-Nassau on 25/10/2006.
Mr. Alaa Batayneh married Princess Rahma bint El Hassan in July 1997 and they have two children.