Japan eyes hydrogen for energy [NGW Magazine]
The mild winter and the restart of some nuclear plants has this year reduced Japan's gas demand. But in the longer term, the adoption of lower carbon gases, including hydrogen, could see natural gas demand eroded further. Under pressure not to expand coal use, this could also benefit methane in the short term – as it has in the UK – depending on the number of nuclear plants that are finally returned to service.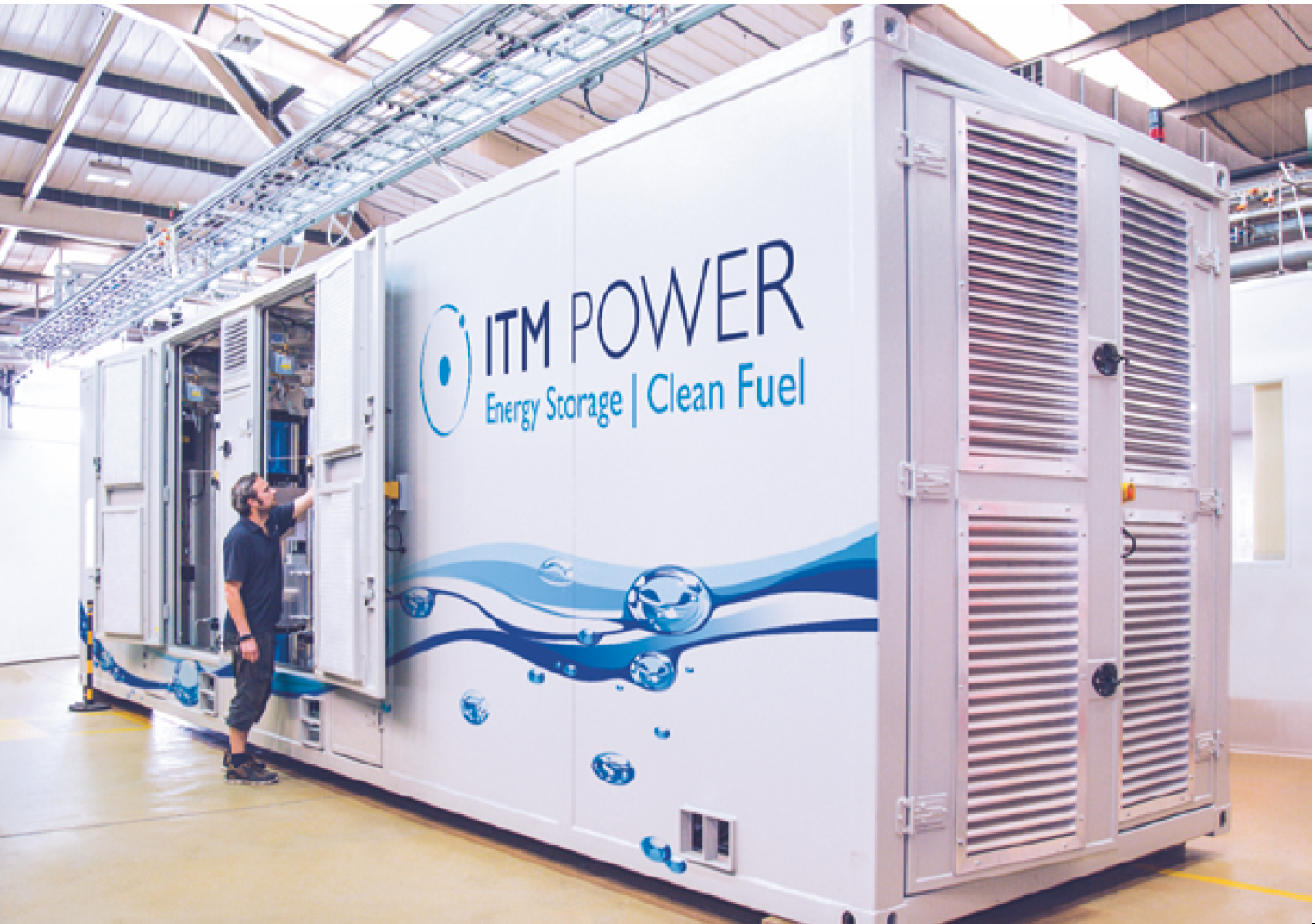 Hydrogen is often seen as the energy holy grail in Japan. This is largely because of the greater perceived energy independence and security that it would give the country, which is heavily dependent on fossil fuel imports. But it would also boost its green credentials. Recent advances mean domestic production is on the rise and the first international deals to supply Japan with hydrogen are currently being lined up, according to the CEO of ITM Power, Graham Cooley. ITM Power is the UK's largest producer of hydrogen systems and last year it signed a deal with Japan's Sumitomo Corp to develop multi-megawatt hydrogen systems.
Cooley said Japan is keen to switch to receiving its energy imports in a decarbonised form. "Japan imports most of its energy. Today that's carbon molecules, but in future it wants to import decarbonised power," he said. "Now they [Japan] do LNG, just switch that to hydrogen that is made renewably, and they decarbonise all their industry." Japan does not expect to be producing the bulk of the hydrogen domestically because of a lack of cheap large-scale renewables to produce it, although that may change with the recent progress in offshore wind in Europe.
However, it sees attractive renewable energy sources elsewhere. "The only way to get energy from sources of cheap, excess renewables to demand centres like Japan is by using hydrogen. From deserts with solar and mountains with hydro, the energy can be exported by turning it into molecules of hydrogen, and then on to carriers such as ammonia, or liquefying the hydrogen. The only alternative is masses of copper cables under the sea... So, hydrogen isn't just for storing renewable power, it's also about transporting it," said Cooley.
Overseas projects
There are a number of overseas projects planning to supply Japan. These include from a hydro source in British Columbia in Canada and from a coal-to-gas project in Australia (coal gas contains 50% hydrogen or over; but there do not appear to be plans for storing the waste CO2 from this project, meaning the hydrogen will not be green – although Australia is also involved in green hydrogen projects).
The Japanese ministry for energy, trade and industry (Meti)'s Hydrogen/Fuel Cell Industry roadmap has a price target of yen 30/m³ for imported hydrogen by 2030, dropping to yen 20/m³ two decades later. The first price corresponds to 330 yen/kg H2, or a bit more than $3/kg – which was also the target price for widespread adoption mentioned at Mott MacDonald's conference in London (NGW Vol 4, Issue 11).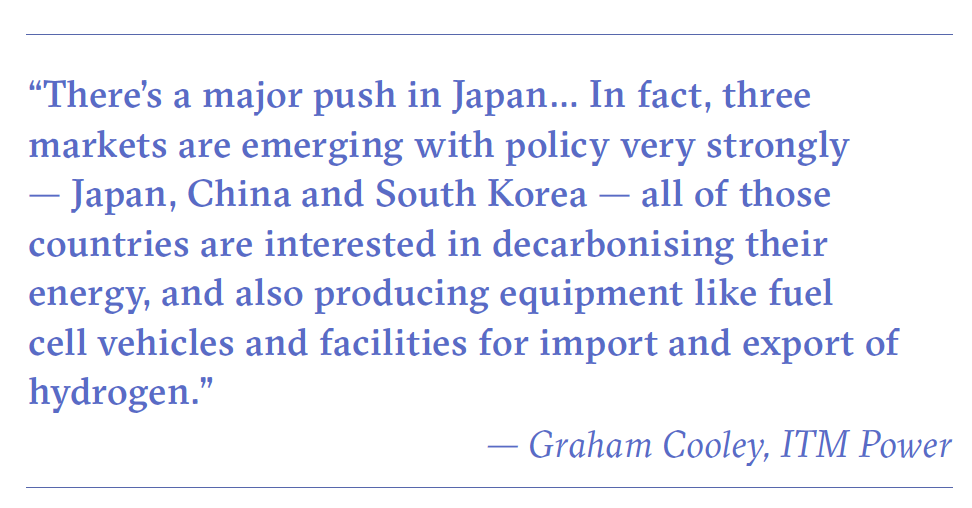 Japan's Chiyoda also has a hydrogen import plan for 2020 that will use existing mature petroleum infrastructure. It plans to ship toluene to Brunei, where it will be reacted with hydrogen produced from natural gas to generate methylcyclohexane (MCH). The MCH will be shipped back to Japan, where the hydrogen will be removed, leaving toluene, which will be used again.
Hydrogen costs = power costs
Cooley said the renewables route had fallen sharply in cost over recent years: "The cost of the electrolysis units has come down massively. The last five years has seen costs fall by 50%, and the next five it will come down another significant amount, especially as volumes go up."
He said the cost of hydrogen was effectively the cost of the power, which could be very low at some locations, or when bought during periods of surplus on variably priced power markets – such as the UK and Germany, when prices for some periods during the day turn negative. However, Japan has yet to introduce this market push, and with limited renewables, ITM/Sumitomo's domestic hydrogen systems are initially expected to stay small and industry-focused.
Because hydrogen has been a long-term goal in Japan, there has been considerable early hydrogen energy system research, although most of this has been focused on hydrogen fuel cells for vehicles, which has left Toyota as the leading major manufacturer in the area. Now, as the emphasis switches to using hydrogen in power and heating sectors, Japan is well placed to build on its existing leading position.
Favoured fuel
Cooley said Japan had persuaded the International Energy Agency (IEA) to produce a report on hydrogen ahead of a high-level meeting in Japan. He said it was being promoted "right from the top", with the prime minister Shinzo Abe's official car a (hydrogen cell) Toyota Mirai. Toyota has already used Mirai fuel cells in materials handling transportation, and is the world's largest forklift truck vendor.
The plan for the 2020 Tokyo Olympics includes the roll-out of a number of hydrogen technologies. For example, the New Energy and Industrial Technology Development Organization is leading construction at a 10-MW hydrogen plant in Fukushima Prefecture, begun in March, which will use mostly solar to produce up to 900 metric tons/yr of hydrogen. The country is also setting up 120 unmanned hydrogen charging stations for vehicles, with companies involved including the UK's Air Products, along with Nippon Steel and others.
"There's a major push in Japan… In fact, three markets are emerging with policy very strongly – Japan, China and South Korea – all of those countries are interested in decarbonising their energy, and also producing equipment like fuel cell vehicles and facilities for import and export of hydrogen," said Cooley. He said ITM would supply electrolysers to be used as part of integrated hydrogen projects in Japan. ITM and Sumitomo will also conduct feasibility studies for several projects in Australia.
He added that Japan also saw hydrogen as a way to reduce energy market volatility. "The basic model is a power plant and power purchase agreement, and there is no volatility in that model." Sources would be more widespread, so cartel power would be more difficult to exert than in oil markets. Energy security and independence would also rise, and there would be major geopolitical implications.