Israel, EU States Sign East Med Pipe MoU
Four nations have signed an agreement in the Cypriot capital to progress an eastern Mediterranean pipeline project. However the latest accord does not appear to advance significantly from one signed in Tel Aviv eight months ago.
Energy ministers from Cyprus, Greece and Israel (shown below left to right) along with the Italian ambassador to Cyprus (far right) signed a memo of understanding December 5 in Nicosia to cooperate on the EastMed Pipeline Project in the presence of the European Commission's energy deputy director general, Christopher Jones.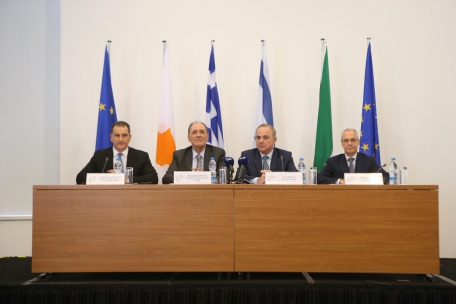 "The project will secure a direct long-term export route from Israel and Cyprus to Greece, Italy and other European markets as an additional element of the Eastern Mediterranean Corridor, thereby strengthening EU's security of supply, while promoting competition among gas suppliers," said a joint statement by the quartet, issued by Cypriot government December 5.
The statement continued: "We also expressed our willingness to cooperate in order to facilitate the necessary studies, the permitting, the construction and the operation of the project. In this respect, the working group consisting of the directors general of our energy ministries, established by the ministers at the Tel Aviv ministerial summit held on 3 April 2017, will continue to hold meetings, with the mandate to discuss, inter alia, the provisions of an Intergovernmental Agreement (IGA) between Cyprus, Greece, Israel and Italy with the objective of signing the IGA within 2018."
If an IGA is to be signed next year, however, it suggests that any final investment decision would occur after 2018.
Last month's most recent list of EU Projects of Common Interest (PCIs) includes a planned "pipeline from the east Mediterranean gas reserves to Greece mainland via Crete [currently known as "EastMed Pipeline"], with metering and regulating station at Megalopoli" [in southern mainland Greece] plus an "offshore gas pipeline connecting Greece and Italy [currently known as "Poseidon Pipeline"]" plus infrastructure reinforcements in Italy and Cyprus.
Gas reserve owners offshore Israel, Egypt and potentially Cyprus are mulling whether the best way to monetise these will be to export them as LNG, liquefied in Egypt or else in Cyprus, or whether piping gas to Europe – via EastMed – might be a useful additional marketing opportunity.
Israel had already said EastMed might enter operation by 2025. It would be 2,000 km and cost $6bn, according to Israel's ministry of national infrastructure and energy – a figure some have said is low.
Relations between Israel and the EU are generally warm. EU council of ministers president Donald Tusk had been due in Israel this week (December 6/7) but his official visit was postponed because he was required in Brussels for Brexit talks, which overran from December 4.