Iraq puts down a marker with TotalEnergies deal [Gas in Transition]
TotalEnergies and the Iraqi government took nearly seven months to negotiate the terms of their broad energy development agreement that was signed off last month, but it may prove to be Baghdad's blueprint for future flagship deals with international operators.
As opposed to the traditional approach of investing in the development of a single deposit, the multifaceted contract covers production at the Artawi oilfield, the recovery and processing of associated gas from Artawi and four other southern oil assets (West Qurna-2, Majnoon, Tuba and Luhais), a major seawater supply facility to support increased oil production and a 1 GW solar project.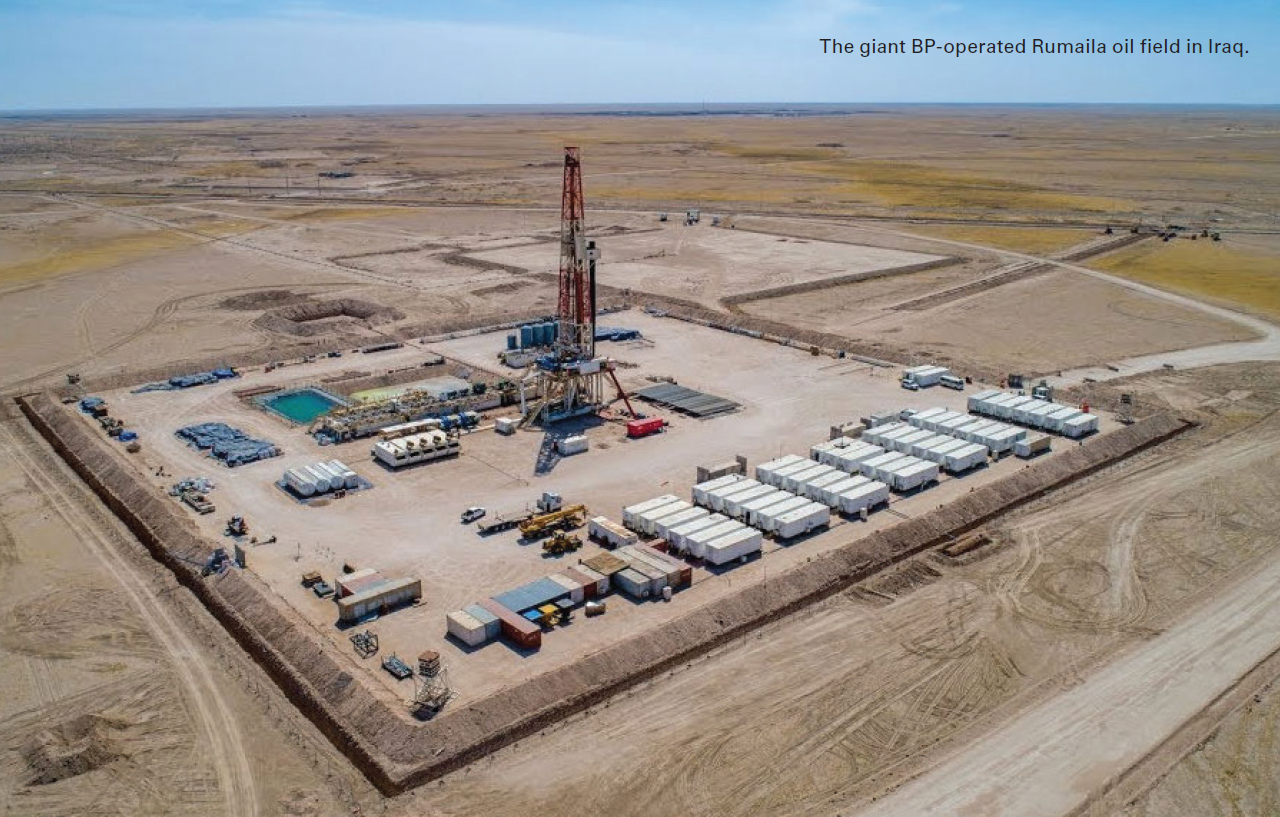 Combined, these will cost the French company an initial investment of around $10bn which will eventually rise to $27bn to generate revenues of around $95bn over the 25-year term based on an average oil price of $50/barrel.
Aside from the financial benefits, for Iraq the attractiveness of the deal lies in its breadth. While a 125,000 b/d increase in oil production at Artawi will help towards the country's oil expansion plans, the seawater supplies will be far more influential in determining whether or not the national target of adding 3mn b/d of output by 2027 will be achieved.
Meanwhile, gathering and processing gas and developing solar power align with long-term strategic objectives of Iraq (and the US) given the corollary reduction in Baghdad's reliance on imported gas and electricity from neighbouring Iran. The gas processing facility will have a capacity of 600mn ft3/d to produce around 12,000 b/d of condensate and 38,000 b/d of LPG, while the gas produced by TotalEnergies is expected to cost around $6.50/mn Btu, around $1.50/mn Btu less than gas imported from Iran.
From a corporate perspective, the combination of oil and gas development in the short-term and a longer-term transition towards renewables also fits within the strategy of the recently rebranded TotalEnergies. Indeed, the French firm's CEO Patrick Pouyanne admitted in February that it would not be possible to expand in renewables without cash flows from hydrocarbons. The newly re-established Iraqi National Oil Co (INOC) would take a stake of around 40% in the four projects.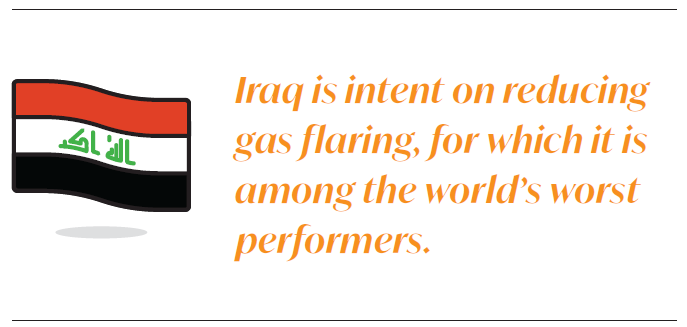 Gas breakthrough
Iraq currently produces around 1.5bn ft3/d of gas but its existing gas-fired turbines require around 7bn ft3/d to achieve their 40 GW generation capacity. Volumes imported from neighbouring Iran currently run at around 1.3bn ft3/d having been reduced from a previous high of 1.5bn ft3/d following a build-up of debt by Baghdad, leaving Iraq well short.
By the end of 2025 the Ministry of Oil (MoO) is aiming to produce 4.5bn ft3/d from associated gas and another 1.5bn ft3/d of 'free gas', leaving a shortfall of 1bn ft3/d.
Given that Iraq is home to more than 130 trillion ft3 of gas reserves, the disparity has been a source of significant frustration for the MoO, but this has not been for want of trying.
Two of the country's largest gas fields were apportioned in the second licensing round in 2010 but have so far failed to deliver any meaningful results. Efforts to develop the 4.6 trillion ft3 Al-Mansouriyah and the 5.6 trillion ft3 Akkas gas fields were halted by the spread of Islamic State, but both have recently come back into focus. China's Sinopec was awarded a contract in April to help local firm Midland Oil Co. develop Mansouriyah while the MoO is in talks to replace the incumbent operator at Akkas, South Korea's KOGAS.

Meanwhile, Iraq is intent on reducing gas flaring, for which it is among the world's worst performers. However, this has in part been worsened by the long-term technical service contracts (TSCs) for oilfield development not covering the production of associated gas. The lack of remuneration for capturing the gas, coupled with limited gas gathering infrastructure mean that operators are left with few options.
Iraq is also showing its commitment to the energy transition with the TotalEnergies deal being one of four contracts signed since August for the development of solar power plants hoped to provide 7.5 GW of power by 2023. Agreements have been signed with Masdar, PowerChina and Scatec Solar, while Saudi Arabia's ACWA Power is also reported to have been engaged in solar talks.
Contracts
Aside from this, Iraq has been working to improve its relationship with incumbent operators. For years IOCs have been pushing Baghdad to renegotiate their TSCs for the development of the country's largest hydrocarbon deposits. Unfavourable terms and challenging operating conditions led to the departure of high-profile companies including Royal Dutch Shell, Occidental Petroleum and Statoil (now Equinor).
However, the situation has reached a boiling point over the past 12 months with first ExxonMobil, then BP and Lukoil appearing to be heading for the exit. This forced Baghdad into action and though no amendments to the TSCs have yet been announced, the MoO has begun trying to improve the attractiveness of investing in Iraq.
While its efforts to placate ExxonMobil have come to nought with the US firm seeking international arbitration to resolve the dispute, Lukoil has recommitted to West Qurna-2 and BP continues working to increase output from Rumaila from 1.5mn b/d to 2.1mn b/d, albeit at arms' length, having spun off its holding into its Basra Energy Company joint venture with PetroChina.

More good news came in late September when Baker Hughes agreed a deal with the MoO to build modular gas processing facilities to capture 200mn ft3/d of associated gas from the Nassiriyah and Gharraf oilfields in Dhi Qar Governorate, bringing to fruition a 2017 agreement with the South Gas Co.
Meanwhile, the MoO has said that Chevron is close to signing an exploration contract for four exploration blocks in Dhi Qar but given that the ministry has also spoken candidly about its attempts to enlist IOC support for free gas development, any deal may yet prove to be another oil and gas hybrid arrangement.
Maximising oil production is key to the Iraqi economy with crude sales accounting for more than 90% of government revenues, and deals that facilitate a capacity increase will be welcomed by Baghdad, particularly if they also help to diversify the country's energy mix.