Iran's Gas Disputes with Oman, Pakistan Do Not Undermine Agreements
While Iran is preparing to boost its gas output by at least 66% to 1,100 million cubic per day during coming years, its clients are keen to rely on domestic gas production projects or seeking other suppliers, but it seems Iran's gas agreements are not being undermined yet.
Turkey rejected Iran's proposal to double gas delivery in mid-April, while Iraq is faced with an increasing security crisis. Pakistan hasn't resolved financial problems to construct the Peace Pipeline yet and Oman has disputes around the route of under-water pipeline, aimed at delivering Iranian gas to the country. Oman also preparing to commence a new gas field to increase gas production by 28 mcm/a in two years.
However, none of them will likely undermine Iran's gas agreements with these countries.
Oman
BP announced April 21 that it is preparing to start natural gas production from Oman's Khazzan field's first stage by 2017 at a rate of 28.3 mcm/d.
Total investment in the first phase to reach the initial gas production target will be $16 billion.
BP's statement came while Oman and Iran disagreed on the route of under-water pipeline, aimed to export 10 billion cubic meters per annum of Iranian gas to Oman.
Iran signed an agreement with Oman in March 2014 to start gas export to this country by 2017. However, "the sides have yet to agree on the route of a 260 km underwater pipeline to carry Iranian gas to Oman", Oman's Minister of Oil and Gas, Mohammed Al Rumhy said last week.
Oman's gas reserves are roughly 900 bcm, while the country's gas production is about 85 mcm/d. The country's refined gas needs stand at 39.1 mcm/d/. On the other hand the country re-injects above 9 mcm/d of raw gas to old fields and supplies about 40 mcm/d of raw gas to LNG plants to produce 10.5 million tons of LNG.
Oman currently imports about 5 to 7 mcm/d of gas through the Dolphin system.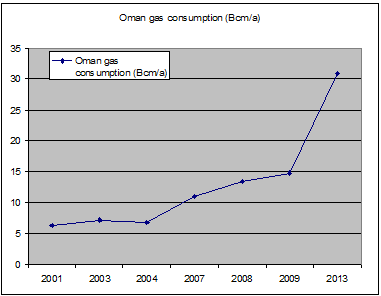 It seems Oman hasn't had any serious gas shortage problem, but the high rate of gas consumption growth may endanger the country's energy security in the coming years.
However, the country is expected to experience significant gas usage.
H E Salim al Aufi, Undersecretary of the Ministry of Oil and Gas, said last April that with the rapid expansion of power generation capacity, industries and refinery projects in the sultanate, the consumption of natural gas will increase by over ten per cent annually from this year.
Therefore, it seems that commencing the gas deal with Iran is vital for Oman.
Pakistan
During Chinese President Xi Jinping's visit to Islamabad on Monday, both sides sealed a $46-billion investment package, including roads, railways, power generation and pipeline projects.
One of the projects was building a $2 billion worth gas pipeline with 700 km length from Gwadar Port to Nawabshah to supply gas the thermal power plants there.
It has been expected that regarding Iran-Pakistan's gas agreement as well as placing Gwadar port in 50 km distance with Iran's borders, this pipeline is a part of Peace Pipeline, but Pakistani media reported that this pipeline will transit Qatari qas to Nawabshah.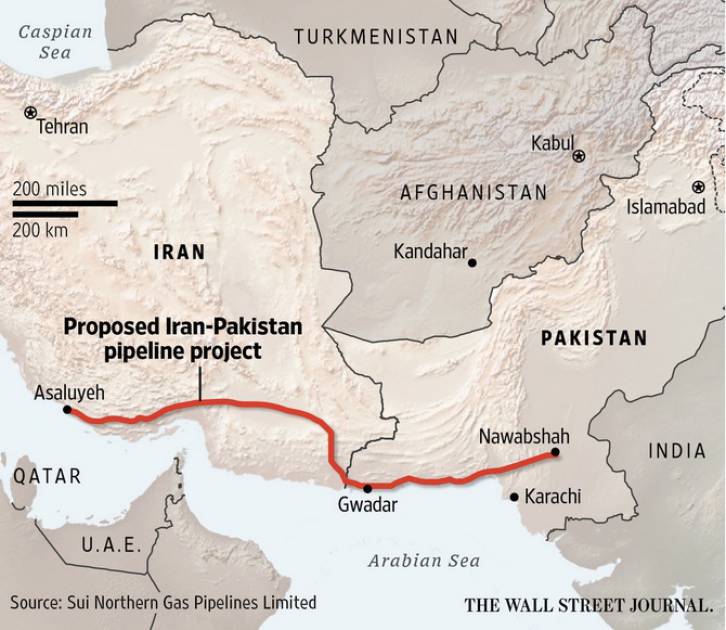 State-run Gulf energy company Qatargas is in the final stages of talks on a deal to supply Pakistan with 3 million tons of liquefied natural gas (LNG) annually for 15 years, Reuters reported on February 18th.
Qatar exported the first shipment of LNG to Pakistan's Karachi port in March.
Iran and Pakistan signed a gas agreement under former Iranian President Mahmoud Ahamadinejad, which, according to Pakistan, was set to import 22 million cubic meters per day (mcm/d) of natural gas from Iran as of 2015. But because of finance problems, Pakistan has not yet managed to establish its section of the pipeline.
Based on the agreement, Pakistan was also supposed to pay $200 million to Iran each month as penalty for delays in implementing the project.
However, Iran's deputy oil minister Amir Hossein Zamani Nia announced April 22th that the country does not recognize fining Pakistan or canceling the gas deal with it due to long delays of construction of the pipeline in Pakistani land.
Zamani Nia said that Pakistan's gas demands are more than the volume specified on agreement with Qatar and Iran hopes that Pakistan would take Iranian gas as well.
However, the Pakistan's Finance Ministry's forecasted that this country would need about 290 mcm/d of gas by 2025.

It seems Pakistan has no choice but import Iranian gas. This country also is keen to import Turkmen gas through the TAPI project, but the delivery capacity of this pipeline is far less than Pakistan's forecasted gas demands in 2025.
Dalga Khatinoglu is an expert on Iran's energy sector, head of Trend Agency's Iran news service.