Putin's Iran Trip Yields Six Memos
Iranian and Russian entities signed six memoranda of understanding (MoUs) during the visit by the president of the Russian Federation, Vladimir Putin, to Tehran November 1.
National Iranian Oil Company (NIOC) and Russian Rosneft signed two; deputy oil minister Hossein Zamaninia and the deputy chairman of the management committee of Gazprom Vitaly Markelov signed two more (see picture); and the other two were signed by the two countries' oil ministers: Bijan Zanganeh and Alexander Novak.
Rosneft itself announced on its website that it signed the "road map and key terms of strategic co-operation in the field of oil and gas" with Iran. Its CEO Igor Sechin also told journalists in Tehran that the total value of the projects could reach $30bn, aimed to produce 55mn metric tons/yr of oil equivalent. "Legally-binding documents may be signed in a year," he said.
Rosneft said that this document confirms the parties' high level of interest in developing long-term and mutually beneficial co-operation in key areas of business, including exploration and production, oilfield services and training.
Zamaninia did not mention the details of the sealed MoUs with Gazprom, but Novak said that Gazprom plans to produce gas in Iran and build a 1,200-km undersea pipeline from Persian Gulf to India to deliver gas.
Vitaly Markelov (L) and Hossein Zamaninia (L)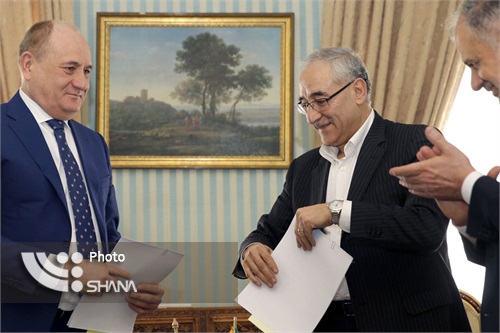 Gazprom has already signed an MoU with Iran to study the Kish gas field with reserves of 1.6 trillion m³, making it the largest after South Pars. Anglo-Dutch major Shell submitted the result of its survey of Kish to NIOC September 12. Iran plans to produce 10bn m³/yr gas from the first phase, having started development in the mid-2000s. But according to an official document, prepared by the oil ministry and seen by NGW, after spending $660mn of the budgeted $2.2bn, Iran has achieved very little progress.
Russian Lukoil also signed a MoU with Iran to explore its blocks in Caspian sea, while Russian geological holding company, Rosgeo, announced October 25 that it is hoping for $1.5bn of upstream projects in Iran's oil and gas sector.
Iran's previous MoUs with Russian companies relate to oil:
| | | | | |
| --- | --- | --- | --- | --- |
| Oil fields | Reserves (bn barrels) | Output today (b/d) | Crude quality (API) | Partner |
| Mansouri | 15.142 | 60,000 | 20-25 | Lukoil |
| Ab Teymour | 15.258 | 60,000 | 22-22.5 | Lukoil |
| Aban | 0.138 | 9,000 | 21 | Zarubezhneft |
| West Paydar | 0.952 | 28,000 | 18-20 | Zarubezhneft |
| Cheshmeh Khosh | 3.74 | 72,000 | 20-29 | Gazprom Neft |
| Changouleh | 2.367 | 0 | 24 | Gazprom Neft |
| Dehloran | 5.184 | 24,000 | 30 | Tatneft |
Source: NIOC
Dalga Khatinoglu