Iran misses emissions targets [NGW Magazine]
Cut off from foreign investment and access to advanced technology by US sanctions, Iran is suffering from environmental problems. Its greenhouse emissions, according to official statistics, cost the economy about $30bn/yr, or about 9% of its GDP.
Iran clocks up 850mn mt/yr in emissions, of which about 610mn mt/yr are CO2; and it remains in the top 10 global air polluters list.
Iran undertook to cut its emissions by at least 4% and up to 12% by 2030, based on the COP21 climate deal.
The 12% reduction in growth will cost $52.5bn, of which just a third – $17.5bn – is expected to come from domestic funds to achieve a third of the targeted cut [does that mean Iran can meet its 4% minimum at a cost of $17.5bn? Yes]. Under the business‐as‐usual scenario (BAU) of COP21, Iran's total emissions will rise to 1.92bn mt/yr by 2030. Cutting reductions by 4% would mean 1.85mn mt/yr of emissions; and by 12%, 1.692mn mt/yr.
A sixth of its CO2 emissions came from power plants and for the first time since 2013, its gas-to-power demand fell 2.8% on the 2017-18 fiscal year, to 67.413bn m³. The more polluting fuel oil and diesel use in this sector rose by 13% to 9.6bn litres, with a very serious impact on emissions.
Iran slashed by two thirds its use of liquid fuel in the power sector, going from 27.4bn litres in 2013 to 8.73bn litres in 2017, so in that context, a rise is not as bad as it might otherwise sound.
According to two official documents, prepared by the oil ministry and seen by NGW, cutting the use of liquid fuels in the power sector led to a 39% cut in emissions, which plunged from 167mn mt in 2013 to 102mn mt in 2017 [Is that % right? Shouldn't it be nearer two thirds? Indeed it led to cutting emissions by 39% in power sector, not in whole emission volume].
On the other hand, in 2015/16 fiscal year, Iran planned to double combined-cycle gas turbines' (CCGT) share of total installed power generation capacity, from a quarter to half the total by 2020; and to increase the share of nuclear and renewables from below 1.5% to between 7 and 10%.
The efficiency of CCGTs is double that of Iran's ordinary gas-fired power plants which average 30%.
After the implementation of the nuclear deal in January 2016, which eliminated international sanctions, Iran signed billions of dollars' worth of agreements with leading [energy efficiency? All projects, including for energy efficiency like converting thermal power plants to CCGT] companies, including Germany's Siemens, Norway's Saga Energy, UK Quercus and others to achieve its plan. However the growth of CCGTs, nuclear and renewables plants last year fell far short of the year before, as the US withdrew from the nuclear deal in May 2018. It reimposed sanctions on Iran and as a result, foreign companies left the country.

Natural gas accounts for 70% of Iran's total energy demand, while contributing only a half of emissions. The country uses above 1.8mn b/d of crude oil and gas condensate as fuel, as well as above 310bn m3/yr of natural gas.
Without attracting investment to raise the efficiency of the power plants, the transportation system and industrial sector, Iran has no choice but to shut down polluting plants and firms if it is to meet its 4% binding emission reduction commitments.
An official document, presented by the Iranian government to United Nations Framework Convention on Climate Change, says that implementing COP21 would impact the country's economy, trimming GDP by 1.28% at the 4% emission reduction scenario and by 7.19% in the 12% reduction scenario.
The document, seen by NGW, says the worst-hit sectors would be transport and the oil and gas industry, which both suffer from old and very inefficient plant.
Alongside power and transpoeration sector, gas flaring amount in Iran has increased by 59.5% to 17.7bn m3/yr during 2013-2017, according to World Bank statistics. Iran's gas flaring emitted about 35mn mt/yr CO2 in 2017.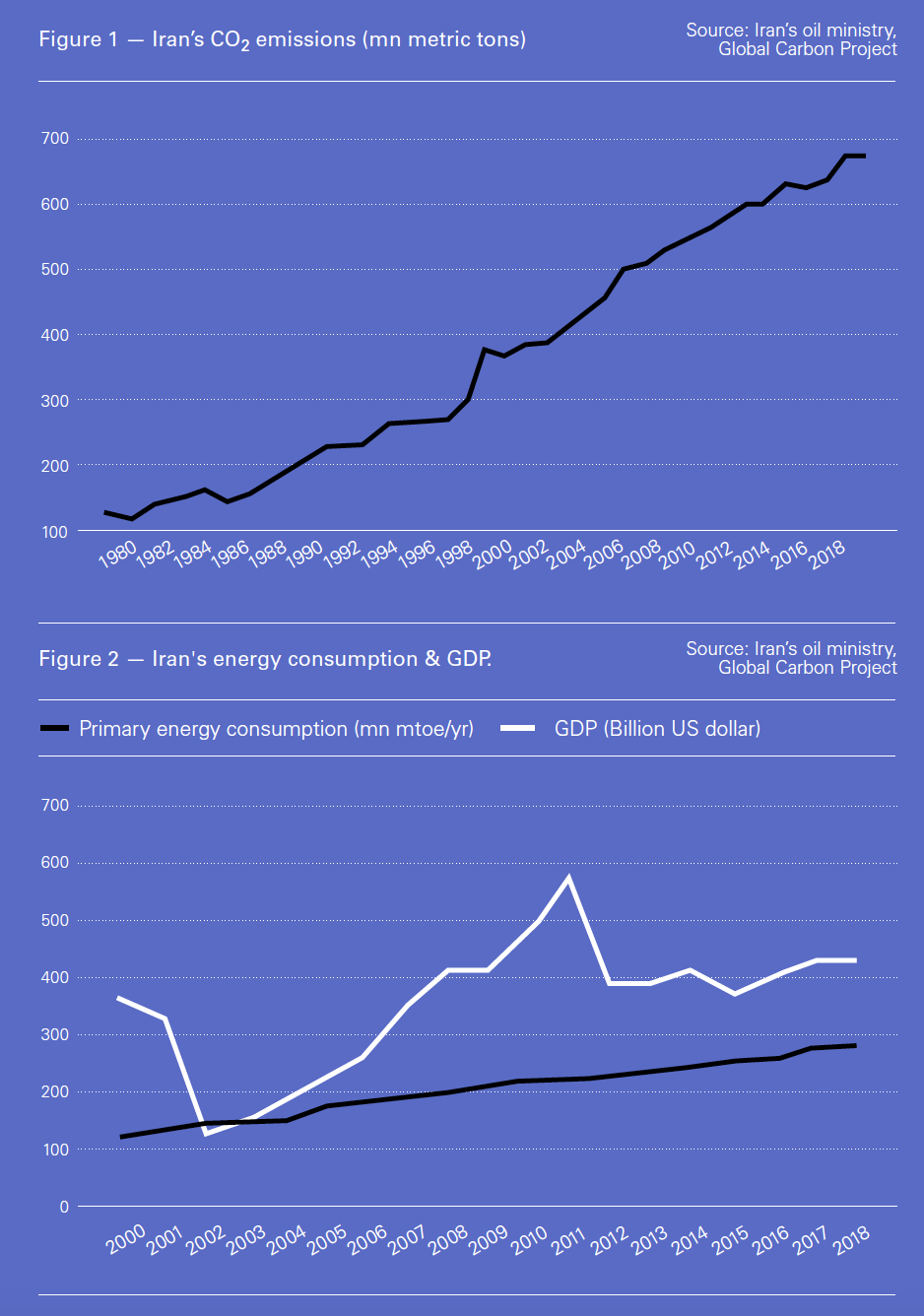 Iran needs $6bn to curb flaring, but according to official statistics, the National Iranian Oil Company with above $50bn debts, suffers strongly from budget deficits.
Recently the research center of Iran's parliament released a report saying that NIOC should pay off $15.7bn of debt in the current fiscal year, but the company's total projected "reliable" revenues and budget are less than a half that sum.
A report, prepared by oil ministry and seen by NGW show that Iran has only attracted only about $50mn foreign investment in upstream oil and gas projects during 2018, of which the whole came from Chinese CNPC and Sinopec, which both of them have completed projects (Yadavaran and North Azadegan) as of January 2019 and didn't sign any new contract with Iran to bring further investments.
CNPC, with 80.1% share in Iran's South Pars phase 11, also has suspended starting the project due to US sanctions.
US sanctions have frustrated Iran's plan to attract $20bn/yr foreign investment in oil and gas sector.
The most serious problem is the country's fast-growing energy demand, while the GDP based on purchasing power is expected to shrank 3.6% in 2019, while GDP based on US dollar is also would decline from $430bn in 2018 to $333.6bn in 2019, because national currency has lost 70% of its value since early 2018.
According to Central Bank's latest report, the government faced unprecedented 244 trillion rials budget deficit ($5.8bn, based on official dollar rate: $1/42,000 rials and $11bn based on USD rate in open market) during fine months of last fiscal year (March 21-December 22).
Iranian government has only allocated $22mn for environmental projects in the current fiscal year budget low, or only 0.1% of total budget. On the other hand, Iranian parliament has totally stopped negotiations on COP21 ratification.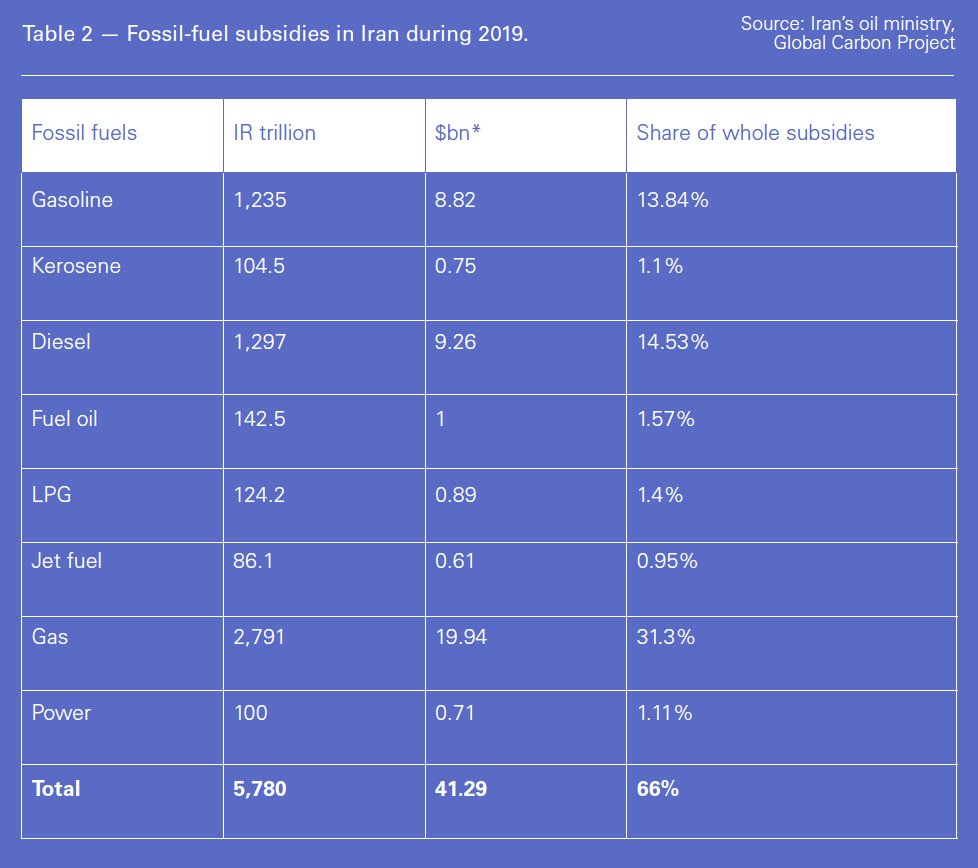 It is not expected any improvement in energy efficiency and greenhouse emission reduction, regarding the economic challenges, rising budget and investment deficit.
On the other hand, the fuel price in Iran is very low and power sector is a losing. Government not only doesn't earn revenues from fuel and electricity sales, but pays above $45bn/yr energy subsides.
According to estimates by Iranian Parliament Research Center, the cost of electricity generation in the country would reach 294 trillion rials ($2.1 billion, based on open market USD exchange rate now) during the current fiscal year. That is about 3 trillion rials less than total revenues (including 42.12 trillion rials in exports).
Therefore, generation of electricity is a loss for the government that controls almost the whole network.
Thermal power plants receive subsidized fuel from government ($8.3 per 1000 cubic meters of gas, while the regional gas price is about $250) and sells electricity at a very low price (2 cents per a kilowatt hour, against up to 13 cents/kwh in U.S. or 12-35 cents/kWh in EU).
According to the International Energy Agency, Iran with $45.1 billion fossil-fuel subsidies, ranked first in the world in 2017. Almost one-fourth of this huge subsidy, $12.3 billion was allocated to the electricity sector.
Tehran also released a report April 16, saying that in all, the country would spend rials 8,900 trillion on subsidies ($63.7bn based on $/rial rate in the open market), of which two thirds are to go on fossil fuels.
Iran's national currency, rial, has lost 70% of its value since 2017, then the government's fossil-fuel subsidies estimations based on USD for 2019 is very lower than IEA's 2017 estimation.
EXPORTS TO IRAQ CONTINUE
The US government has ended waivers for importing Iranian oil, it said April 22. Iraq – which has received gas import waivers until late-June – says it needs Iranian gas and electricity. Washington's six-month waivers to eight Iranian oil importers – China, India, Japan, South Korea, Taiwan, Turkey, Italy and Greece – will expire May 2. US gave a 90-day waiver for Iraq late 2018, but then extended it to June.
It is not clear whether Iraq could have a further extension but the US Charge d'Affaires in Baghdad, Joey Hood, told the local al-Dijlah channel April 22 that if Iraq cannot comply with sanctions, then the US may take diplomatic measures against it. He said that Washington wants to see an Iraq that is independent from Iran's energy.
Iran started flowing 7mn m./day of gas to Baghdad in June 2017. Exports to Basrah started in mid-2018. The contractual volume is 50mn m3/d, projected to grow gradually. Iran has to send 70% of the contracted volume during the hot seasons and the rest in other months. Gas import disruption last November caused massive power outages in Baghdad and other cities.
Iraq energy ministry spokesman Musab al-Mudaris told reporters April 22 that the country has no choice but to continue Iranian gas imports: "Several gas-fired power plants with 2.4GW are operating on Iranian gas, while Iran exports directly a further 1.5 GW electricity to Iraq," local media quoted him saying.
He also said that Iraq plans to increase Iranian gas intake from current 28mn m3/d to 35mn m3/d in June, which is likely due to the contract that means more deliveries in summer. Iraq's power generation capacity is growing 7%/yr and it has a 5 GW deficit. The country has been seeking alternative sources as well.
Iraqi electricity minister signed two memoranda of understanding with Saudi oil minister April 20 on long-term electricity co-operation and linking the countries' power grids. The two countries share a border.
Saudi Arabia has offered to construct 3 GW of renewable power plant capacity in the north of Iraq and to export electricity at $21/MWh – a quarter of the price in Iran's current contract with Iraq. Siemens and General Electric have signed preliminary agreements to add 11 GW and 14 GW respectively to Iraq's power infrastructure as well.