Indian Reliance, BP to Invest $6bn in India Offshore Gas Block: Update
(Adds details on pricing, asset value in final 2 paras)
Indian Reliance Industries and its partner BP will invest an additional $6bn in the KG-D6 block off the east coast of India over next three to five years to develop three projects, Bob Dudley, CEO, BP and Mukesh Ambani, chairman Reliance Industries announced during a press conference in New Delhi June 15.
The first one will be D34 in the so-called R series, a dry gas development in water-depths of more than 2,000 metres, about 70 km offshore. The R-series fields will be developed as a subsea tieback to the existing control and riser platform off Block KG-D6. The project is expected to produce up to 12mn m³/d when it comes on stream in 2020.
The three projects will be developed in an integrated manner and RIL and BP plan to submit development plans for the next two projects for government approval before the end of 2017. The three projects together will bring 30-35mn m³/d (11bn-13bn m³/yr) of new domestic gas production during 2020-2022.
This development is of significance given that gas output from KG-D6 block, touted as one of India's biggest gas finds at the time of its discovery in 2002, has been on a continuous decline, and according to the government, RIL and its partners produced less than 16% of the target from the KG-D6 block in 2013-14, 13.75% of the target in 2014-15 and 12.24% of the target in 2015-16. The previous government claimed that the lower production was intentional.
In KG-D6 block Reliance owns 60% and is the operator, BP owns 30% and Canadian Niko Resources owns 10%. BP bought the stake in 2011. Since formation of this partnership in 2011, the two companies have invested over $1.6bn in deepwater exploration and production in the period to May 2017.
Sounding optimistic about the future, Dudley said that the gas projects will reduce India's import dependence by 10%. He also said that both Ambani and he met with Indian prime minister Narendra Modi earlier June 15 where they discussed Modi's energy vision for India. The two met the Indian oil minister Dharmendra Pradhan as well. (pictured below).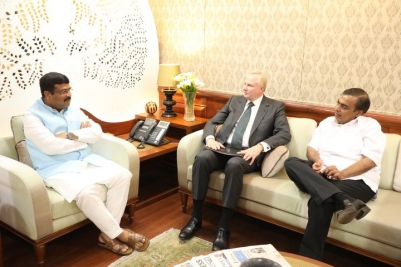 L to R: Indian oil minister Dharmendra Pradhan, BP's Bob Dudley and Reliance's Mukesh Ambani (Credit: Dharmendra Pradhan's Twitter account)
This vision is based on four pillars: energy access and affordability for all citizens, improved energy efficiency, transition to a low carbon world driving energy sustainability and energy security for India. "BP itself is focusing globally and here in India on these same four pillars," Dudley said. BP is extending its gas portfolio, with a number of major projects coming on stream. He described the oil market as a struggle between shale and sheikhs and expects oil to trade between $50 and $55/barrel next year.
Expanding partnership
The two companies will expand their existing partnership for strategic co-operation on new opportunities across India's energy sector. They will jointly explore options to develop differentiated fuels, mobility and advanced low carbon energy businesses in India.
Ambani said that renewable energy was very much in the domain of co-operation.
The companies expect to collaborate, in addition to the conventional transportation and aviation fuels retailing, on unconventional mobility solutions, addressing electrification, digitisation and disruptive mobility trends.
Since entering KG-D6, BP has written down – and restored – some of the licence value. In 2014 it reported an $810mn charge in 2014 – comprising a $415mn impairment charge and $395mn exploration write-off against the value ascribed to block KG D6 as part of the acquisition of upstream interests from RIL in 2011.
Then in Q4 2016 BP recorded a $234mn impairment reversal, In March that year, the government allowed producers to sell gas at their own agreed prices as long as they were below the cost of competing liquid fuel.
Shardul Sharma