Indian NGVs enjoy tailwinds [Gas in Transition]
Indian gasoline and diesel prices have been trending higher in recent months due to rise in global oil prices. High taxes have also been a factor pushing the prices up. The increase in prices is due to higher excise duty, which rose by round 65% to roughly $0.45/litre in 2020, and value-added tax. Tax now accounts for over 60% of gasoline's retail selling price, compared with 47% in 2019, according to a study by Crisil Research published earlier this year.
These high prices are a boon for natural gas vehicles (NGVs), however, the difference between retail gasoline and compressed natural gas (CNG) prices is expected to remain wide because of higher taxes on the former, Crisil stated.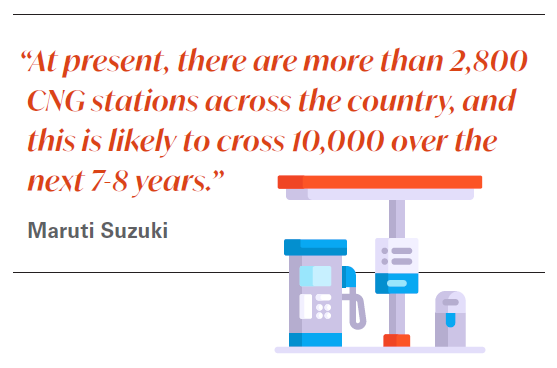 The competitiveness of CNG is evident in consumption volumes, which have seen a compound annual growth rate of about 11% over the past three years, according to the report. About 180,000 CNG-fuelled cars and passenger vehicles were sold in the fiscal year ending March 31, 2020, compared with 140,000 in the 2014-2015 fiscal year.
According to Crisil, CNG-fuelled vehicles account for about 5% of the passenger vehicles sold in the country each year. With the recent implementation of Bharat Stage 6 (BS6) emissions standards, the price of diesel vehicles has risen sharply, pushing most commercial players, such as radio-taxi companies, towards CNG.
Sales surge
India's biggest automaker, Maruti Suzuki India, sold over 157,000 factory-fitted CNG vehicles in the 2020-2021 fiscal year, up from 106,444 in 2019-2020. This is the highest-ever CNG car sales by the company. Maruti Suzuki offers a wide range of factory-fitted CNG cars including models such as Alto, Celerio, Wagon-R, S-PRESSO, Eeco, Ertiga, Tour S and Super Carry.
Shashank Srivastava, executive director at Maruti Suzuki India, said in April that CNG was becoming one of the most preferred alternative fuels due to its low economic cost versus gasoline and diesel and improving CNG filling infrastructure.
"With the government's clear focus on expansion of CNG outlets in the country, we are confident of greater acceptance of factory-fitted CNG vehicles," he said.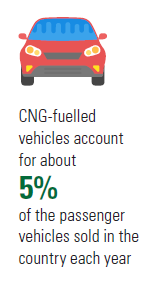 This focus is part of a broader effort by India's government to expand the share of natural gas in the country's primary energy mix from 6.2% at present to 15% by 2030. Despite a complete lockdown in the initial months of the 2020-2021 fiscal, more than 700 CNG stations were added during the entire year, a growth of more than 50%, Maruti Suzuki said.
"This rate of network expansion will aid the demand for CNG vehicles. At present, there are more than 2,800 CNG stations across the country, and this is likely to cross 10,000 over the next 7-8 years," the company said.
Bringing hydrogen into the mix
Indian government has recently focused more on promoting the use of hydrogen-blended CNG. Indian petroleum and natural gas minister Dharmendra Pradhan inaugurated a hydrogen-CNG (HCNG) plant operated by state-run Indian Oil in Delhi in October last year, and launched a trial run of HCNG-fuelled buses. Indian Oil will run 50 HCNG buses during the pilot phase.
An existing internal combustion engine can be run on HCNG without significant modification and with a minimal upgrade to existing CNG infrastructure, according to Indian Oil. The blended fuel offers a 70% reduction of carbon monoxide and a 25% reduction in hydrocarbon emissions compared with standard CNG.
The Indian government permitted the use of HCNG as an automobile fuel in September 2020. The ministry of road transport and highways has allowed a CNG mix of up to 18% hydrogen to be used in engines. The Bureau of Indian Standards has also set specifications for HCNG for automotive purposes.
Pradhan said at a recent webinar that the government was now looking to kick start similar pilot projects in other cities as well. He said that hydrogen had huge potential as an emerging clean fuel and that by establishing synergies with natural gas, it could be easily adopted in the energy mix without incurring additional infrastructure costs. He said that HCNG could be used in the automotive sector as well as for domestic cooking applications.
Growing gas supply
India's domestic gas output has been on a downward trend for more than half a decade now, which has led to heavy dependence on costly imported LNG. There has been some good news on this front, however. Reliance Industries and its partner BP started production from the Satellite Cluster gas field in block KG D6 off the east coast of India in late-April. The Satellite Cluster is the second of the three developments due to come onstream, following the start-up of R Cluster in December last year.
RIL and BP are developing three deepwater gas projects at KG D6 – R Cluster, Satellites Cluster and MJ – which together are expected to meet about 15% of India's gas demand by 2023. These projects will utilise the existing hub infrastructure at the KG D6 block. Reliance is the operator with a 66.67% participating interest and BP holds a 33.33% participating interest. The third KG D6 development, MJ, is expected to start production towards the latter half of 2022.
Not only Reliance but state-owned ONGC is also expected to start producing gas from its fields in the KG basin soon. According to Mumbai-based brokerage HDFC Securities, the launch of projects by both Reliance and ONGC will lead to a 52% surge in India's gas output to 122mn m3/day by 2024.
Natural gas production in the 2019-2020 fiscal year was 85mn m3/d, and it is estimated to have fallen to 80mn m3/day in the following year, HDFC Securities said in a report published on April 22. Output is projected to rise in the 2021-2022 fiscal to 93mn m3/d, however, and up to 107mn m3/d in 2022-2023 and 122mn m3/d in 2023-2024, the brokerage said.
Higher availability of cheap domestic gas augers well for the city gas companies who market CNG. "This increasing gas supply from domestic sources should drive earnings growth and valuations for the Indian gas utilities, especially the gas transmission companies," HDFC said.