IGB extends market test for pipeline capacity
The deadline for bidding for capacity in Interconnector Greece-Bulgaria (IGB) has been extended by a month until the end of November following requests by participants in the first phase, ICBG, the company implementing the project announced. Earlier the interested companies had to make binding offers to book IGB capacity by 31 October.
Bulgaria's energy minister Temenuzhka Petkova said October 5 that four more companies submitted bids additionally to the other nine that had participated in the first phase in April.
ICBG is a Bulgaria-based joint venture of state Bulgarian Energy Holding and Greece's IGI Poseidon, the latter being co-owned by Greece's Depa and Italy's Edison.
The nine non-binding offers were submitted in the first phase of the market test, with a total capacity of 4.3bn m³ in forward flow (northwards) and 1bn m³/yr in reverse flow.
IGB route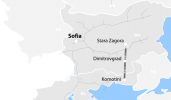 (Credit: IGB)
Austria's OMV, Greece's Gastrade, UK's Noble and Azerbaijan's Socar have expressed an interest, among others.
The interconnector will cost about €220mn and is designed to link the two countries gas networks, diversify Bulgaria's supplies and if required, to enable deliveries to other countries in southeast Europe.
Construction of the 180-km line is due to start next year. It will start at Komotini in Greece and end in Stara Zagora in Bulgaria. Stara Zagora is also home to the TransBalkan pipeline which carries Russian gas through Ukraine, Hungary, Romania and Bulgaria.
Kama Mustafayeva