Hunt, OMV Trial Romanian Gas Production
Pilot production at Padina North onshore Romania has begun, said OMV Petrom December 8; the field is operated by US independent Hunt Oil.
OMV Petrom said the field is currently producing gas and condensate at a rate of 1,900 barrels of oil equivalent/day from a single well, Padina North 1, which ranks as among the top wells in its portfolio. The two equal partners have invested €17mn to date and production facilities were built in seven months flat. The field in Southern Buzau county was discovered late 2014.
"With a portfolio consisting mostly of mature fields, Romania needs investments in order to continue oil and gas production," said Peter Zeilinger, OMV Petrom's upstream chief.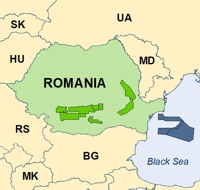 OMV Petrom's interests in Romania (Photo credit: OMV Petrom)
Austria's OMV owns 51.01% of OMV Petrom while the Romanian state directly and through its investment fund owns 33.21%. The joint venture said Padina experimental production is expected to last 12 months and will collect data that help decide whether to proceed with full field development.
Roughly half OMV's 303,000 boe/d in 2015 was produced in Romania (169,600 boe/d). In 1H2016 OMV Petrom resumed exploratory/ appraisal drilling of its Domino discovery in deep water in the Black Sea offshore Romania in which it and Exxon are 50% partners; in 2012 the Domino-1 discovery was estimated as having found 1.5-3.0 trillion ft³ (42.5-85bn m³).
Mark Smedley