Greek-Bulgarian Pipe Secures TPA Exemption
Interconnector Greece Bulgaria (ICGB) company chiefs on August 14 welcomed a decision by regulators – and the European Commission (EC) – to grant the IGB project exemption from third-party access.
The EC gave its prior approval on July 25 which was followed by the joint adoption by the Greek and Bulgarian regulators – respectively RAE and EWRC – of their exemption decision on August 8.
The exemption decision defines the framework under which the planned 3bn m3/yr IGB pipeline will operate from its commercial start-up. The decision grants an exemption from third party access rules on the capacity booked as a result of the completed market test for capacity reservation for 25 years period. The three regulators also approved exemptions from the regulated tariff for the total capacity of the pipe, as well as exemption from ownership unbundling, both for a total period of 25 years.
Teodora Georgieva and Konstantinos Karayannakos, the joint ICGB executive officers, thanked the three regulators. "ICGB will study in depth the exemption decision and will proceed with the implementation of the necessary actions in order to fulfil the conditions set in the decision in the provided timeframe, including the preparation and the conclusion of the Gas Transportation Agreements," said Georgieva.
Karayannakos added: "The issuance of the Exemption decision is the only outstanding step in the process of obtaining an Installation Permit for the Greek section of the pipeline, which is an equivalent to the construction permit obtained for the Bulgarian section on October 4 2017." Once that was finalised, ICGB would have all the necessary permissions to start construction, he added.
In June 2018, both ICGB chiefs signed key agreements in Sofia on investment and construction activity; the weirdly back-to-front project said it took its final investment decision three years ago in late 2015. The 182km-long IGB project will link Greek Desfa's system at Komotini and with the Bulgarian national gas grid at Stara Zagora, with up to 3bn m3/yr capacity when flowing from Greece to Bulgaria, but is designed to be increased later to up to 5bn m3/yr, and also to enable physical reverse flow (from Bulgaria to Greece) with the additional installation of a compressor station.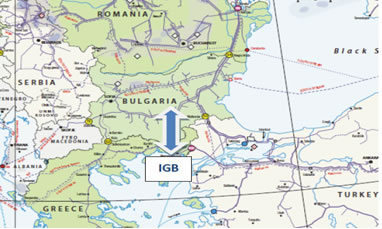 Credit for map and banner photo: ICGB