Greece progresses gas hub plans [Gas in Transition]
Natural gas looks set to expand its reach in the Balkans region, after a final investment decision was taken in late January on construction of a second LNG regasification terminal in Greece.
Gastrade, whose founding shareholder is Greek businesswoman Elmina Copelouzou, sanctioned the Alexandroupolis LNG project after bringing on board Greek state gas firms DESFA and DEPA Commercial, Cypriot LNG carrier operator GasLog and Bulgarian transmission operator Bulgartransgaz as other investors. Those investments were cleared of EU competition concerns in late November.
The project will consist of a floating storage and regasification unit that will be positioned off the east Greek coast, connected with the national gas system via a 28-km pipeline. Due online as soon as early 2023, it will be capable of bringing ashore more than 5.5bn m3/year of gas, which will be distributed to gas users in Greece and further afield. According to Gastrade, up to half of that capacity has already been contracted.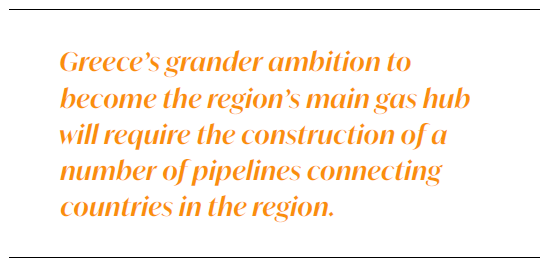 Many countries in the Balkans are pursuing additional gas supply options to wean themselves off Russian gas, but Greece already enjoys a diversified import mix. Not only does it get gas from Russia, but also from Azerbaijan, via the Southern Gas Corridor, and various LNG supplies that are received at an existing regasification terminal near Athens.
In fact, Greece's existing import capacity already far exceeds its demand, which rose by 10.9% last year to 6.45bn m3. The Revithoussa terminal near Athens alone could almost cover this, with a capacity of 6.3bn m3, although it actually took less than 2.3bn m3 in 2021, as remaining demand was met with Russian and Azeri supply.
The purpose of Alexandroupolis LNG, then, is to strengthen Greece's role as a regional hub for gas trade, as well as support the country in its phase-out of coal-fired power. Coal remains a mainstay of the country's energy mix, accounting for 11% of primary energy supply in 2020 and around a fifth of electricity. But Athens has committed to phase out coal use for generation completely by 2028 in its 10-year National Plan for Energy and Climate, which was submitted to the EU in December 2019. Indeed, EU pressure is in large part responsible for this effort, which helps explain why the European Commission agreed to provide a €166.7mn ($189mn) grant for the Alexandroupolis terminal's development in June last year.
Greece's grander ambition to become the region's main gas hub will require the construction of a number of pipelines connecting countries in the region. The first of these new links to come online will be Interconnector Greece-Bulgaria (ICGB), which is still on track to start up in July 2022, its operator recently confirmed.
Hub ambitions
ICGB will allow Bulgaria to tap gas from Greek LNG terminals and Azeri supply, breaking Russia's monopoly over the country's gas market. This in turn is expected to accelerate Bulgaria's own phase-out of coal, currently responsible for over a quarter of its power generation, as it will be more prepared to rely on gas if more than one source of supply is available.

Over half of the 3bn m3/yr pipeline's capacity, or some 1.57bn m3/yr, is already contracted, its operator tells NGW. Bookers include DEPA, Bulgaria's Bulgargaz, Italy's Edison, Azerbaijan's SOCAR and US-based Linden Energy. The latter last year bought a 50% interest in Bulgarian gas trader Overgas, once owned by Russia's Gazprom, and its stated mission is to bring US LNG to the country.
ICGB's construction has been beset by delays. Originally the pipeline was meant to start flowing gas in 2020, but its Greek contractor requested a delay. Its operator tells NGW that finalisation work on the pipeline's linear section should be completed this month, but delays in equipment deliveries mean that construction of two gas metering stations in Stara Zagora and Komotini is still underway. Work also continues on a dispatching centre near the Bulgarian city of Haskovo.
The ICGB operator is holding weekly meetings with contractors to assess progress, and is also exploring options to fast-track the pipeline's commissioning phase to make up for past delays.
"The project company is working with the relevant state institutions to map out administrative procedures that can be sped up in an attempt to maintain July 2022 as the commissioning period despite the setbacks," the operator tells NGW.
The pipeline's remaining uncontracted capacity will be offered on the RBP and PRISMA auctioning platforms. The operator welcomed the FID at Alexandroupolis LNG, saying it would create "significantly more opportunities" for gas transmission via the pipeline, potentially underpinning a planned expansion in its capacity to 5bn m3/yr.
Construction is underway on another pipeline between Bulgaria and Serbia that would distribute LNG further inland in the Balkans. Another EU-backed project, this interconnector is expected to be ready for operation by October 2023 and have a capacity of 1.8bn m3/yr. Like Bulgaria, Serbia too will be able to reduce its near-total reliance on Russian imports and build out its gas sector, at the expense of coal-fired capacity.
Similar projects will connect Bosnia and North Macedonia, both of which are coal-burning and heavily dependent on Russian gas, with Serbia and Greece respectively. Serbia also wants to construct pipes to Kosovo and Montenegro. Meanwhile Bosnia has looked at linking its gas market with Croatia, which hosts its own LNG import terminal.
Beyond LNG, extra gas for the region could come from Azerbaijan, if the Trans-Adriatic Pipeline, the final section of the Southern Gas Corridor, is expanded. Market tests held last summer failed to generate much interest in an expansion from buyers, but conditions have radically altered in Europe since then, meaning that project may yet materialise, if backed up by corresponding upstream development in Azerbaijan.