Gorgon T3 Starts Production
LNG production began March 28 at the third train of the Chevron-led Gorgon Project on Barrow Island off the northwest coast of Western Australia, the US major said.
"This is a key milestone for the Gorgon joint venture participants, our workforce, customers, government and all those associated with the project over its lifetime should be extremely proud," said Chevron Australia managing director Nigel Hearne.
The 15.6mn metric ton/yr capacity Gorgon complex is a joint venture of Chevron 47.3%, ExxonMobil and Shell 25% each, Osaka Gas 1.25%, Tokyo Gas 1% and Jera 0.417%.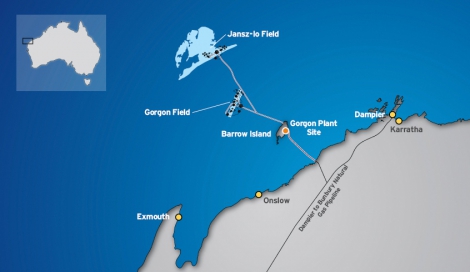 Gorgon project (Map credit: Chevron Australia)
Train 1 started production on March 9 2016 with its first LNG cargo sailing away on March 21 last year. Train 2 production began October 2016. Each of the three trains has 5.2mn mt/yr capacity. However it was reported March 27 2017 that Chevron had temporarily suspended production from Gorgon T2.
Gorgon cost some $54bn to develop, making it the most expensive LNG project ever. It includes one of the world's largest carbon dioxide injection projects, aimed at reducing overall greenhouse gas emissions by 40% (or 3.6mn mt/yr), which was a pre-condition for the project's development.
Mark Smedley