Golar LNG Rues Ghana Project
Golar LNG February 28 reported 4Q 2016 net loss of $13.7mn, up from $23.9mn loss in 3Q. Pre-tax operating losses (Ebitda) however increased from $11.3mn in 3Q to $15.9mn in 4Q2016 and the firm risks having to dig deep into its pockets to buy back a vessel.
Despite positive news about, such as the formation in 4Q2016 of a joint venture aimed at commercialising Fortuna gas offshore Equatorial Guinea using floating LNG (FLNG) technology, and work continuing within budget on a far more advanced FLNG project for offshore Cameroon, attention focused on what has so far failed to be West Africa's first LNG import venture, offshore Ghana.
FSRU Golar Tundra remains at anchor off the coast of Ghana, the company noted. Indeed the ship has been idling there now for nine months.
The ship's charterer, West Africa Gas Limited, a joint venture of Nigeria's state NNPC and private firm Sahara Energy, received Ghanaian parliamentary approval for their gas sales agreement in October and have begun some works. But Golar LNG said that major construction works of a connecting pipeline, jetty and breakwater are yet to be completed and that, until this infrastructure is in place, the FSRU cannot commence operations.
"While Golar remains in dialogue with WAGL regarding an alteration of the existing charter agreement, including a later start-up and an extension of the charter period, we are actively protecting our legal right with regard to collection of amounts due under the charter. In order to mitigate the consequences of non-payment, Golar has requested and awaits WAGL's permission to trade the ship in the short term market."
Golar LNG said that it may have to re-assume full legal ownership of Golar Tundra, from Golar Partners, at a cost of $107mn if the stalemate over its use is not resolved before end-May 2017.
Golar Partners said in their separate release that it continues to receive a daily fee from Golar to cover the costs of Golar Tundra. The other six operating FSRUs owned by Golar Partners, and managed by Golar LNG, have "maintained 100% availability in 4Q2016," said Golar LNG.
Cameroon FLNG will be producing 'by late September'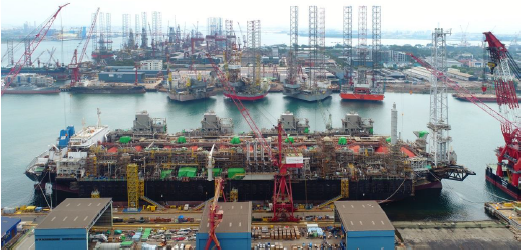 Photo credit: Golar LNG
In more positive news, Golar LNG said that testing and pre-commissioning of a floating liquefaction ship to be deployed offshore Cameroon later this year, on behalf of Perenco, has commenced and will continue in Singapore until the vessel is scheduled for redelivery from the yard in May.
"Commissioning and production are scheduled to start by the end of September. Perenco are on track with their scope of works in Cameroon and SNH are firmly committed to their stake in the project. The government is also supportive of opportunities to draw upon neighbouring stranded gas reserves to increase utilisation of the FLNG Hilli, recently renamed Hilli Episeyo" (see photo above).
Golar LNG CEO Oscar Spieler told analysts that final investment decision on Fortuna FLNG, offshore Equatorial Guinea, is expected "mid-2017".
Mark Smedley