Groningen Court Ruling due Mid-November
The Raad van State (Council of State), the highest court in the Netherlands, said July 14 it expects to give its ruling mid-November over whether the Shell/Exxon-operated Groningen field should be allowed to continue producing, following damage from by earth tremors and the risks of more to come.
The court in Den Haag heard two days of hearings on July 13/14, including testimony from many residents' and other interested groups, as well as the Groningen field operator NAM's CEO Gerald Schotman.
NAM, owned equally by Shell and Exxon, has a 60% interest in the giant Groningen field, with the other 40% held by state petroleum holding EBN.
Groningen cap, lower gas prices, impact state's asset valuation
More gloomy news emerged for the country's 17mn citizens, as data was published July 14 by the country's Central Bureau of Statistics (CBS) showing that the state's balance of assets and liabilities fell to €199bn in 2016, or €57bn less at end-2015, and its lowest since the data series began in 2001.
Government assets were worth €728bn at end-2016, of which financial assets (€244bn) such as loans and companies in companies, and non-financial assets (€484bn) including land, roads and oil & gas reserves. That was offset by €529bn of debts and government bonds, similar to in 2015.

But the value of Dutch state oil and gas reserves shrank to just €41bn at end-2016, which is €62bn less than at end-2015, and an all-time low since 2001. That was largely because of the reduction in the cap on Groningen gas production which is currently 21.6bn m3/yr, just 40% of its 2013 output.

Although gas reserves will thus be extended longer, there's more chance some will never be monetised. "Natural gas reserves are a significant part of the total assets, which means that decreases in their valuation have a major negative effect on the capital adequacy," said CBS.
Dutch state's net assets value (bn euros)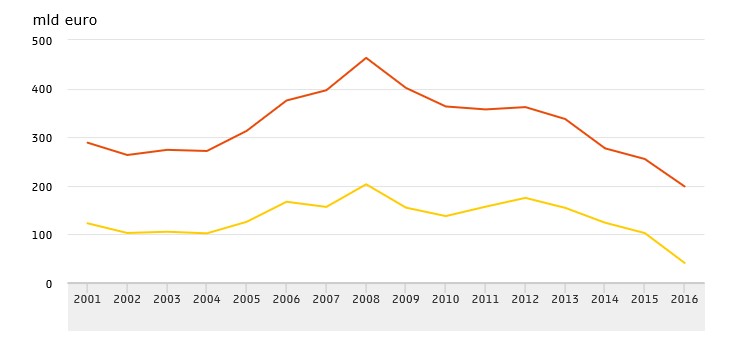 The yellow lower line shows the value of state oil & gas reserves plunging to €41bn at end-2016, from a high of over €200bn in 2008.
The red upper line shows the corresponding decline in the net balance of assets and liabilities which declined to €199bn at end-2016
(Credit: Dutch central bureau of statistics, CBS)
Mark Smedley