Global Bunker LNG Coalition Formed
Fourteen companies announced July 13 the formation of new cross-industry coalition called SEA\LNG to accelerate the use of LNG as a marine fuel.
Executive vice president of US shipowner Tote, Peter Keller, said: "SEA\LNG aims to address market barriers and help transform the use of LNG as a marine fuel into a global reality". He will chair the new organisation. Tote has deployed two US-built LNG-fuelled roll-on, roll-off cargo ships.
It regroups LNG suppliers Shell, Qatargas, France's Engie, China's ENN and Japan's Mitsubishi; shipowners Carnival Corporation, NYK Line and Tote; classification societies Lloyd's Register and DNV GL; equipment manufacturers GE, GTT and Wartsila; and the Port of Rotterdam.
SEA\LNG has a number of problems to tackle: the need for more LNG refuelling infrastructure in the world's ports; the price premium for LNG-fuelled vessels that can make investment decisions challenging; and inconsistent regulations and standards.
Over 90% of global trade moves by sea and shipping is the world's cleanest form of transport, the coalition says. But volumes moved are so large that shipping accounts for some 3% of total global greenhouse gases, 10% of global sulphur oxide (SOx) and 15% of nitrogen oxide (NOx) emissions.
Engie Global LNG CEO Philip Olivier said: "LNG has the potential to take a 10% market share of global bunker demand by 2030. Engie will contribute to achieving this target."
In April, Shell agreed to refuel Carnival's LNG-fueled cruiseliners at several European ports. Last year Shell signed up Finnish shipowner Containerships as its foundation customer for a new LNG bunkering ship being built in South Korea.
Tjerk-Johan de Vries, West Europe & Africa regional manager at DNV GL said: "The ground work has been laid for LNG to thrive, but we need a cross-industry approach to realize the full potential of LNG fuelled shipping. Having been at the forefront of LNG fuelled shipping since its beginning, DNV GL is proud to work with innovative partners to help LNG take its place as a key fuel for the future."
China's ENN says it has invested in the building of bunker delivery barges and a terminal in China to accommodate current and future growth.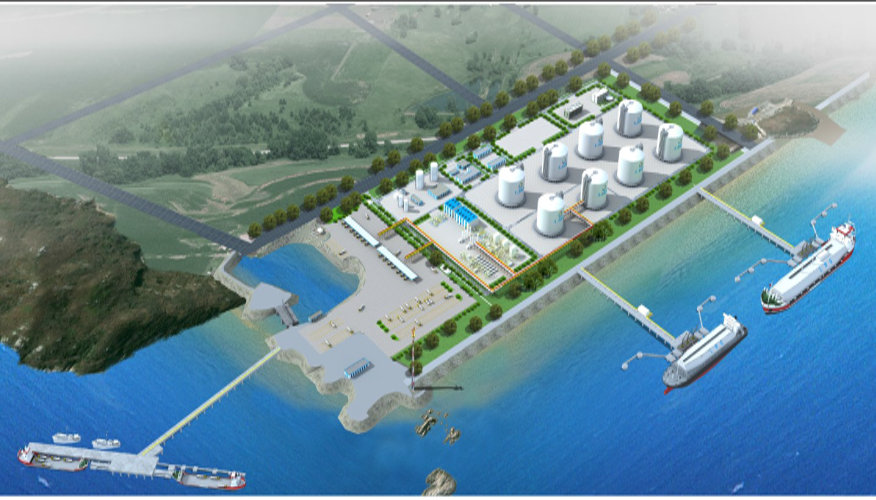 ENN's Zhejiang Zhoushan LNG import and bunkering terminal, now being built at Zhoushan, China, will have a capacity of 3mn tons/yr by 2018 (Photo credit: ENN)
West Africa is seen as a promising market for bunker LNG, once more import terminals are in operation.
Skangas, the largest bunker LNG supplier in what today is the largest such market in the world, northern Europe, has not joined the coalition.
"It's a great initiative," Skangas CEO Tor Morten Osmundsen told NGE July 14. "We were invited to participate in SEA\LNG, we said no thank you at this stage as our focus is in North and Baltic Seas. But we may a find way to associate with the group."
Excluding fuel burned by LNG carriers, consultancy Poten forecast in 2015 that global bunker use of LNG by merchant ships worldwide would reach 1.2mn metric tons in 2020 and 6.4mn mt in 2025 – equivalent to about 2% of world LNG consumption in 2025.
Mark Smedley