Germany's New Minister Takes Reins
Germany's new coalition government has taken over the reins, with Peter Altmaier succeeding Brigitte Zypries as Germany's federal economy and energy minister March 15.
Altmaier, a loyal ally of Chancellor Angela Merkel who had served as her chief of staff and recently also acting finance minister, received his certificate of appointment from Germany's president and was sworn in at the German parliament on March 14.
Zypries, who held the economy/energy ministerial role for 14 months, had said ahead of Germany's national elections September 24 2017 that she intended to retire. However she stayed in office during the six months that it took to forge a new coalition. The new coalition, Merkel's fourth government, has the same parties as the previous one from 2013: Merkel's centre-right CDU-CSU bloc, and the centre-left SPD. Altmaier is from the CDU which negotiated the rights to nominate the economy minister. Zypries is from the SPD.
Altmaier on March 14 handed over the certificates of appointment to Parliamentary State Secretaries (equivalent to junior ministers): Christian Hirte, Oliver Wittke and Thomas Bareiss. All three are from the CDU.
The ministry also has three senior non-political state secretaries. One of those under the 2013-18 government, Rainer Baake, a former Green Party politician, asked to be relieved of his position once the new government took office. Baake resigned in protest at the incoming coalition's abandonment two months earlier of Germany's commitment to cut the country's carbon emissions by 40% by 2020.
In the past, Altmaier has endorsed Merkel's supportive policy towards Gazprom's planned Nord Stream 2 pipeline. However on March 15 Merkel along with the US, UK and French leaders issued a joint statement condemning use of a Russian-origin nerve agent in a British city. Her new foreign minister Heiko Maas (SPD) vowed March 14 that Germany would adopt a more hardline stance towards Russia, reported broadcaster Deutsche Welle.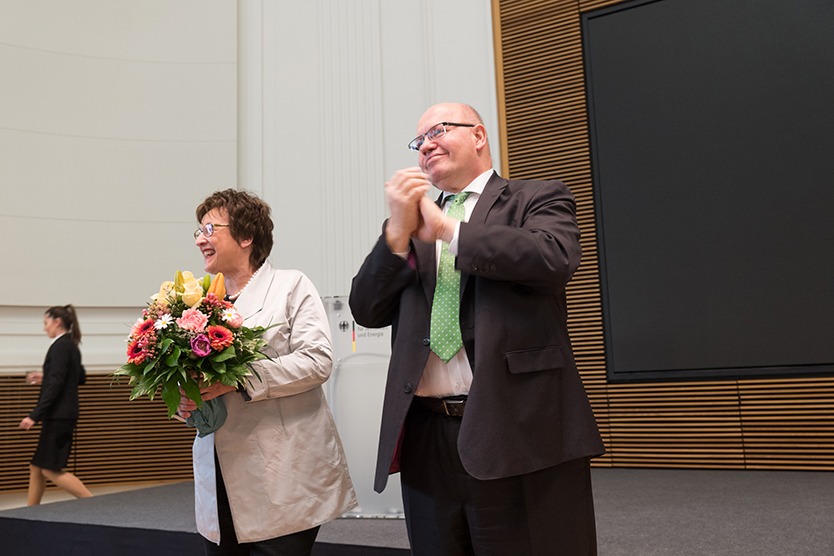 Peter Altmaier, the new German economy and energy minister (right) takes over from his predecessor Brigitte Zypries, March 15 (Photo credit: German economy and energy ministry)