Germany's National Hydrogen Strategy: the Second Energiewende [Gas Transitions]
Germany's new National Hydrogen Strategy is "a quantum leap" that will lift the energy transition and climate protection to a "new qualitative level", according to Economy and Energy Minister Peter Altmaier. At the presentation of the Strategy on 10 June Altmaier said the initiative is "the most important innovation since our decision to support the roll-out of renewables" – also known as the Energiewende (energy transition).
His fellow cabinet members used similar glowing language. Research minister Anja Karliczek said the whole world was waking up to the opportunities presented by green hydrogen technologies. "Building a global hydrogen economy offers enormous potential for German plant manufacturers," Karliczek said.
Environment minister Svenja Schulze said hydrogen is the "energy of the future" that will give a "double boost" to the climate and jobs. "Above all, we will sell the technology – we're really good at that in Germany," she told public broadcaster ARD.
"The national hydrogen strategy opens a new chapter for climate protection," said Andreas Kuhlmann, head of Germany's energy agency (Dena). "The national hydrogen strategy is the long-awaited basis for the continued success of the energy transition, and also for the long-term attainability of climate targets."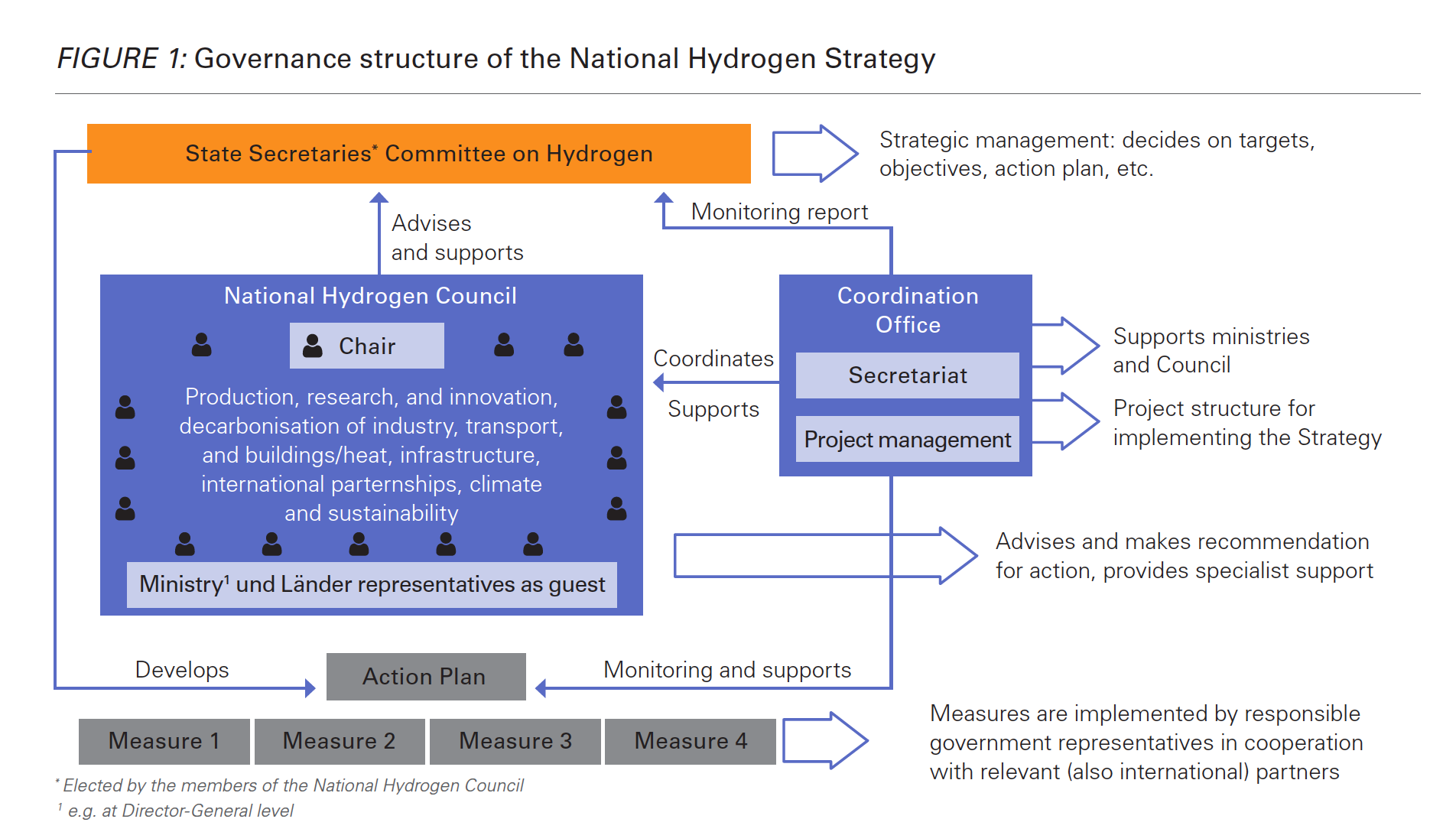 Made in Germany
Germany aims to build up electrolysis facilities with a capacity of 5 gigawatts (GW) by 2030, including the necessary onshore and offshore renewable energy supply, according to the new National Hydrogen Strategy. This corresponds to 14 TWh of green hydrogen production and will require 20 TWh of renewables-based electricity. By 2035 or 2040 at the latest, the capacity is to be expanded by another 5 GW.
To put this in perspective, Germany's 49 GW of solar power installations generated 47 TWh in 2019. Its 60 GW of wind turbines produced 118 TWh of power. Total German power production is around 500 TWh and Germany currently produces some 55 TWh of "grey" hydrogen made from natural gas. The production of hydrogen from electrolysis is as yet miniscule. Kuhlmann said the 5 GW target meant increasing current electrolysis capacities 200 times.
The German government will provide €7 billion in support for the ramp-up of hydrogen technologies, in addition to existing support programmes for renewables. An additional €2 billion will be invested in setting up large-scale electrolysis facilities, "Made in Germany", in partner countries.
According to the strategy, Germany is set to import large quantities of green hydrogen in the future. The government expects demand for green hydrogen to be some 110 TWh in 2030. With domestic production of 14 TWh, this means almost 100 TWh will need to be imported.
Green versus blue
Despite these daunting import requirements, the German government effectively rules out domestic production of "blue" hydrogen, based on steam methane reforming and combined with CCS.
"The Federal Government considers only hydrogen that has been produced using renewable energy (green hydrogen) to be sustainable in the long term," says the Strategy document. "The Federal Government therefore seeks to use green hydrogen, promote its rapid market rollout and establish the necessary value chains."
The Government does add that it believes "both a global and European hydrogen market will emerge in the coming ten years and that carbon-free (for example blue or turquoise) hydrogen will be traded on this market. Given Germany's close integration in the European energy supply infrastructure, carbon-free hydrogen will be relevant for Germany and, if available, will be temporarily used."
In other words, Germany won't hesitate to import blue hydrogen, even if it does not want to produce it domestically. ("Turquoise" refers to hydrogen based on methane pyrolysis – see elsewhere in this edition of Gas Transitions.)
The government's decision to exclude "blue"hydrogen is one of the most contentious parts of the new strategy.
German energy expert Ralf Dickel, Senior Research Fellow at the Oxford Institute for Energy Studies, told Gas Transitions that the gap that will open up by 2030 between production and consumption cannot be realistically expected to be covered by imports, as the government assumes. "This is not realistic as no international hydrogen infrastructure exists and hydrogen transport by ship is in its infancy. This is just avoiding a rational discussion on the roles of blue and green hydrogen giving in to the taboo on carbon sequestration. The government is exporting Germany's decarbonisation problems to developing countries."
Dickel also noted that, although it is positive that hydrogen "has become subject of an official government policy," the Strategy is focused too much on "technology policy (industry and research)" and seems "disconnected from the overall decarbonisation policy of Germany."
Turning point
In a commentary for business daily Handelsblatt, Klaus Stratmann wrote that the strategy's signalling effect is significant for the economy and for Europe as a whole, but warned it was uncertain whether it can be implemented over the coming years and decades. "For the German government has imposed a heavy burden on itself by committing itself entirely to one variant, namely green hydrogen," Stratmann wrote.
He argued that huge amounts of renewable power will be needed to make it, and that it is unclear whether Germany will be able to import the necessary amounts. Stratmann noted that blue hydrogen could pave the way for a hydrogen infrastructure that is increasingly used for green hydrogen. "It is risky not to use this opportunity," he writes.
Timm Kehler, Chairman of the German natural gas lobby group Zukunft Erdgas, also criticized the focus on green hydrogen. "There are CO2-neutral alternatives to electrolysis," he said in a statement. "They will help achieve the hydrogen transition at the best price. We hope that this too narrow focus will be corrected in the future. If not, Germany is likely to fall behind in hydrogen production."
Nevertheless, Zukunft Erdgas welcomes the new Hydrogen Strategy. It "marks a turning point in German energy policy," said Kehler. "It shows that the German government has departed from the utopia of full electrification and has chosen a realistic path to the future. Hydrogen offers sectors that are hard to electrify affordable climate protection."
Kehler added that with "our existing gas infrastructure, we have a foundation for a successful hydrogen future. If it is rightly implemented, this strategy can make Germany the European hydrogen hub."
Heating and transport
Kehler was also positive that the strategy includes measures to support hydrogen in the heating sector, both in buildings and industry. He said this means "the development of hydrogen-ready heating devices should receive support. In addition, the further development of the fuel cell, a key technology of the energy transition, should expect support. This will make it possible for 20 million gas customers in Germany to join in the energy transition."
Green NGOs welcomed the government's preference for green hydrogen (Kai Niebert from environmental NGO umbrella organisation DNR said "only green hydrogen is good hydrogen"), but were critical of the idea of using hydrogen to heat buildings or to power cars. "Several NGOs called for limiting its use in the transport sector to vehicles that cannot be powered directly by electricity, such as ships and planes. They warned against using hydrogen in cars or in the heating sector given that more efficient alternatives were available for these applications," wrote news site Clean Energy Wire.
Felix Heilmann of climate think tank E3G wrote on the website Euractiv: "If hydrogen is to be an option for decentralised heating in the future, a gas grid capable of transporting hydrogen to a large number of households will be needed, requiring significant investments. However, as the efficiency of electric heat pumps by far surpasses that of hydrogen in heating, and as hydrogen is an overall scarce resource, leaving this option open can lead to inefficient investments and higher consumer costs."
Nevertheless, Heilmann too was generally positive about the strategy: "Germany's hydrogen strategy shows that one of the world's largest fossil gas consumers is preparing for a future without it," he told Clean Energy Wire. "The government's recognition that only green hydrogen from renewable sources is sustainable reduces the long-term risk of fossil gas surviving through the back door."
Production and trade
Many observers note that Germany's hydrogen strategy may serve as the foundation for the development of an international green hydrogen commodity market.
The government writes in the Strategy that "the first step that needs to be taken to speed up the rollout of hydrogen technology is establishing a strong and sustainable domestic market for the production and use of hydrogen at home. A strong domestic market will send an important signal, encouraging other countries to use hydrogen technology as well."
It notes that "there are several places across the EU where large quantities of renewables-based electricity are being generated. These offer great potential for producing green hydrogen. The Federal Government will work to ensure that this potential is tapped and that the generation capacities are further expanded."
During the strategy's presentation, the government announced an alliance with Morocco involving the construction of Africa's first industrial scale renewable hydrogen project.
News agency Reuters reported that the "German hydrogen economy" may "spark a traded market for imports."
"There will have to be a mix of domestic and foreign hydrogen volumes, depending on where the cheaper source is," Andreas Schwenzer, principal consultant at Horvath & Partners, which advises the gas network operator Open Grid Europe, told Reuters. "The energy market is already discussing how a euro-denominated wholesale market can emerge."
Schwenzer sees opportunities in particular "for Spain and Portugal to use solar-powered electrolysis to produce hydrogen and ship it northwards, on vessels or through pipelines. Morocco could also become a supplier, along with the Middle East, which needs to become less reliant on fossil fuel and may consider hydrogen the least disruptive option because it can use gas infrastructure."
Reuters noted that operators of the planned LNG import terminals are aiming to be ready to handle hydrogen. Gazprom has also said it is able to transport hydrogen. Nevertheless, the news agency also quoted anonymous bankers who said "there is too much hype around hydrogen as its commercialisation is years away and the technology is unproven."
Thyssenkrupp: we can deliver the electrolyzers
Coinciding with the publication of Germany's National Hydrogen Strategy, German steelmaker Thyssenkrupp, one of the major manufacturers of electrolyzers in the world, said it intended to continue to expand its production capacities for electrolyzers.
"Especially in energy- and resource-intensive industries such as fuel, chemical or steel production, only green hydrogen opens the way to climate neutrality. For this, we need water electrolysis on a gigawatt scale. We can deliver, and as the number and size of hydrogen projects increases we will further expand our production capacities," said Christoph Noeres, head of Energy Storage & Hydrogen at Thyssenkrupp, in a press release.
He added, however, that "it won't work without changed regulatory conditions and fair market opportunities for green hydrogen. In addition to the further expansion of renewable energies, the focus [must be] on adjusting tax systems and crediting the CO2-reducing effect of green hydrogen in the target markets."
To simplify the construction of new hydrogen plants and keep costs down, Thyssenkrupp offers its electrolyzers in prefabricated skid-mounted modules. One module produces 4,000 cubic meters of hydrogen per hour. According to the company, "the units are easy to transport and install and can be combined to realize projects of several hundred megawatts or gigawatts. Due to their high reaction speed, the plants can be operated flexibly; for the production of green hydrogen for industrial power-to-x applications as well as for grid stabilization."
"The patented design of the electrolysis cells, equipped with proprietary anodic and cathodic coatings developed by De Nora, allows high system efficiencies of up to 80 percent. It is based on leading electrolysis technologies from Thyssenkrupp. So far, more than 600 projects and electrochemical plants worldwide with a total rating of over 10 gigawatts have been realized by the company."