German Gas-Fuelled Trucks to be Toll-Exempt
Trucks fuelled by natural gas, LNG and electricity will be freed from having to pay German road tolls for two years; all other trucks will have to pay more.
Toll in Germany are a charge on goods vehicles based on the distance driven in kilometers on certain roads, the number of axles, and the emission category of the vehicle.
The German lower house of parliament (Bundestag) decided October 18 to follow a recommendation of its transport committee fully to exempt gas-fuelled and electric trucks from January 1 2019 until December 31 2020. Thereafter a partial exemption will apply. Parliamentarians introduced the exemption, while increasing road tolls for all other trucks. Higher rates and the expansion of road toll charges would increase federal revenues from road tax by €2.5bn ($2.9bn) to €7.2bn annually, reported press agency DPA citing government estimates.
Timm Kehler, CEO of German gas lobby Zukunft Erdgas (Gas Future) said that more than 95% of heavy commercial vehicles today use diesel, arguing that the exemption would spur the haulage sector to switch to gas/LNG. He estimated that gas-fuelled, energy-efficient trucks could save up to 18.7 eurocents ($0.215) per km, dependent on weight category, as a result of the toll exemption.
"Market penetration of 40% [for LNG/gas] in trucks weighing more than 12 tons alone could save around 13 million tons of CO2 per year," said Kehler, adding that such trucks are much less pollutive than their diesel counterparts and also reduce noise pollution by about half. "By deciding on a toll waiver, parliamentarians have laid the foundation for comprehensive environmental and climate protection in heavy goods traffic. You have followed our long-standing demand. Life on busy roads will be significantly improved," he added.
Aspects of the change were opposed by both the opposition right-wing AFD and centrist FDP parties.
The Bundestag's transport committee meanwhile will visit Oslo and Trondheim, 22-25 October, to learn about Norwegian best practice regarding electric vehicles and bunkering ships with LNG. Norway launched the first LNG-fuelled ship in the year 2000 and has more than any other country.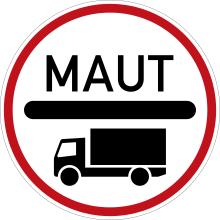 The German sign for a road charging toll (or Maut, in German), Credit: Wikipedia