Germany advances LNG import plans [NGW Magazine]
German utility Uniper and Japanese Mitsui OSK Lines (MOL) agreed late December to install Germany's first import terminal – a floating storage and regasification unit (FSRU) at Wilhelmshaven, with a planned send-out capacity of 10bn m3/year.
The announcement follows a surge in northwest European LNG imports over the last couple of months and the introduction of a more positive policy towards LNG in Germany, including comments in the autumn from the chancellor, Angela Merkel, indicating that Berlin is prepared to co-finance an LNG import terminal in Germany, as well as subsidise the infrastructure needed to develop LNG as bunkering fuel.
Given the Wilhelmshaven decision, that funding now looks likely to be for a second plant, rather than the first – if it still goes ahead. The German government has said it envisioned two competing plants and in October, Merkel said the German government would co-finance a €500mn ($575mn) project. She said the investment would be "strategic" and should pay off in the long term – but would be unlikely to break even for at least a decade. The Wilhelmshaven backers appear to believe there is money to be made more quickly.
Germany's new FSRU will have storage capacity of 263,000 m3 and could be ready by late 2022, complete with bunkering facilities. Gas infrastructure is already in place, and MOL has also agreed to provide Uniper with LNG shipping capacity from 2020. Uniper already has a 20-year 0.9mn mt/year provisional agreement for LNG supply from a Canadian operator, Pieridae, which is yet to take a final investment decision.
With Wilhelmshaven proceeding without state money, there are two remaining contenders: German LNG Terminal is a joint venture bid from Gasunie, Vopak and Oiltanking for a conventional terminal at Brunsbuttel, near Hamburg. The group has already applied for the government funding and has also signed an agreement with RWE for a substantial chunk of the prospective terminal's annual offtake capacity of 5bn m3, with negotiations on-going for the rest. The terminal will have a 200,000 m3 storage tank and a jetty suitable for Q-flex vessels. FID is expected in 2019, and the terminal could be ready for operations in Q4 2022.
A link between the German gas grid and Brunsbuttel had been included in Germany's federal gas grid development plan. However, in December, Germany's network regulator, Bundesnetzagentur, said it had deleted the connecting pipeline from the plan, and that it would have to be completed by the project developers instead. The German LNG consortium responded by saying it would challenge the regulator's decision in the courts.
"We have held discussions with all relevant stakeholders and explained our legal understanding that this pipeline constitutes a needs-based expansion of the national gas grid which contributes to security of supply. We regret that the Bundesnetzagentur does not share our legal understanding of the issue. We will now take legal action," said German LNG December 20.
It took the regulator's decision "seriously as it not only impacts of the cost efficiency of the project in Brunsbuttel but also damages the prospects of all terminal projects in Germany." It could negatively impact LNG's use as a low-emission fuel, German LNG added, as well as negatively impact energy diversification in Germany and elsewhere, and so it expressed the hope that a positive solution can be found to create the best possible preconditions for the development of an LNG infrastructure in Germany.
The third proposed project is the nearby LNG Stade consortium, co-financed by Macquarie Group and China Harbour Engineering, targeting a capacity of 8bn m3/year. However, it appears that this project is less advanced in terms of off-takers and supply deals. Recently, project head Martin Schubert told Bloomberg that LNG Stade was looking to US LNG exporters to strike long-term supply contracts.
Another smaller LNG facility has also been announced in eastern Germany. Novatek, Belgian gas transmission system operator Fluxys and the Rostock port authority have agreed to construct an LNG trans-shipment terminal, which will offer LNG bunkering services in addition to LNG distribution via trucks, with a capacity of 0.4bn m3/year. LNG will be supplied from Novatek's Cryogas-Vysotsk LNG plant which is being built near Saint Petersburg.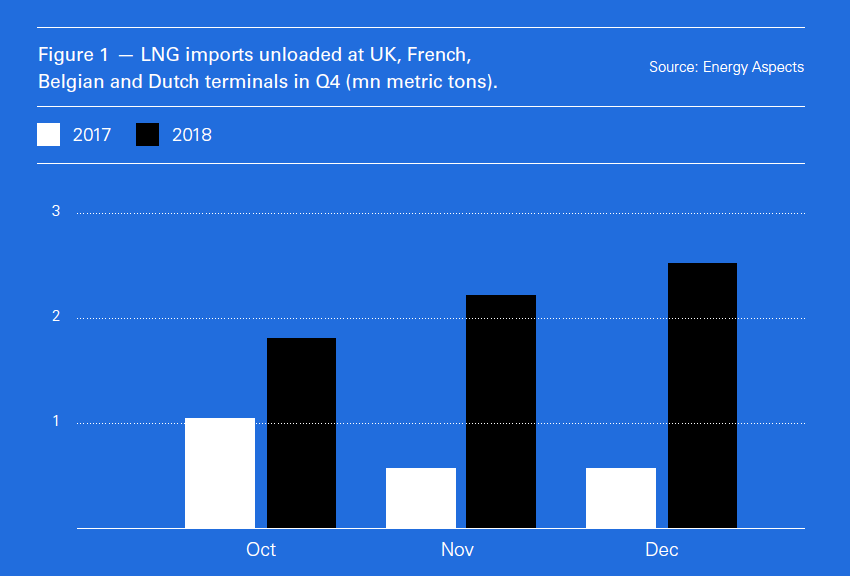 Policy reversal
The rush of activity comes after Germany's new coalition government decided to back the development of LNG import and distribution infrastructure – something many in Germany had long resisted. In March last year, the new CDU/CSU-SPD coalition, in its founding pact, pledged to "Make Germany the site for LNG infrastructure."
The justification is partly environmental: those making up the government have accepted that LNG will cut emissions from heavy transport and especially shipping as tighter emissions regulations are imposed, including a cut in the sulphur content of gasoil from 2020. Both the German federal government and Brussels are providing subsidies for LNG shipping and freight adaptation. Wood Mackenzie says LNG demand from shipping could reach 0.4bn m3/year. in Germany by the early 2030s.
LNG imports would also fulfil a strategic role in reducing growing dependence on Russian pipeline imports, especially given falling Dutch and domestic production, rising demand and fracking bans. The US president Donald Trump has criticised Germany for being too dependent on gas imports from Russia; and the president of the European Commission Jean-Claude Juncker promised that the EU would increase its US LNG imports; while the CEO of LNG exporting giant Qatar Petroleum, Saad al-Kaabi stated his intention of supplying Germany with LNG in September. Leaders at companies like Wintershall have called for the expansion of sources of imported gas to Germany in order to meet demand.
Direct access to the international LNG market would at the very least be a useful bargaining chip in future negotiations to buy Russian pipeline gas. But although Germany has no terminal, there are more than 30 in the rest of Europe, including in Poland and the Netherlands, which could deliver to the German market. In fact, until very recently, the average northwest European LNG import terminal was running at barely a quarter of its capacity, which would make it difficult for a new German terminal to make a profit.
Record NWE imports
More recently however, LNG imports to NWE have surged. The flow has been possible because of a weaker Asian market, where additional production from Australia – which eclipsed Qatar as the world's biggest LNG exporter in November – and elsewhere has softened fundamentals; while prices in Europe have remained relatively firm. LNG send-out in northwest Europe averaged around 85mn m3/d (900 GWh/d) and the UK about 35mn m3/d in November. This is the highest monthly level for several years.
The flow looks set to continue through the winter and possibly into next summer. Asian spot LNG prices dipped in late December to $9.10/mn Btu, rather than rising as usual towards peak winter demand. A return of Japanese nuclear plants, along with signs of a slowdown in the Chinese economy, have helped keep prices soft, and further new supply is expected to keep prices under pressure into next summer.
On the demand side, European consumption has been rising over recent years, and sharp rises in European emissions trading scheme carbon prices are now pushing the switch away from coal in power generation: "Coal to gas switching will expand as gas prices ease from next summer and carbon prices stay high," said Wood MacKenzie. Carbon prices are now back above €24/mt CO2.
"We see coal phase out policies really beginning to take hold now, and they'll begin to kick in through to the mid-2020s, which will offer further upside for gas demand," said WoodMac. European demand is expected to remain flat at about 510bcm, but imports are forecast to grow 77bn m3/yr by 2025. And there could be constraints on Russian pipeline exports even with Nord Stream 2 over coming years, which "could unlock further LNG demand" in Europe, he added. Imports of LNG to Europe are expected to be 48mn mt this year, rising to 77mn mt next year, and 87mn mt in 2021.
Nevertheless, Russia's proximity to Germany may mean much of the LNG comes from Russia, which may not please everyone. But, while Gazprom has a monopoly on pipeline exports, both Total and Novatek are also allowed to export LNG and Shell may be able to export from Baltic LNG. Total has stakes in both Yamal LNG, Novatek and the planned 19.8mn mt/yr Arctic 2 LNG project, for which final investment decision is expected this year. The majority of Russian Yamal LNG already comes to northwest Europe, where it is either consumed or re-exported. So Russian LNG does offer more competition (and security) than pipeline exports, provided it is on a commercial, rather than a national, basis.