German Refiner Seeks Biofuel Quota Change
UK major BP and German energy company Uniper aim to harness "green hydrogen" to produce fuels at the UK major's refinery at Lingen, if the legislative framework changes. Among the processes the energy is used for is the desulphurisation of transport fuels.
The "green hydrogen" – produced from hydrolysing water using renewable electricity – would partly replace the natural gas and liquid petroleum gas that are now used. The process means 90% less greenhouse gases arising through conventional methods of producing hydrogen in the refinery, they said, but without putting a figure on the amount of energy at stake.
At two sites, for example – in Falkenhagen, in the state of Brandenburg, and in Hamburg – Uniper already operates plants where hydrogen produced is fed into the gas network at each site.
But the companies say that first they need a legislative change so that the carbon that has been avoided can be credited to their operations.
Power-to-gas technology is seen by politicians as an important component in the energy turnaround and it receives a mention in the Green Paper on energy efficiency published by the economics ministry.
But despite the reduction in greenhouse gases associated with transport fuels that this process would bring, it has not yet been adequately recognised in the legislative framework as making an effective contribution to environmental and climate protection, the two firms said in a joint statement October 7.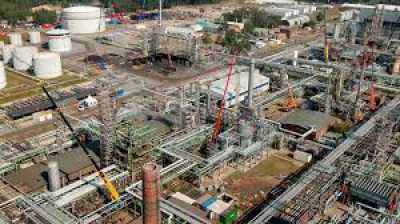 Lingen refinery (Credit: BP)
Uniper chief operating officer Eckhardt Rummler said the technology "can not only make an important contribution to integrating innovative energies into the electricity supply system. Hydrogen produced from regenerative energy can also, for example, replace conventional hydrogen in industrial processes such as fuels production at BP – and thus help to reduce greenhouse gases."
The managing director of BP Lingen, Peter Bromse, said that for this to happen, "the legislative framework has to be created as soon as possible for an economic use of regeneratively produced hydrogen in refinery processes."
William Powell