Georgia Reaches Transit Deal with Gazprom
The Georgian government has agreed with Gazprom proposals over gas transits via Georgia's territory and will sign a deal for 2017 and 2018, its energy minister Kakha Kaladze told reporters in Tbilisi. Gazprom Export will now pay a transit fee in cash, rather than in the form of gas supplies, as in the past.
"Today, at a cabinet meeting, we discussed the the latest Gazprom Export proposals on terms for the transit of natural gas to Armenia", Kaladze told reporters January 11 following a meeting with Gazprom Export head Elena Burmistrova in Minsk January 10.
According to Kaladze, after "several rounds of negotiations Georgia [the government] got the best offer and decided to execute the contract," Interfax reported. "Also, we have the opportunity to meet the seasonal needs if necessary and to receive additional volumes of natural gas at a discounted price – of $185/'000m³ instead of $215", the minister said.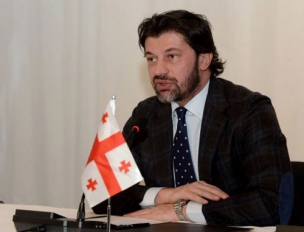 Georgia's energy minister Kakha Kaladze
The proposed contract will be signed for two years and in 2017 Georgia will receive a transit fee partly by natural gas, said Kaladze, adding: "It was the best solution, given the current situation."
Kaladze did not give details of amount of transit payment, pointing out simply that it will be comparable with what the country had before.
The new agreement will not increase of Georgia's dependence on Russian energy resources. "We will change only the form of payment for transit. As for the fee, it will be compatible with the European countries," sources in Georgia energy ministry told NGW.
Gazprom Export made a package proposal to Georgia on the transit of Russian gas to Armenia and gas supplies to Georgia, the company said in a statement.
"Gazprom Export made a package proposal on the mutually beneficial conditions, which will guarantee Georgia income from gas transportation services and increase security of the country energy supply," Burmistrova was quoted saying in the statement.
Annual gas consumption in Georgia is around 2.5bn m³ with a large chunk of that supplied by neighbouring Azerbaijan.
Georgia also receives 10% of the total volume transited across its territory of Russian gas transited to Armenia.
Kama Mustafayeva