Gazprom's Turkish Stream Gains First Turkish Permits
Turkey has awarded Russian gas exporter Gazprom the first permits it requires for the development of the 31.5bn m³/yr Turkish Stream gas pipeline via Turkey, Gazprom announced late September 7.
According to the statement Gazprom has received the permits "through appropriate diplomatic channels" following a meeting last week between Gazprom CEO Alexei Miller and Turkish energy minister Berat Albayrak.
Gazprom referred to the meeting as having seen the two sides reach an agreement to finalise quickly all the necessary procedures for initiating the project and quoted Miller as stating:
"The issuance of first permits is good news for Gazprom. This move of the Turkish side reflects the interest of Turkey's government in the Turkish Stream project and marks the transition to its practical implementation," Gazprom said.
Following last week's meeting Gazprom announced that the two sides had reached an agreement on the "earliest possible completion of the procedure for issuing authorizations" to enable the work on Turkish Stream to start.
Both Gazprom's Turkish representative and Turkish energy ministry officials were unavailable September 8 to confirm exactly what sort of permits had been issued.
However they are likely to relate to the conducting of feasibility studies for the final section of pipeline running through Turkey's European Black Sea Exclusive Economic Zone (EEZ) and territorial waters and the section running overland through Turkey's European province of Thrace.
The main part of the offshore section of the line running through Turkey's Black Sea EEZ was previously approved under Gazprom's now abandoned project for a 63bn m³/yr South Stream pipeline across the Black Sea and through Bulgaria.
Gazprom last year completed an environmental impact assessment (EIA) report for the offshore and landfall sections of the new Turkish Stream project which was submitted to Turkey's environment ministry for vetting.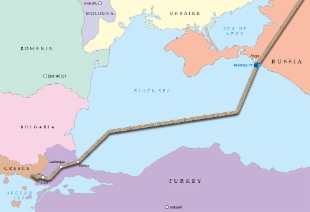 Turkish Stream route (Credit: Gazprom)
Although the ministry web site indicates that the public consultation process for the project has been completed, as yet the EIA report has not received official approval.
No EIA report has yet been submitted for the overland section of the line owing to a succession of bureaucratic and political delays, stemming from the need for the two countries to conclude an intergovernmental agreement for the line before they finalise the overland route. Turkish media reported recently that Gazprom has started surveying land in Thrace.
David O'Byrne