Gazprom's EU Flows Collapse in July
The December 29 agreement on gas transit between Russian Gazprom and Naftogaz Ukrainy provides for 65bn m³ this year. As the 65bn m³ should be on a uniform flow of 178mn m³/d[1] or 5.5bn m³/month, any lower historical flow cannot be mitigated by higher contracted flows later. With lower contracted transit flows, this means that the maximum contracted volume through Ukraine may not exceed 55bn m³ this year.
From July 1, the first supply of Ukrainian gas to Romania through Moldova[2] took place. Historically, this route was used solely by Gazprom. This does not impact our recording as we were using the Strandzha (Bulgaria) / Malkoclar (Turkey) point to check flows out of the EU into Turkey.
It is also important to mention that the European Commission (EC) is now taking the UK out of its European Union (EU) data. In its latest "Quarterly Report Energy on European Gas Markets"[3] it is clearly stated: "The withdrawal agreement between the UK and the EU entered into force on 1 February 2020. As of the current report, covering the first quarter of 2020, EU aggregates do not include the UK, and thus EU aggregate numbers in the current report might differ from the historical figures published in earlier editions, still including the UK. However, as the UK plays an important role in the European gas market, developments in the UK market are also analysed in the report." We will continue to look at EU & UK in our monthly analysis.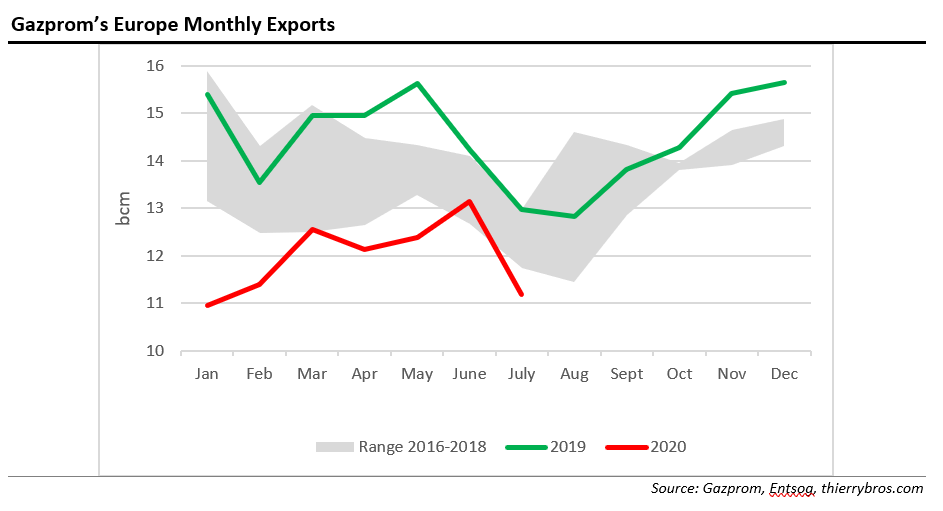 In H1 20 vs H1 19, Norwegian gas production was only down 4.6bn m³ (-7.5%) while Gazprom export 14bn m³ (16.2%) less gas. All gas producers excluding Qatar are swinging supply to avoid full European storage and hence potential negative TTF prices. Is this going to be enough? Gazprom's flows in July were again down massively (13.8%) on last year and on June (14.9%). The Coronavirus-impacted-demand will continue to restrain EU imports needs.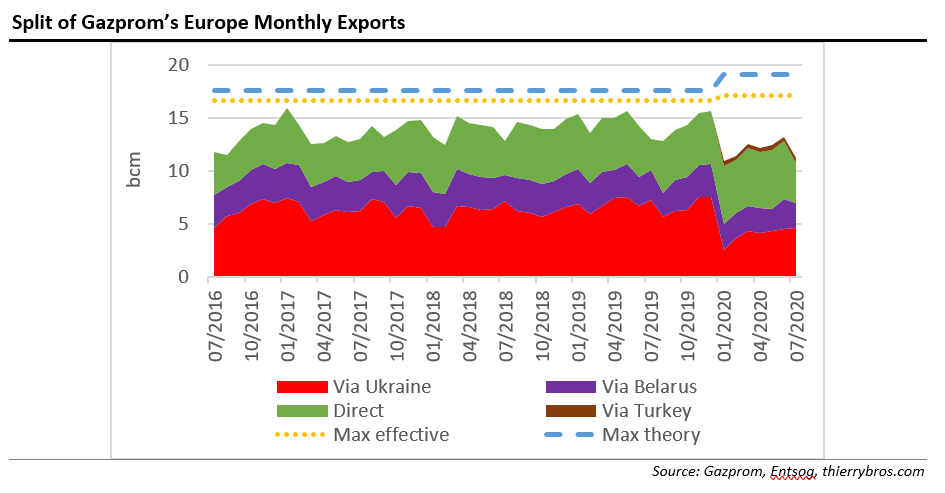 The highest drop over last month was for the direct flow (31.8%) owing to the annual scheduled Nord Stream maintenance from July 14-16 that carries most of the direct flows.
As for storage, since the 54% low point reached on April 2, the level has increased to 87.2%. The filling slope is slowing down materially and we are now close to the 2019 record.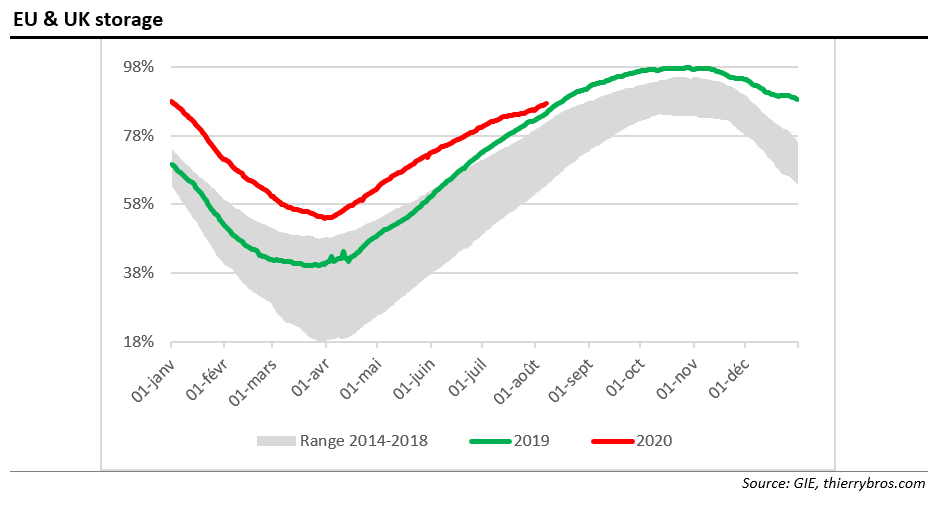 As we have been writing since early this year and contrary to consensus, Gazprom is not the only producer to swing supply any longer. For the first time, Gazprom might only hold half of the global spare capacity. All producers, except the lowest-cost LNG producer Qatar, are sharing the burden of reducing volumes to the EU. This translates into less pipe gas and LNG imports. With more and more US LNG cargoes cancelled (about 15bn m³ so far), we should expect LNG send outs to be below last year level until winter.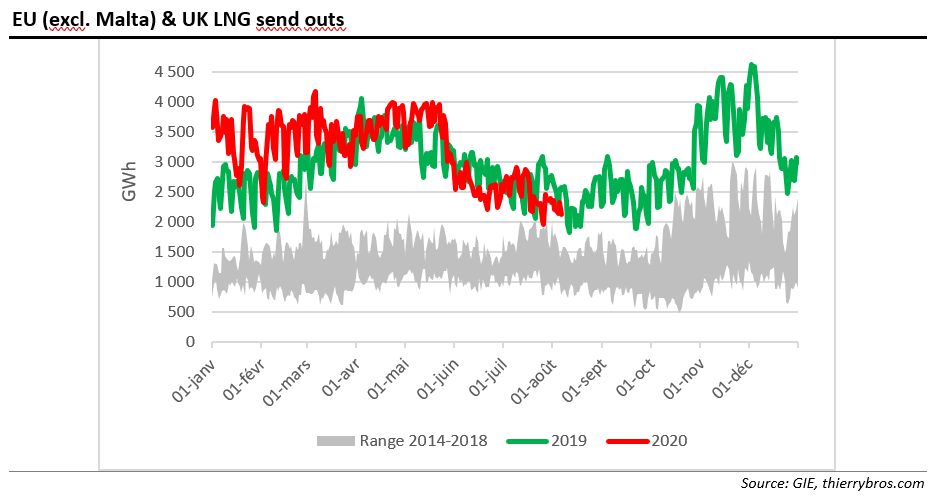 Thierry Bros
9 August 2020
Advisory Board Member, Natural Gas World
---
[1] https://interfax.com.ua/news/interview/635485.html