Gazprom to drill 7 Kovykta Wells in 2019
Russian gas giant Gazprom is preparing to drill seven production wells in the Kovykta gas field in eastern Siberia by the end of the year, it said April 22. In a meeting with the governor of Irkutsk, Sergei Levchenko, Gazprom CEO Alexei Miller said that geological exploration was taking place and industrial sites for drilling rigs are being set up along with the required road infrastructure.
Gas from the field will start flowing into the 38bn m³/yr Power of Siberia pipeline to China from 2022. Intial gas supplies for the line, due to start flowing small quantities late this year, will come from other fields in Russia's far east.
Kovykta gas field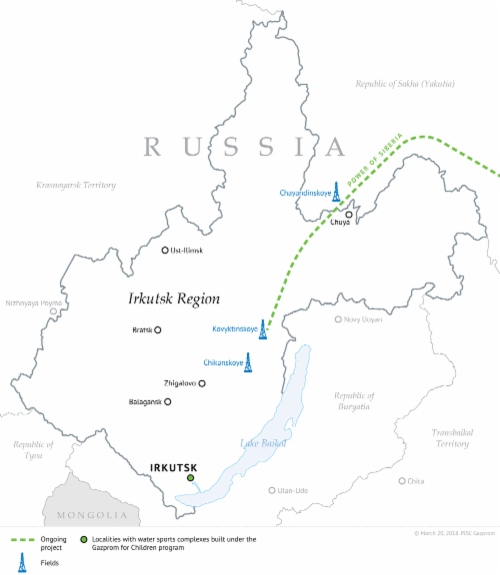 (Source: Gazprom)
Gazprom is considering an option to build a small-scale LNG production facility at the field. This will allow the company to replace diesel fuel with natural gas – the most eco-friendly and cost-effective type of fuel – for drilling operations, it said.
Gazprom's Kovykta webpage says the field has recoverable reserves of 2.7 trillion m³ gas and 90.6mn metric tons condensate, and its design production capacity is 25bn m³/yr. It was discovered in 1987 by a subsidiary of independent TNK-BP, but ceded to Gazprom in 2011.